Surfboard fin setup explained | surf theory | wildmex surf camp in Sayulita & Punta Mita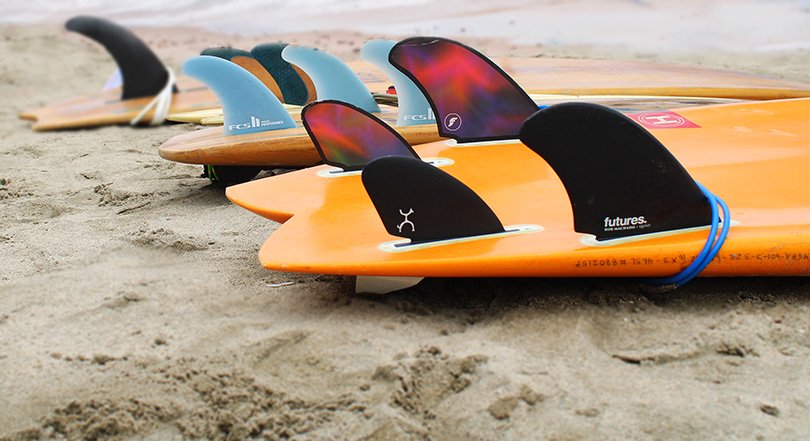 Let's face it, choosing between the 4+ different surfboard fin setups can be a little like doing Chinese arithmetic – pretty damn confusing!

With so many options to choose from, sometimes you just don't know where to start! 
But when you finally do get your head around the mystery, oh boy does it make all the difference to your sessions, improvement and ability in the water, let's say it's a little sumthin' like wave wizardry!

Our surf camp in Sayulita & Punta Mita's hang-ten team at Wildmex put this little blog together to help you get to grips and get the most out of your surfboard fin setup! After all, the surf theory is just as important as the practical work and when combining the two, you'll, without doubt, excel waaay faster than those not willing to do the homework!

So, lead with your head and fly into this blog with your learning cap on, you're sure to learn a fin or two (pardon the pun!) about which configuration is best suited to you and the conditions! 
What are Surfboard fins and why do we use them? 
Surfboard fins are hydrofoils mounted towards the tail of a surfboard to enhance directional stability and the user's control through foot-steering.
Fins are a vital variable to take into consideration for any surfboard, they help to improve performance, gain speed, stabilise your surfboard and prevent it from skidding sideways like a skimboard or bodyboard!
Surf theory | Wildmex surf camps in Punta Mita & Sayulita
Hang tight with our certified, local surf coaches and our international surf lovers at our year-round surf camps in Punta Mita & Sayulita and you'll learn all the tricks needed to ride the line, bottom turn, cutback and snap! Oh, and you'll also learn the crucial theory too, elevating your surfing abilities to greater heights! 
Single Fin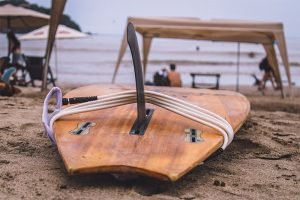 As the original surfboard set up created by the famous Tom Blake almost 100 years ago and still used until this day as the most common configuration amongst longboards, there's no doubting that this classic one-fin setup really has stood the test of time amongst nose riders.

The single fin creates great straight-line speed and offers the ability to foot-steer controlled, refined and graceful turns, making it pretty much perfect for smaller to medium surf days!

This one-fin setup creates very little drag, meaning it's ideal for straight shot surfing, providing you with steadiness, control and predictability in your session. 
Turning with the single fin can be limited, however, it is possible to move the fin forward for a looser feel, or further back to gain more control. 
Twin Fin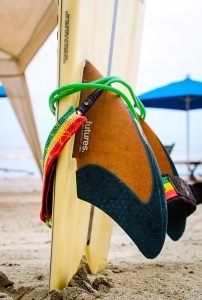 This highly responsive two-fin setup allows for fun, manoeuvrable and merrymaking rides, adapting well to waist and head-high waves. 
The twin fin configuration is more commonly seen on shortboards to enhance speed and offers the impressive ability for sharp and speedy manoeuvres, not to mention playful, drawn-out turns. 
The downside? The twin fin setup is not ideal for big-wave riding, as the lacking centre fin as seen on the 'thruster' can cause you to spin out on moves such as rounded cutbacks and bottom turns. 
Thruster Fin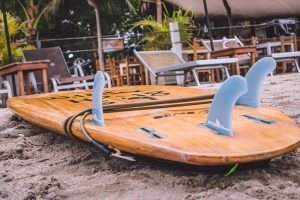 As the most popular setup amongst modern-day surfers, this 3-fin 'thruster' setup will offer you stability, control and allows for manoeuvrability when performing tricks and turns.

The thruster configuration gives you the option to either ride twin or single too as the fins are removable, ensuring you'll have the ideal setup on any given day and condition!

This must-have option offers room for flexibility, improvement and pleasure, best ridden in predictable or high-quality waves.

Quad Fin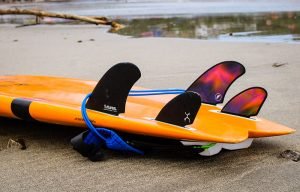 You guessed it, it's a 4-fin setup! The quad fin was built for speeeeeed! An evolution of the twin-fin, built for smaller days and hollow waves which require you to have that extra oomph. 
Developed in the '80s, the quad fin configuration helps to generate speed by channelling water to the tail for extra acceleration, performing well when it comes to carrying out those epic power turns. 
The two lateral and two centre fins help you say adios to drag and whatsuuup to stability, big-wave surfing and crackin' control. 
So there you have it, those were just some of the many different types of surfboard fin setups currently used today!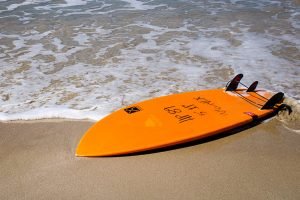 To find out the best fin setup for you, we recommend trying out a variety of configurations in a variety of different conditions! You may find your favourite in an instant or even settle on two or three preferred styles depending on your mood and the conditions!

Like what you read and have an itch for learning how to surf in Mexico? Discover more here about our surf camps in Sayulita and Punta de Mita – Mexico's adventure playground otherwise known as 'Pueblo Magico'.
This blog was created for the people who feel like a bad day in the water is ten times better than a good day out of it! We hope this little get-to-grips surf theory has helped you make better sense of what fin setup you'll be needing for your next ride! 
Have a question or want to enquire about something mentioned in this blog? Reach us here, a member of our team will be more than happy to help!