Mountain Biking in Sayulita 2021 – Bicycle powered adventures for people ready to experience a different side to Sayulita
Simply put, we started Mountain Bike Tours in Sayulita because there is nothing that we love more than to ride bicycles and have the wildest adventures!
Nothing quite compares to riding bicycles all over the planet and better yet? In a place so breathtakingly beautiful and culturally unique like Sayulita!
Our Mountain Bike Experiences Sayulita are the fusion of raw adventure, mind-blowing views and insanely good times – all moulded into one. This perfect union forges an authentically unforgettable adventure intended to change the way you experience Sayulita – on a bike. Join us and our Mountain Bike Trails here in Sayulita just like Jake Northrup did last month, he just so happened to film some of his adventure too! Here's what he had to say about his experience with us:
"First ride in Mexico and first time ever in the jungle. So fun! Highly recommend riding these trails. Thank you WildMex Surf & Adventure Tours for building them and an awesome ride!"
~Jake's experience
Mountain biking in Sayulita and the Punta Mita area is a great way to experience the local jungle and explore nearby beaches and towns. Our MTB tours range from novice to experienced, with MTB trails that go from mellow dirt roads to Technical Singletrack.
(Available from November to July every year. During the rainy season, we organize special tours depending on the weather conditions.)
THE BEST MOUNTAIN BIKE TOURS IN SAYULITA? – THE MALPASO TRAILS
Ride the Malpaso Trail with our avid tour guides and experience remote, breathtaking climbs, cool tranquil slopes and stunning views of Sayulita. This tour is rated one of the best in the area, meaning you're sure to finish your day filled with high vibes, new friends and momentous memories. See some snaps taken from this tour just below!
The Malpaso Singletrack Mountain Bike Trails near Sayulita are some of the first trails in Mexico specifically designed and built for mountain biking. 
Proudly built by WildMex, they offer a wide range of mountain biking, suitable for the adventurous beginner through to advanced riders. The trails take you through the lush jungle in the area between Sayulita and San Pancho, with rides varying from mellow singletrack to challenging and fast routes with berms, steep climbs and rock gardens.
The area in which the mountain bike trails pass through is majority privately owned. The owners are under no obligation to let us ride on their property, however, in order to support the local community, they provide access under certain regulations, with the goal of preserving the environment and ensuring no accidents happen on their property. WildMex is fortunate enough to have permission to maintain and guide trips on the existing trails in the Malpaso area.
For this reason, WildMex offers guided mountain biking tours but is now unable to offer unguided mountain bike rentals to be ridden in the Malpaso trail system. 
Please help the local riding community and the Malpaso landowners to keep a friendly relationship, and if you are visiting our area and would like to ride the Malpaso Trails, do so with an authorized company.
Our mountain bike tours in Sayulita and our rentals are entirely non-profit – with 100% of our proceeds going towards maintaining existing trails and building new ones so the community and its visitors can enjoy access to more multi-use trails in the Sayulita, San Pancho and Punta Mita area. We are currently working towards developing a further MTB trail network in the Monkey Mountain area (read more below)
Malpaso Singletracks Prices
Help protect the environment, and support local riders in the community by taking a guided mountain bike tour with WildMex.
SHARED GROUP GUIDED TRIP
$65
* Open group / Only Tue. Thu. Sat.
PRIVATE GROUP TRIP
$95
*Private guide, 2 people minimum
1 ON 1 GUIDED TRIP
$115
* Private guide
Ride the adventurous Malpaso trails mountain biking in Sayulita, along the slopes that range between sweeping views of coastline and natural jungle wilderness, this ride is simply breathtaking. We'll bike to the start of our ride and then enjoy a beautiful rolling up and down ride, stopping along the way for selfies, water and to learn about the historic and cultural elements of this beautiful land. 
Our Wild Mex guides speak both English and Spanish and are highly trained and avid cyclists with intimate knowledge of the local area. Our guides choose the most enjoyable and scenic routes possible, for you to enjoy the day and experience to the absolute fullest. 
Choose a day for the ride of your life and one of our expert guides will meet you at the Wildmex shop with your equipment at the ready, to take you to the Mountain Bike Trails in Sayulita. 
Not sure of the surrounding areas? Don't sweat it, we know the area well – from adventurous jungle trails to leisurely scenic routes. So, whether you want to burn some calories or explore the local area (or maybe a combo' of the 2), WildMex will make it happen by creating a bespoke experience, to meet your needs. 
All of our guides are:
Avid mountain bike riders

Locals to the area and extremely knowledgeable 

Help build and maintain the trails and know them like the backs of their hands

Trained mechanics – just in case anything goes wrong with your bike on the trails!

100% Good vibes! 
Discover more here!
WildMex has proudly developed some of the first trails in Mexico specifically designed and sustainably built for mountain biking. The Malpaso trails now provide around a day's worth of riding, but we don't want to stop there! We are keen to continue building so that the community and its visitors can enjoy access to more multi-use trails in the Sayulita, San Pancho and Punta Mita area.
That is why WildMex is now beginning a new trail building project in the Monkey Mountain area between Sayulita and Punta de Mita. We are working with local riders to build these trails, and our intention is that they will benefit the entire community as they will be multi-use, creating options for hiking and bird watching as well as mountain biking.
WildMex is committed to continuing to develop mountain biking in Sayulita and the surrounding area for the local community. Our existing trails have already opened up the sport to many local people. All our tours are guided by local mountain bike riders who helped build the trails, and all proceeds from the tours go towards cleaning and maintaining our existing trails, and developing the new trail network – our tours and rentals are 100% non-profit.
Keep checking back here to keep up to date on our new trail project!
Want to get involved? Contact us here.
Looking for an epic adventure here in Sayu? We offer scenic rides, challenging day trips, and full or half-day mountain bike tours. Reach out for your next wild adventure – with Wild Mex! 
All tours provide you with a top of the range MTB, helmet, water and an expert local guide. See our bikes here.
Craving some solo adventure? We also offer Mountain Bike Rental in Sayulita, meaning if you consider yourself a lone-venturer you're more than welcome to explore the area on your own terms.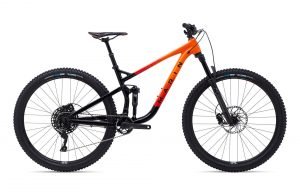 Our Marin Rift Zone bikes are available to rent at our WildMex shop located here. These bikes are designed for an epic day out on our trails, providing top-level performance, rapid acceleration, great suspension and plenty of fun!
For a true mountain bike experience in Sayulita, take one of our bikes for a spin to make a lasting memory whilst on your vacation here in Sayulita! 
Until next time, WildMex!