Water quality in Sayulita VS Punta Mita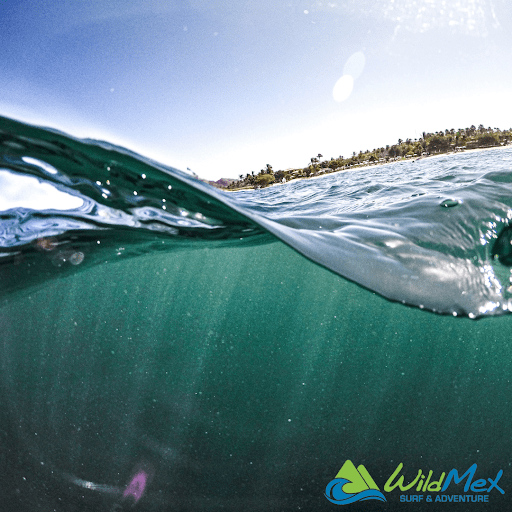 Is The Water Safe In Sayulita? 
The short answer, yes! 
Sayulita Water Tests April 2022 
After mistaken claims and reports from Cofepris on the water quality in Sayulita earlier this month, Pro Sayulita took it into their own hands to hire top biologists from Guadalajara to assess the water quality in the bay. 
A myriad of tests were conducted by these biologists on April 4th 2022 from several different points in the bay, including in the lagoon in front of the Treatment Plant and at the mouth of the river. 
The results? The water in Sayulita is clean, the plant is operating as it should and the water is in fact suitable for recreational use! 
Pro Sayulita has now agreed to perform water tests up to four times a year, to ensure the safety of locals and visitors alike. All of which will be shared with you here! (We recommend saving this page to your bookmarks to jump back whenever you may need it to stay updated.)
Pro Sayulita would greatly appreciate any donations to help fund the water testing in the local area. Discover more here. 
Wanna see the evidence? Click the links below. 
Supporting documents:  Resume | Test #1 | Test #2 | Test #3 | Test #4 | Test #5 | Test #6 | Test #7 | Test #9 | Comments | Photos
December 28, 2021
Sayulita is suitable for recreational use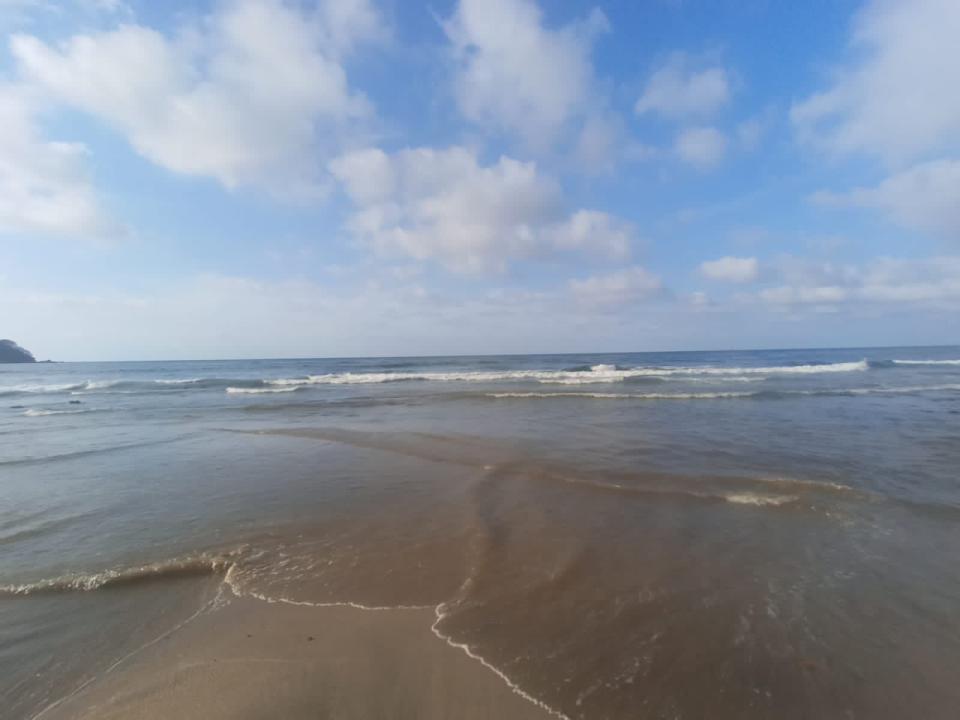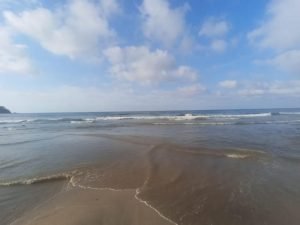 Concerned about the health and safety of locals and tourists, the municipal president Mirtha Villalvazo, ordered an extraordinary review of Sayulita beach, obtaining a positive and safe result.

"Come visit us, Sayulita and all the beaches in Bahía de Banderas are clean and safe for everyone," declared the mayor.

Regarding the document issued by the Federal Commission for the Protection Against Sanitary Risks (COFEPRIS), Josué Raúl Gutiérrez, Director of OROMAPAS, commented:

Concerned about the health and safety of locals and tourists, the municipal president Mirtha Villalvazo, ordered an extraordinary review of Sayulita beach, obtaining a positive and safe result.
"Come visit us, Sayulita and all the beaches in Bahía de Banderas are clean and safe for everyone," declared the mayor.
Regarding the document issued by the Federal Commission for the Protection Against Sanitary Risks (COFEPRIS), Josué Raúl Gutiérrez, Director of OROMAPAS, commented:
"Sayulita is one of the beaches that is mostly monitored, with more care, with rigorous periodic reviews due to the flow of tourists it has, that is why we are surprised by the document that was published yesterday, since the only sample they took was recently more than three weeks, time in which our results in the month of November only in one point were in 204 enterococci, the rest of the samples were below 20 enterococci.
"Our treatment plants in San Francisco and Sayulita, which are the closest to the COFEPRIS sample, have not had any negative observations, on the contrary, they are working in perfect conditions."
For her part, the municipal president Mirtha Villalvazo, also ordered preventive maintenance to the pressure emitter, in order to submerge and hold it, to avoid any leak or accident with tourists, jobs that required an investment of close to a million pesos.
"Even so, yesterday it was ordered that several samples be taken on the Sayulita beach, of course at the same point where COFEPRIS took theirs, resulting in 203 NMP / 100 ml being the allowed limit of 200, a result with which, at the beginning of November, COESPRISNAY congratulated the municipal government for these results, "said Raúl Gutiérrez.
Bahía de Banderas es La Joya de la Corona, seguiremos cuidándola para hacer "La Mejor Historia. ¡Los estamos esperando!"
Link to the full Article in Spanish: https://tribunadelabahia.com.mx/sayulita-apta-para-uso-recreativo-51779
December 25, 2021
Unfortunate dip in Sayulita's ocean water Quality

The Federal Commission for Protection Against Sanitary Risks (Cofepris), prior to the winter holidays, analyzed in a laboratory more than two thousand samples of seawater from 270 beaches in the main tourist destinations of the 17 coastal states; of which only five failed and are considered unsuitable for recreation, including Sayulita in the neighboring municipality of Bahía de Banderas, Nayarit.
They released the results of the 2021 Clean Beaches preventive program, which indicates that 98.1 percent of the beaches did qualify, that is, 265 spas, meet the requirement of having 200 or less enterococci per 100 milliliters of water, established by the Organization World Health, including those of Puerto Vallarta.
The highest was Las Palmas or Las Glorias beach, with 25 enterococci, followed by Camarones with 23 and Olas Altas with 20, while Mismaloya only had 12, Quimixto 14 and Los Muertos 19. It should be remembered that only in the last vacation of Easter two of these beaches had failed, but eight months later they recovered.
On the other hand, in Bahía de Banderas, Sayulita beach today registered 551 enterococci, so they must put up a red flag as it is not suitable for recreational use. El Anclote obtained 115 and La Cruz de Huanacaxtle 76, while Nuevo Vallarta only 17, Bucerías 34 and San Francisco 26.
In addition to Sayulita, Hornos, Tlacopanocha and Suave beaches, in Acapulco, Guerrero and Playa Hermosa, in Ensenada, Baja California, according to the monitoring, are a health risk, as they show constant discharges of wastewater, exceeding the limits established by the authorities that guarantee the health of visitors and bathers.
The population can report any anomaly related to the quality of the water to the Cofepris, in the free number 01-800-033-5050, and the email: contactociudadano@cofepris.gob.mx.
Link to the Full Article in Spanish: https://tribunadelabahia.com.mx/playa-sayulita-no-apta-uso-recreativo-51760
November 18 2021
Is The Water Safe In Sayulita? Everything You Need To Know >>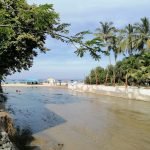 So, it's been a little while since we last updated you on Sayulita's water quality! && we know you've got some questions... "Is the water safe to swim at Sayulita beach?" "Is the water safe in Sayulita?", hold, hold, hold your horses! Know that your comments and messages haven't gone unnoticed. In fact, Wildmex is here to give you the full and complete low-down, to keep you in the know, just like we always do! 
Keep reading to discover more…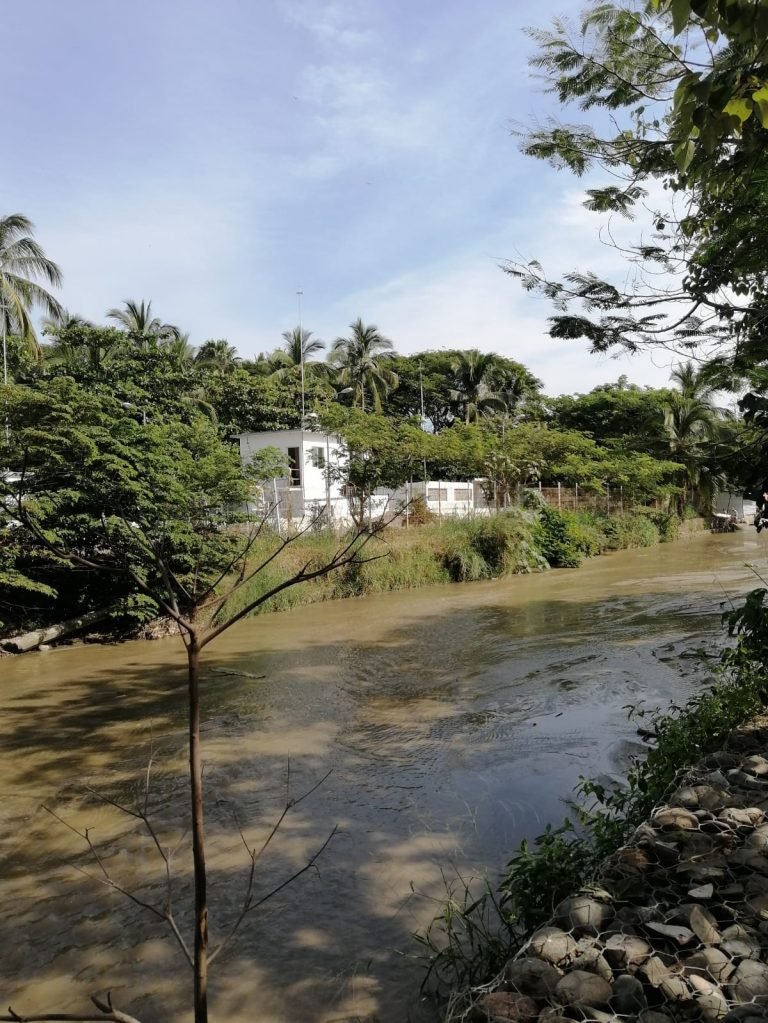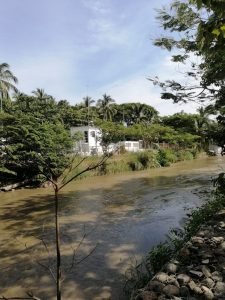 It's now the end of the rainy season! Meaning the water passing through the river into Sayulita beach is clear and clean and will be so for the next few months. The water moving down the river is whatever was left on the springs up in the mountains and is roaring down translucent.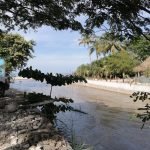 As part of the plan to fight the previous pollution problem and improve the water quality in Sayulita, an underwater emisor pipeline was installed to treat and carry wastewater offshore. This has now been working fine for the whole of the rainy season, meaning there are no longer issues with sewage rolling down on Sayulita beach or bay. 
"So, what does that mean for us swimmers and surfers?" - "Is the water safe in Sayulita?" - YOU BETCHA. 
The water quality in Sayulita is currently at its optimum cleanliness meaning people can get into the ocean and enjoy clean and warm water, consistent waves and good surf. 
--18th, Nov 2021
Surfing, Swimming & Paddleboarding in Sayulita - Is the water safe in Sayulita during the rainy season?
Rainy season is here again - so what does that mean for the water quality In Sayulita?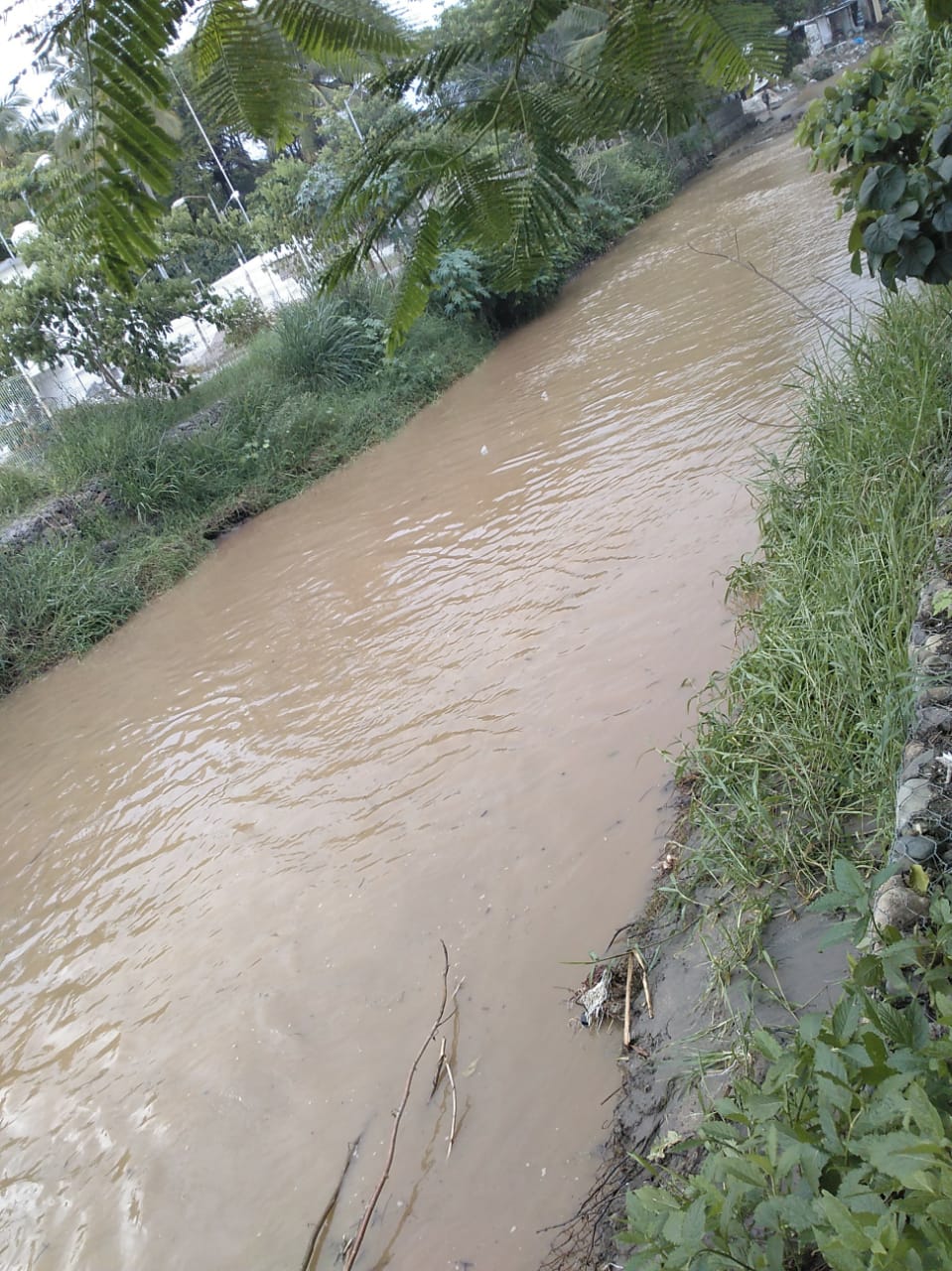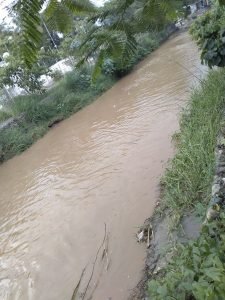 Thanks to the permanent sanitation watch and the new water plant installed just last year, the water pollution problem here in Sayulita is in check and under control! (Even though it may not look like it!)
This summer has seen us experience some heavy showers, meaning the river that runs through the town of Sayulita is growing and well, it's bringing a lot of water with it; this water is a combination of sand and soil that comes from the luscious jungle terrain that surrounds Sayulita, hence why the water is brown. The water is running through the town and bringing soil to the ocean and beach. 
As part of the plan to fight the pollution, an underwater emisor pipeline was installed to treat and carry wastewater offshore and, despite some wishy-washy operating problems earlier this year, the last few months have seen no problems. This means that Sayulita beach, although not crystal clear, is now currently complying with all federal requirements and has been declared safe for recreational use.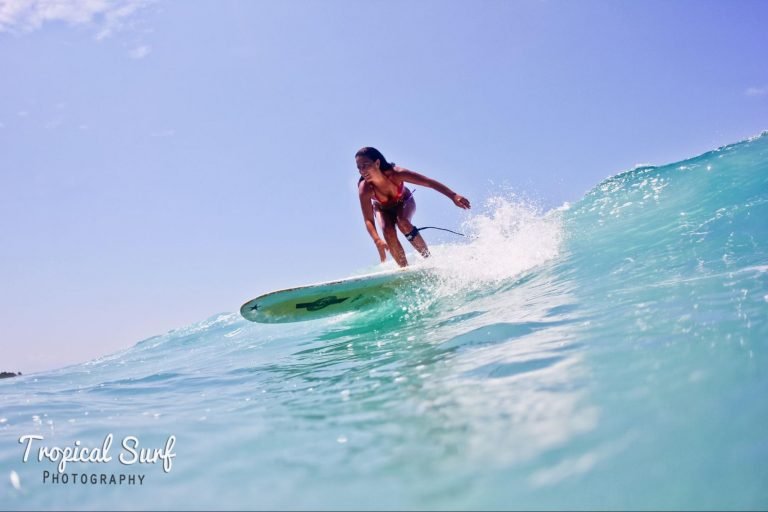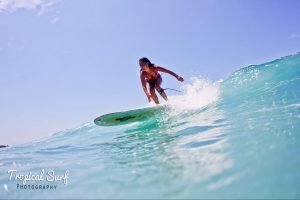 So yes, the water from the river may be brown. But no. It's not polluted, just rainwater! PHEW!
So, is the water clean to swim in Sayulita? It sure is. 
All water sports such as swimming, surfing and paddleboarding in Sayulita have been declared safe activities right now, however, if you're looking to catch a wave, have a paddle or even spot some turtles within translucent turquoise waters, Punta Mita's, La Lancha beach (just 20-minute drive from Sayulita) is still your safest bet! 
--04th, Sep 2021
Sayulita's beaches
have improved after a year of reporting dirty waters from the river that flows into the sea; the quality of the water increased considerably making it suitable for visitors.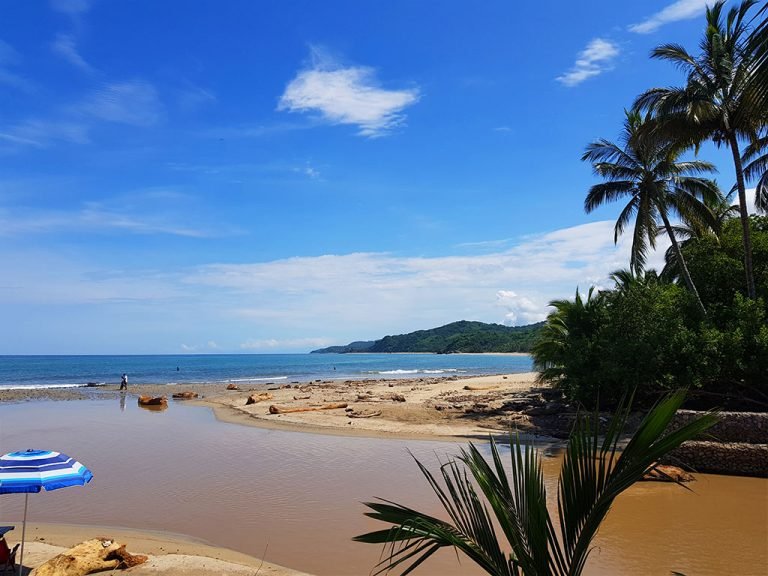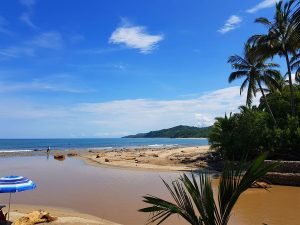 The contingency was also a primary factor in the recovery of the ecosystem, due to the absence of people during this quarantine season which has exceeded the estimated days of closure for visitors, reaching Easter and part of the summer holidays when normally there is more flow of tourists.
Without a doubt, time heals everything and it is the same time that nature needed to recover the beauty of the beaches that run through the area of ​​San Pancho, Guayabitos, Punta de Mita, and above all, Sayulita the favorite place for surfing activities.
The residents are already receiving tourists with all sanitary measures, little by little the town has recovered and the rest of the businesses are still awaiting the reopening of this beautiful magical town, returning to the new normal.
--02nd, Oct 2020
Great News!
Not everything has been bad news for Sayulita and the Riviera Nayarit during the COVID-19 pandemic.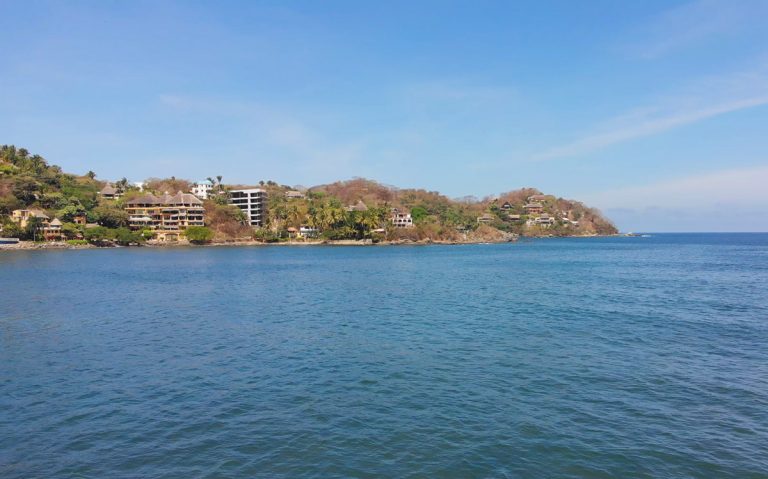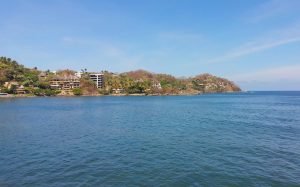 During the last months, the number of visitors decreased considerably, bringing uncertainty and concern for all.
Despite this, we have seen how for these same reasons the beautiful beaches and nature of our town have been regenerated in an incredible way.
The cleanliness of the sand and the purity of the water had a drastic change thanks to this unthinkable pause.
It is as if nature itself invites us to reflect on our lifestyle and behavior, showing us how when we relate in a kinder and more conscious way with nature the ecosystems thrive and show us their maximum splendor.
We feel that this pause, which we are all going through, beyond a crisis is an opportunity to reinvent ourselves in all aspects of our lives and thus discover new horizons.
We want to share with you these new perspectives and the newfound brightness of our sea and beaches, that is why during this crisis we decided to lower the prices of our Surf Camps to motivate you to come and share the Surf LifeStyle that we love.
--11th, Jun 2020
Times are changing, you can feel it in the air
Nostalgia strolls through Sayulita, which now looks clear of noise, laughter, visitors and children running around. The sound of waves breaking, seagulls, and primavera trees blooming now fill the almost empty place.
Nature begins to crown the town with trees full of fruit and rugs of beautiful yellow and pink flowers running along all the streets and trails. For its part, the waves of the sea continue to run wild on the beaches, which now seem untouched without anyone visiting them.
Times are changing, you can feel it in the air; The rainy season comes with a firm step to help nature finish the work it has done in this time, which man has allowed to intervene in the landscape.
A cooler climate dances in the air and soon the flora of Sayulita will look multicolored as it enjoys clean ocean water that falls from the sky.
Locals are doing their part by improving recycling habits and thus keeping trash under control, auguring that this year we will not have flooding problems during the rains.
There is no doubt that life thrives and, for Sayulita the decrease in the flow of visitors that it had given him an increase in the flow of the water that runs through it and revived the natural beauty that the made such a popular destination at first; By allowing time, nature, and people to return to their roots, it unleashed a long-lost beauty.
Have you heard stories of the beautiful little town called Sayulita, so unique and picturesque? Come and discover it with your own eyes, we are waiting for you in June!
--28th, May 2020
Water quality in Sayulita - The story
To the south of Nayarit there is a colourful town called Sayulita, full of the local culture and friendly people. It is well known by all, that this beautiful destination enjoys great popularity among national and foreign tourists, to which the town responds with immense joy to receive them all year after year, so that they know their culture, the beautiful views it offers and the surrounding beaches.
As in all stories, there are always two sides to a coin and the negative side of this romance between tourists and Sayulita is the pollution it leaves behind; the same that leaves it´s mark on streets, but especially on rivers and beaches.
This year adds to this fable an unprecedented event that strikes human health and the world economy; the SARS COV 2 virus. This new member seems to be winning the battle by separating the two protagonists of the story, since fearing for his own health, Sayulita made the difficult decision to close it´s borders to all visitors until the virus decides to take flight and stop disturbing human health.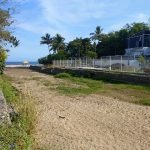 At this point, where everything seemed lost, there is a light that comes to illuminate such a painful panorama; Sayulita's nature opens there eyes with more life than ever; By having the opportunity to have the town to themselves, the streets are cleaner and clearer than ever, the fauna runs and flies free in the mountains that are the guardians of this beautiful town, but there is an even more difficult landscape to find in these times ... There is clean water!
The sewerage system has worked without problems, the rivers look crystal clear, and the beaches look radiant, devoid of bottles, cans and other garbage; the sea has waves with white foam that would once invite tourists to enjoy them; and the fishes swim safely across the entire width of the coast.
This is a story that has not ended; for now, stay at home, allow everything inside and around you to re-emerge stronger and more beautiful, as Sayulita is doing. We wait for you with open arms in summer so you can see what this rest allowed nature to make this town, and even more beautiful place.
Sayulita awaits for you!
.
--21st, April 2020
Sayulita update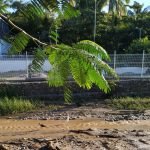 The new year started with a heavy downpour, which was very unusual for this time of year. The otherwise rather calm Sayulita River turned into a torrential stream. A lot of mud was stirred up and the access to the sea had to be enlarged to prevent the river from overflowing.
Five days later now the situation has visibly calmed down. The sun is out again, we have a wonderful blue sky and temperatures are increasing. The river is shrinking back to its original size and becoming clear again and the birds are enjoying being in the river once more.
Additionally Sayulita has reached a great swell and the conditions are perfect for surfing and catching great waves right now.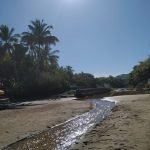 Fortunately all these events had no impact on the sewage system of Sayulita. Thankfully we can still say that we have no problems with smell and diseases, since the sanitation of the treatment plant.
Furthermore for the plants, the rain shower was a blessing. The leaves, which are browning due to the current dry season, are now turning a rich green again and give Sayulita an even more beautiful look.
.
--5th, January 2020
Sayulita River water quality update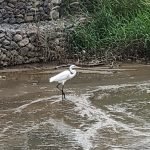 It's Friday morning at 7:45, black Necked Stilts, yellow-crowned and white herons contemplate the lagoon that sits at the bottom of the river before flowing into the ocean. They hope to catch small fish and food that streams down the Sayulita River.
Dry season is on now and welcomes it with no fear of a horrible smell and a contaminated environment, sadly something very common in the past.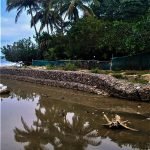 Thanks to the renovated treatment plant and the effort of locals who care for the environment, intensive plastic-waste collections and river clean ups happen often to make Sayulita a more sustainable destination.
Now surfers and swimmers can enjoy the clean ocean in the Sayulita bay. Happily, there are no reports of diseases caused by streptococcus bacteria in the area. Great news for Sayulita visitors looking to surf and enjoy the beach in this tropical paradise.
--December 20th 2019
Rainy Season
The raining season has come at Sayulita. The wind comes and goes, and our river begins to be alive. The vegetation reaches its climax, new life cycles are starting, the sea water has turned brown like the earth combining with the deep blue of the ocean, and of course, waves are living expression that represent these changes.
We can ask ourselves, Does the rainy season affect the water quality ?
If we study the water cycle we can see that the ocean provides 91 % of rain water: water begins to evaporate because of the sun's heat and returns as rain, supplying lagoons and giving life to the rivers that are near to the ocean, like our Sayulita River.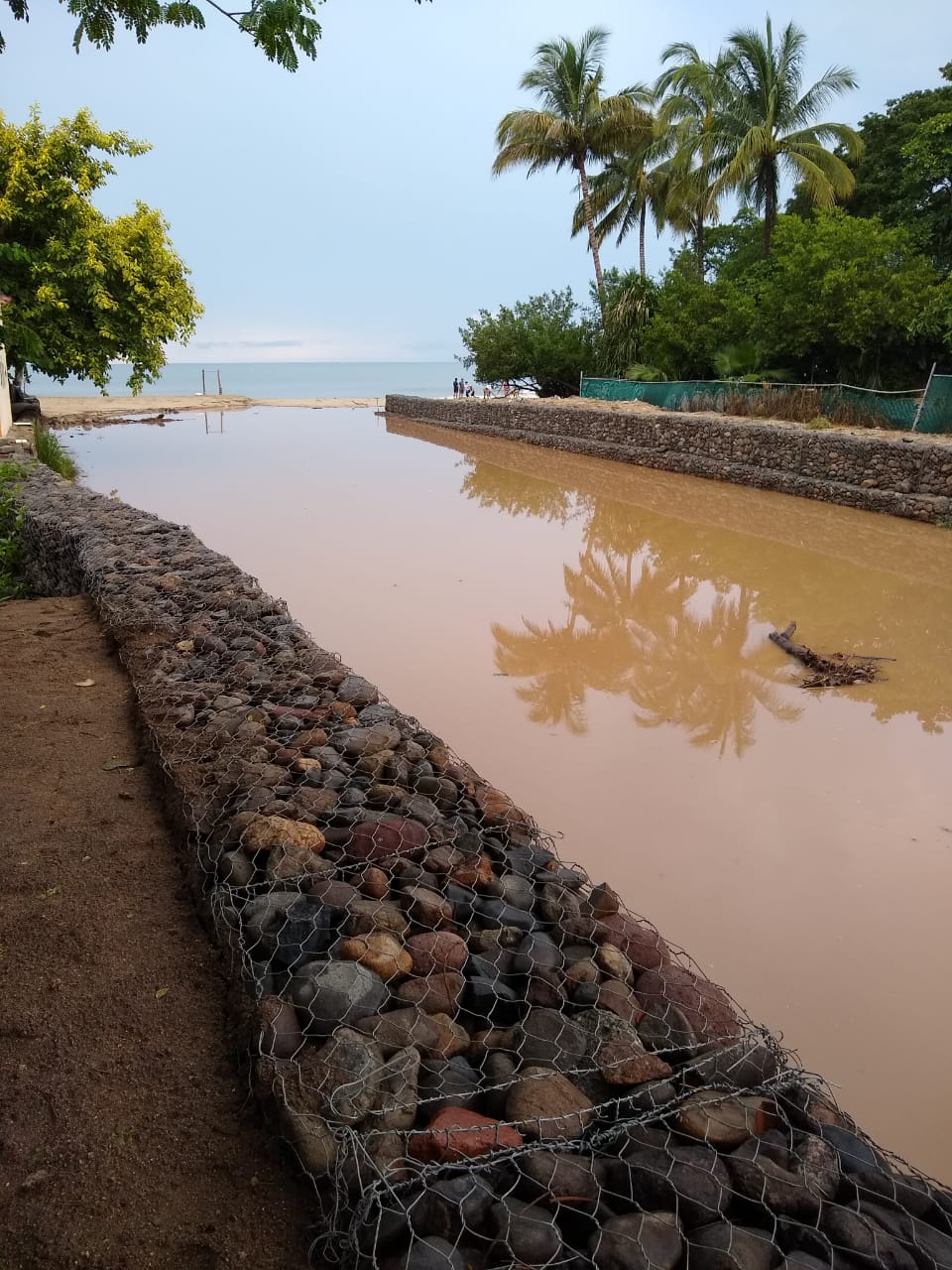 The Sayulita River is a source of minerals and organic matter for the ocean (like leaves, tree branches, lime and clay), which arrive to our ocean, creating the brown color that we see in this season as part of the cycle of nature.
As a community we have a huge responsibility to our paradise, because if we dispose of our waste mindlessly, for sure it will end up among the waves in our beach.
Lets be more careful and aware: the rain doesn't pollute our sea but our habits could.
Lets keep our waters clean!
--By Lucero Plascencia
Current situation of sea water quality in Sayulita, Nayarit, Mexico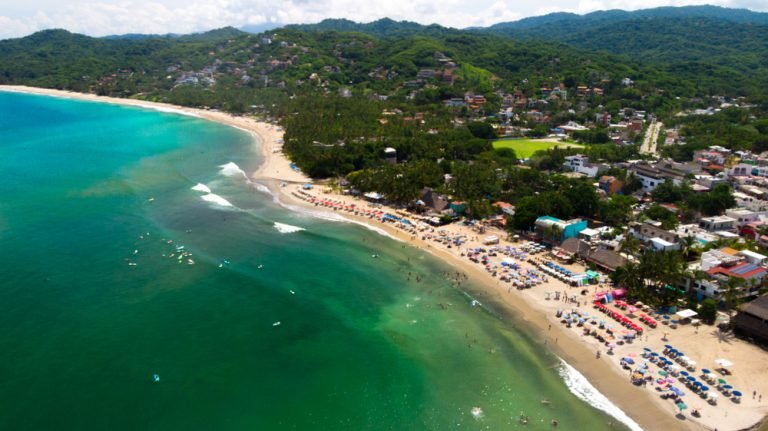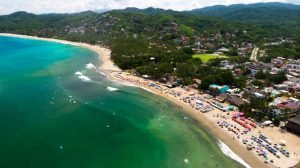 Sayulita is a gorgeous, vibrant town that has been considered magical because of its great diversity in fauna and flora, its beautiful landscapes and coastline and its mellow waves, internationally recognized in the world of travel and surfing. This recognition entails a great environmental responsibility.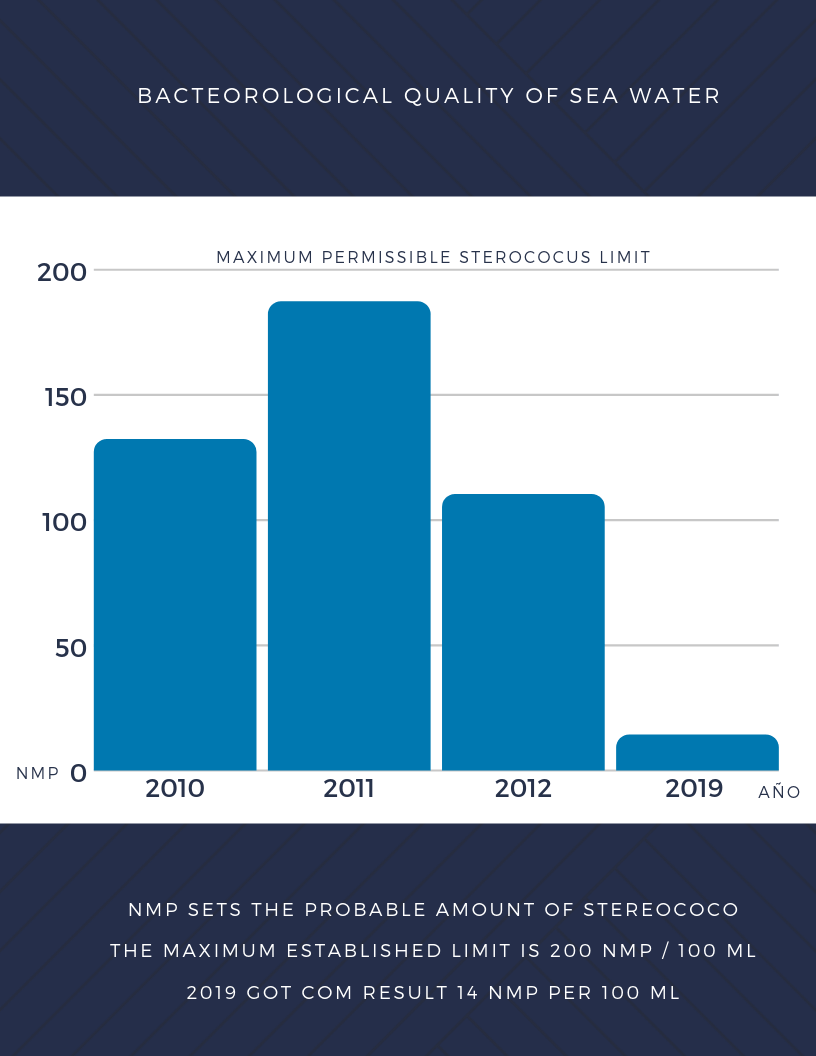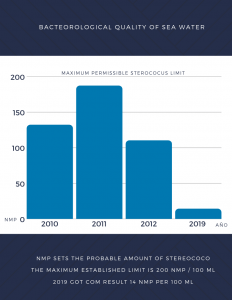 That is why government institutions and agencies such as the Ministry of Environment and Natural Resources (SEMARNAT), the Federal Commission for Protection against Health Risks (COFEPRIS), and the State Commission for Protection against Health Risks of Nayarit (COESPRISNAY) have continuously monitored the water quality of the town's sea.
The Federal Commission for Protection against Health Risks carried out in June this year a study on the quality of seawater, resulting in 14 NMP (most likely number of stereococci) per 100 ml of ocean water. According to the safety levels established by the World Health Organization (WHO) the quality of sea water in Sayulita is suitable for recreational use and guarantees the protection of the health of users.
These results represent a process of continuous improvement by the government and the Sayulite community. It encourages the care and use of our beaches in a conscious way as well as encouraging the present and future generations the importance of the environment.
Sayulita is unique and for everyone!
Let's take care and enjoy this paradise together.
Sayulita massive beach cleaning!
300 Volunteers out to set an example
Today we are with Corona in the campaign Desplastifícate
Sayulita, Nay.
In the framework of the World Environment and Oceans days that are celebrated this month, Grupo Modelo will hold from June 1 to June 15 days focused on cleaning, restoring, conserving Mexico's water and cleaning its beaches.
The movement of Corona Desplastifícate began this Saturday, June 8, in partnership with Modelo Volunteers, in more than 25 beaches in Mexican territory. The brand works to become one of the greatest agents of change in the world by cleaning about 500 beaches in more than 23 countries, thanks to the support of 300,000 volunteers worldwide.
"It is a movement that we are creating, it is the largest in Mexico of protection of the oceans. We are a brand with a great commitment to Mexico. He was born more than five years ago; It started with cleaning days and we saw that we could make a much bigger difference: raise awareness, "said Clarissa Pantoja, Director of Corona Beer, to El Economista"...
Sayulita Changed (for the better) May 18, 2019 UPDATE - Video create by a Sayulita visitor informing the improvements in Sayulita for 2019. It talks a lot about Sayulita's river, sewage and water treatment plant.
Sayulita Water Quality May 2019 Update - In a short period of time, Sayulita has recovered an optimal health status for all its visitors. After the activation of a modern sewage treatment plant, the environment feels totally different, now we can see families bathing on the beach and surfers riding the traditional Sayulita waves. In this update, we share with you a tour to the wastewater treatment plant and look at the work made by authorities of Sayulita to provide a clean and safe beach again.
April 24, 2019 Sayulita sickness update - Check out this amazing Sayulita Review!
Incredible, Healthy Wedding in Sayulita
"Two weeks ago, my husband and I were joined by 135 guests for an incredible wedding weekend in Sayulita. In the weeks leading up to the wedding, our wedding planner notified us of the norovirus going around in Sayulita, and advised us to take precautions. This sent us into an anxiety spiral -- reading these forums, I imagined it was impossible to avoid the norovirus, that all precautions were useless, and even considered calling the wedding off entirely. We were very up front with our guests -- we sent them two email communications detailing precautions to take, and instructions in case of sickness. Unfortunately, we lost 20 guests in the two weeks before our wedding who decided not to join us and risk it. Now, two weeks after our wedding, I'm happy to report that we had a healthy wedding. Only two guests got sick, and we aren't convinced it was norovirus (dehydration, heat stroke, hangovers...). It was a four-day extravaganza with multiple wedding events in the center of town, including at Don Pedro's and Palmar Trapiche. We, all of our guests, and all of our vendors, took every precaution - obsessive hand washing, strict "quarantine" for anyone who felt any nausea, an on-call doctor to evaluate anyone who was feeling ill, no swimming anywhere along the main beach, and more. I can not recommend my wedding planner, Lauren from Nicoella Event Design, HIGHLY enough. She was absolutely incredible, honest, supportive, and action-oriented every step of the way. The weekend was magical."
Readers, don't forget to post your positive experiences on TripAdvisor's Sayulita Forum.
April 24, 2019 - Sayulita Beach SAFE for Swimming- A Busy Semana Santa Holiday is Under Way
As many have seen, numerous articles and internet "trolls" with inaccurate information have been making their way around social media and various travel forums declaring that Sayulita beach is not safe for swimming. This has caused the rumor mill to spin, and some to worry about how this would affect tourism over the Semana Santa holiday. However, the correct information is that Sayulita beach has been tested, and the water is safe! Even with some false reports about our beach and water safety, we have still seen a fairly busy Semana Santa Holiday here in Sayulita. According to Mexico's secretary of health, in an article published on Tuesday, April 16th, 2019, it states, "according to the most recent analysis carried out on the marine water of Sayulita beach, municipality of Bahia de Banderas, its waters are suitable for the recreational use of all tourism and residents of this tourist destination." Read full article here
April 17, 2019 Sayulita beach declared for safe swimming and recreational use - Sayulita is now the only beach town in the area that does not dump wastewater directly onto the beach. Many people turned out today to tour the plant and grounds, and it was great to see everyone involved in the process. There was also a noticeable lack of odor at the plant, which was a pleasant experience. The government of Nayarit also tested the Sayulita water quality and the latest test results showed between 10 and 20 NMP / 100 ml enterococci, which is well below the 200 NMP / 100 ml limit set by the government for safe swimming.
With Sayulita Life information: http://www.sayulitalife.com/sayulero/index.php/2019/04/17/completion-of-sayulitas-wastewater-treatment-plant-upgrade-emissor-pipe-project/
April 17, 2019 Sayulita Sickness and water quality update - The State Commission for Sanitary Risks of Nayarit (COESPRISNAY), under the Ministry of Health of the State, informed that according to the most recent result of the analysis carried out on the marine water of the Sayulita beach, municipality of Bahía de Banderas, its waters are found suitable for recreational use of all tourism and residents of this destination.The Ministry of Health of Nayarit, together with the COESPRISNAY, will maintain the sampling permanently to ensure that the Sayulita water quality continues to comply with the parameters requested by COFEPRIS.
By NTV News: https://www.ntv.com.mx/2019/04/16/secretaria-de-salud-todas-las-playas-de-nayarit-aptas-para-uso-recreativo-estas-vacaciones/
Sayulita Wastewater Treatment Plant and Sickness Update, April 16, 2019 Today the Governor of Nayarit and the Municipal President, came to Inaugurate the new Underwater emissor and the extension of the existing Sayulita Waste Water Treatment Plant. Lots of locals were present. As of today, there is no sewage water being dumped in Sayulita Beach, the sewage smell is gone, and the water feels way cleaner! No test has been performed yet, however, we assume that without the sewage running into the ocean, water quality should greatly improve, and infectious sicknesses in Sayulita should drop.
As of today, Wildmex will start providing the Service of Surf Lessons in Sayulita again.
April 15, 2019 - Sayulita Water Quality Update. It is a great relief to know that today, Sayulita sewage is no longer dumped into the beach and contractors of the treatment plant confirm that at this moment the pipe is already submerged and connected. The water quality in Sayulita is still monitored due to the waste accumulated over time, however, after starting up the wastewater treatment plant can be considered an important advance for the water revitalization of Sayulita.
April 13, 2019.
The works continue. Apparently, the submarine emitter is already connected and properly submerged, although the authorities still do not confirm this fact, the residual water no longer has bad smells and it looks apparently clean, we hope that our beautiful beach can be restored very soon. Meanwhile we continue to invite all guests to perform their recreational activities on beaches such as
La Lancha in Punta de Mita
April 10, 2019, Sayulita Waste Water and Sickness Update. The works to submerged the wastewater disposal pipe are still on their ways, it seems like they're doing progress but it's kind of slow. As of today, they're still semi-treated waste water running into the surf break and beach and we still recommend no surfing in Sayulita beach.
We also have a 25 people yoga retreat group that arrived this Saturday and so far nobody has gotten sick so that is one good sign. However, they have not got it in the water and they have been really careful.
Sayulita Sickness update April 8, 2019 at 10:30 am, there is not much movement going on at the beach, pipe or water treatment plant to keep away Sayulita sickness and reduce the probability of catching norovirus. The pipe is still out, but still floating and no one seems to be working on anchoring it to the ocean floor.Some people came in this morning and put up signs about Sayulita sewage improvement work being done.
Still, semi-treated water is running into the Sayulita river, beach and ocean. Fortunately, the bio-disc plant was turned on a few days ago (after 3 months off!!!) and water seems to be exiting cleaner and with less smell.
April 7th 2019 update on Sayulita wastewater treatment plant and sickness - As of this morning, all 11 sections of pipe have been set out at sea and connected in order to form a 2.2 km stretch of pipe into the ocean, however, the project to keep Sayulita beach and Surfbreak free from Sewage water, and with this, hopefully reduce the infection vectors that could be one of the main reasons for the sicknesses Sayulita's visitors and locals have been suffering from for years and have become more recurring this 2018-2019 winter season.
The pipe being all set out in the ocean is a great step towards fixing this issue, however, there are still steps needed to get the whole plan going, and even though we would love to know, we have no certainty on when will they be finished. Here are the steps still needed to get the sewage water away from Sayulita beach and surf break.
1- Submerge the 2.2 km of pipe and anchor it to the ocean floor.
2- Connect the pipe to the water treatment plant exhaust, calibrate pumps
3- Get the whole thing working, and hope for no details to come up, that could delay the operation of the new system.
From our perspective, this could take anywhere from 1 week to 3 weeks, and if something unexpected does not happen, we should be good to go.
Please keep in mind that the water discharged into the ocean floor will be treated, but not at its full. It probably will not affect any of the swimmers, surfers or habitants of Sayulita, however, modifications and amplifications to the current water treatment plant will be made through the following months in order to discharge full treated water out into the ocean.
Sadly, as of this morning, semi-treated sewage is still flowing right into Sayulita River, Beach and Surf Break.
Sayulita sewage treatment plant update - April 5, 2019. Today the last pipe of the wastewater emissor was connected, in the next days, the emissor will be submerged to the deep ocean to get finish the installation.
Sayulita Sickness and sewage treatment plant update - April 2, 2019. This morning government officials from Bahia de Banderas health sector visited Sayulita wastewater treatment plant to verify the correct functionality of its process.
sadly, it was noted that the wastewater situation is far from ideal. A deadline to fix the issue was given to the contractor for next April 6th.
Let's see what happen in the next days.
[APRIL 1, 2019] The works to improve the water issues in Sayulita continue to progress. There are still some pipes to be connected, however, at April 1 2019, the underwater wastewater emissor was 75% complete. However, we still recommend that all visitors avoid swimming or surfing in the sea in Sayulita until the emissor is complete.
Once the coupling of the remaining pipes is complete, the entire emissor will be submerged and installed.
We hope that the company in charge of installing the underwater emissor is efficient and can complete the work in the coming weeks, however, according to the current progress, it could take up to a month longer to complete the work.
We recommend that all our guests surf at La Lancha beach rather than Sayulita, and find lodging in nearby towns such as San Pancho, Punta Mita, La Cruz or Bucerias until the work has been completed and the water in Sayulita is in the best conditions.
If you are currently staying in Sayulita, take advantage of our Surf Shuttle to our headquarters in La Lancha, either to take your surf lessons, rent surf boards to surf at La Lancha or just spend the afternoon at the beach.
[MARCH 2019] The issues with the water treatment plant and water quality in Sayulita is something that worries all of us in town. On March 6 we were informed that for the last six weeks, all the towns raw sewage had been being dumped into the ocean, right next to Sayulita's main beach and the surf break. No wonder people have been getting sick! We recommend that all visitors avoid swimming or surfing in these waters until this issue is fixed.
The engineers installing the underwater emissor, which will pump the treated watewater further out into the ocean, tell us that they are working on the issue and installing the pipes out into the ocean.
The engineers assure us that the emissor should be finished and ready for connection on April 1, 2019. Until then, we do not recommend going in the water in Sayulita.
The village of Sayulita is known among surfers for its consistent river mouth surf break, and it is the perfect place for your holidays. The chill atmosphere, colorful streets, friendly locals, entertaining nightlife, combined with delicious restaurants where most use only 'organic' locally grown food, makes it a lovely place to hang out, and most of the people that come here "for a few days" decide to stay longer.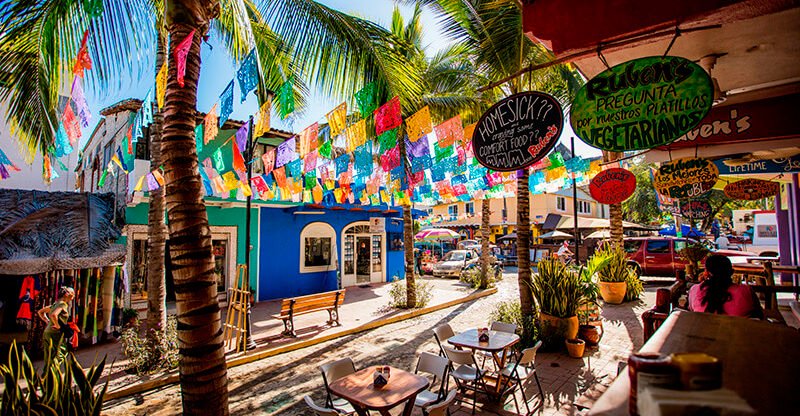 In towns such as Sayulita, the residents have a sense of control over their immediate environment. Residents also have the freedom to build unique eco-houses without complicated applications and council approvals. There's a strong focus on living slow, living sustainably, and living within your means.
Sayulita is a Tropical paradise and would be an idyllic community, however, sadly the fast growth of the town and the inefficiency of the Mexican Government have resulted in a situation that affects the ocean.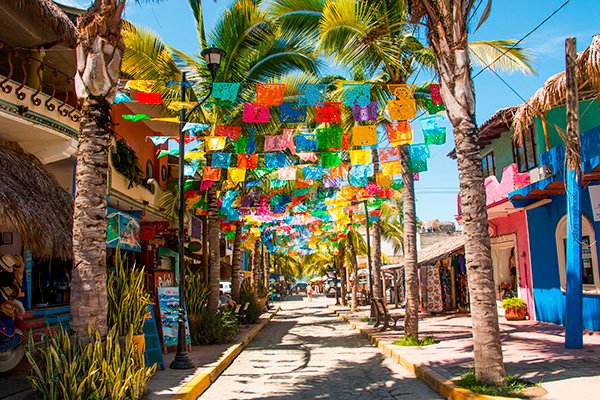 Sayulita town has a water treatment plant built in 2009 right next to the river that runs into the ocean, the plant dumps treated sewage into that river, however, the water going out to the river, and then to the ocean, is not as clean as it is required for human contact. Due to this situation, there has been a higher than average rate of people getting sick during the last couple of years. Although this can be caused by numerous reasons; change of diet, excessive consumption of alcohol, and so on, studies prove that the ocean water quality at Sayulita's Surf break is far from ideal for human contact, especially during the times the town is the busiest.
Common sickness problems are constant flu, respiratory troubles, and stomach sickness. Even if you don't go into the water these bacterias have some volatile compounds. To be practical about it, a lot of locals in Sayulita don't feel 100% comfortable going into the water at the beach in town.
We are by no means saying that people should not visit, stay or eat at Sayulita. It still has its charm, great restaurants, bars, and most importantly the people that make it lovely. We are just saying that the Ocean water at Sayulita's beach is not as clean as we would like and that we reccommend people wanting to surf or spend lots of time in the Ocean, to head to cleaner beaches.
The problem of water pollution in Sayulita is like a big elephant sitting on the beach. This is, of course, a delicate and uncomfortable subject for residents, rental house owners, and resorts, but it's Sayulita's reality.
In order to solve this, residents, rental homes, hotels and local business owners have come up with a project to resolve some of the sewage and water treatment issues in town. To read more about the "5 part plan" go to this link
New sewage and rainwater drains will be installed, and a concrete structure will be placed across the river that will both serve to protect the sewage drain and allow traffic to move across the river safely throughout the year.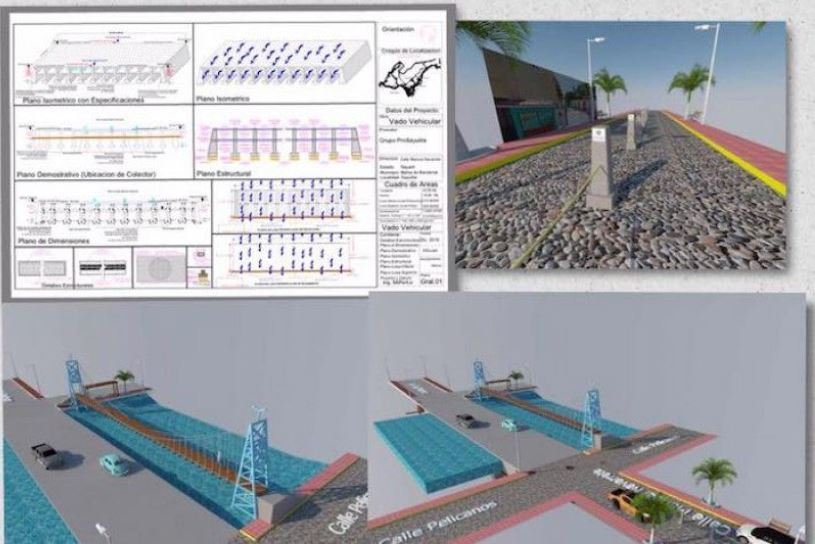 As part of another plan, a new water treatment plant is supposed to be built during the next years.
Until these plans are achieved, we will always recommend our guests to choose other surf breaks like La Lancha at Punta Mita for surfing.
Wildmex offers daily shuttles from Sayulita to "La Lancha" surf break in Punta de Mita, luckily one of the most consistent breaks years round is only a 25 min drive away with crystal clear water.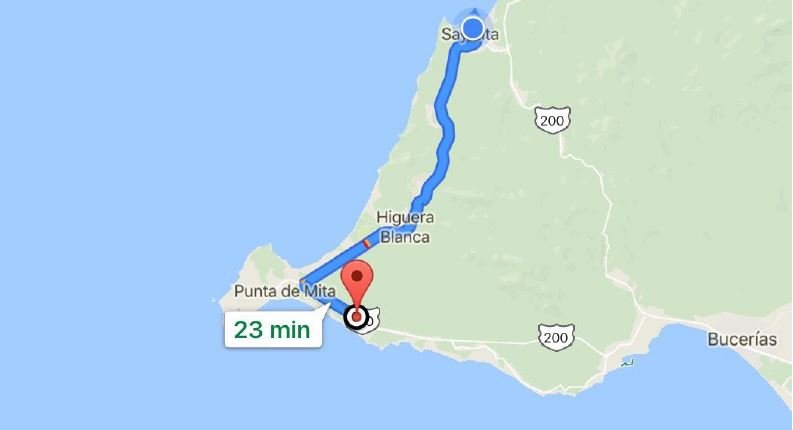 At La Lancha, not only the water is cleaner, but it is a real surfer spot, no big crowds with swimmers or children's playing in the water and going on your way while on a wave, it is a quiet beach where you'll mostly meet other surfers or paddlers.
At La Lancha, there is consistent waves year-round, multiple peaks for all level surfers to enjoy, clean water, and an incredible white sand beach.
Very common to be surfing with sea turtles, plenty of fishes and pelicans there. The beach is surrounded by a jungle. No rivers discharging nearby, and plenty of ocean currents around to keep things fresh.
It is definitely a nicer and cleaner spot for those who like to catch the waves, which fortunately does not suffer the same issues as Sayulita Beach.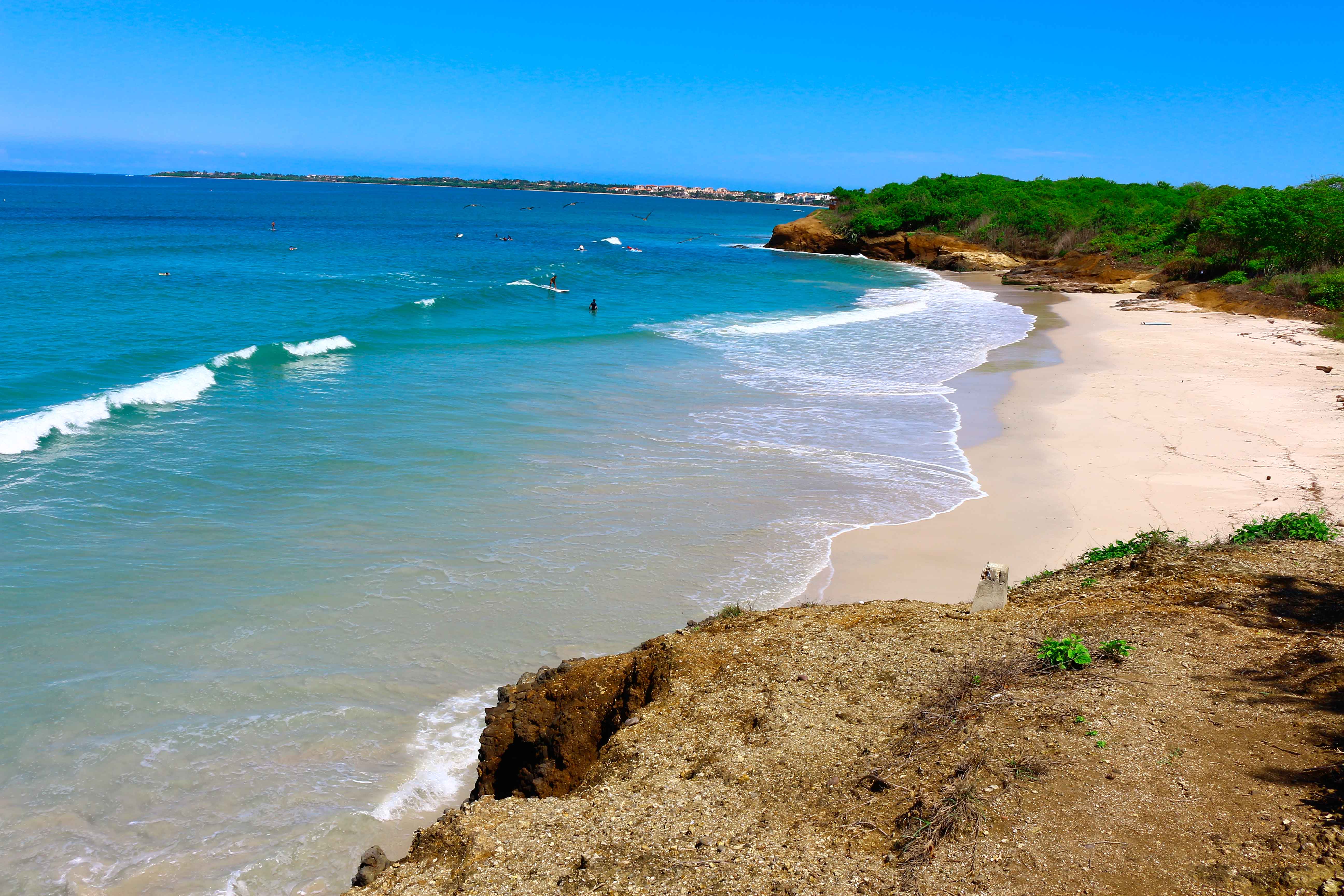 To know more about it:
https://www.sayulitalife.com/news/detail/612
http://mexiconewsdaily.com/news/testing-reveals-only-one-beach-unsafe/
http://www.atl.org.mx/index.php?option=com_content&view=article&id=6344:water-pollution-plagues-mexicos-scenic-pacific-coast&catid=114:contaminacion-del-agua&Itemid=576
In Spanish:
XI. LA COMPOSICION QUIMICA DEL AGUA DEL MAR. (2019). Retrieved 27 August 2019, from http://bibliotecadigital.ilce.edu.mx/sites/ciencia/volumen1/ciencia2/12/htm/sec_16.html
Duran Ramirez, X. (2019). ¿Desalinizan agua las nubes?. Retrieved 27 August 2019, from https://www.iagua.es/blogs/xavi-duran-ramirez/desalinizan-agua-nubes
Severiche Sierra, C., Barreto Lezama, A., & Acevedo Barrios, R. (2019). Efecto de las Lluvias sobre la Calidad del Agua en La Ciénaga Grande de Santa Marta, Colombia. Retrieved 27 August 2019, from http://www.unilibre.edu.co/revistaavances/avances-10-1/Tema_07_Cienaga_Grande_Santa_Marta.pdf
COFEPRIS (16 de Abril 2019). Playa Sayulita, ubicada en el municipio de Bahía de Banderas, cumple los niveles de seguridad establecidos por la OMS. Lugar de publicación: COFEPRIS. https://www.gob.mx/cofepris/articulos/al-100-aptas-las-playas-del-pais-cofepris-197446?idiom=es
COFEPRIS (10-21 de junio 2019). Resultados de calidad de agua de mar. Lugar de publicación: COFEPRIS. https://apps1.semarnat.gob.mx:8443/dgeia/gob-mx/playas/destinos/bahia-de-banderas.html
MARQUEZ GONZALEZ, A. R., TOVAR HERNANDEZ, S. R., & MONDRAGON JALMES, V. A. (2017, 19 diciembre). Calidad del agua de mar y su conocimiento por turistas nacionales: el caso de tres municipios costeros del estado de Nayarit, México.. Recuperado 3 agosto, 2019, de http://www.scielo.org.mx/pdf/eps/n33/1870-9036-eps-33-330.pdf
http://rivieranayaritone.blogspot.com/2017/03/el-municipio-bahia-de-banderas-nayarit_21.html