La Lancha Surf Break in Punta de Mita
La Lancha 's white sand beach, turquoise water and secluded location make it the area's most unique surf break destination. The waves are mellow, the water is warm, and the scenery is beautiful. So come and join the fun!
This is the most consistent break in Bahia de Banderas, with multiple peaks to suit all ability levels. The beach is only accessible via a narrow trail through a jungle reserve and so the beach is uncrowded and quiet.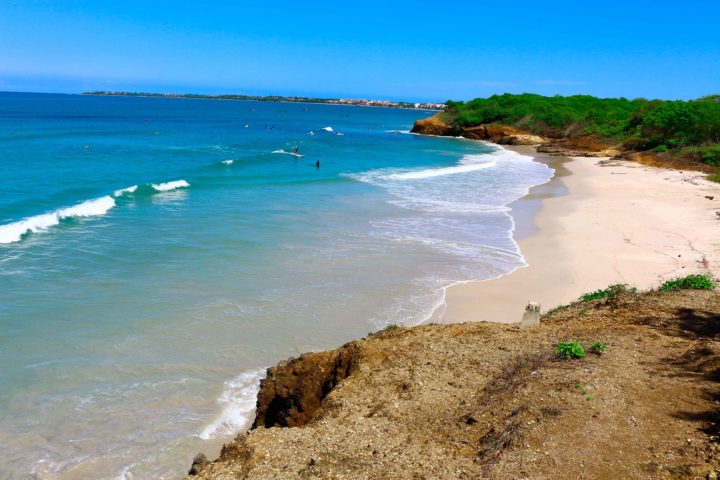 Why La Lancha Surf Break?
The secluded beach is reached by a 7-10 minute walk along a jungle trail from the Wildmex HQ. The beach is devoid of everything except the beach and the ocean; there are no vendors, restaurants or facilities at the beach. The beach's secluded location provides visitors and locals with a unique beach experience that is one of the best sides of Mexico.
One of the main attractions of this beach are the consistent waves year-round, making it the perfect beach to surf and SUP! The waves are mellow, making it great for beginners, and intermediate and advanced surfers who want to perfect their technique.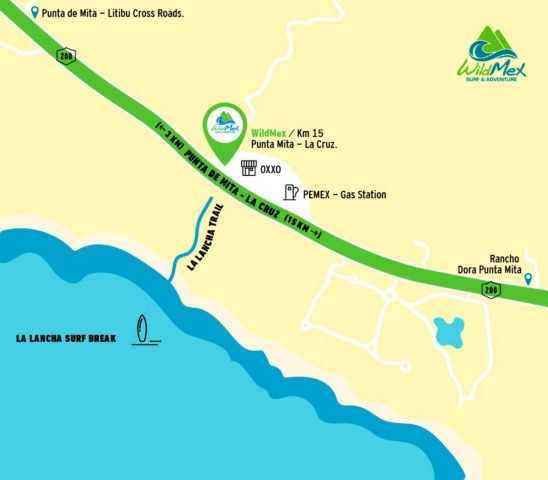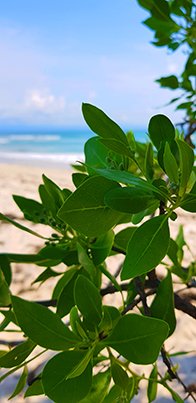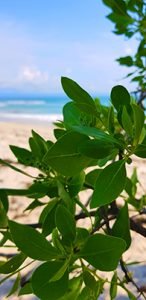 The unique flora and fauna that is present in "La Lancha" create a unique atmosphere and a photographic landscape that invites a closer connection with nature. Mangroves are the kings in the environment which shelters biodiversity under its shadow. will catch you from the first sight.
The water in this south-facing bay is clear and clean, unlike Sayulita, which unfortunately suffers from pollution in the water. While the problems in Sayulita are ongoing, we recommend that all our Sayulita customers come to La Lancha for lessons, or take our shuttle service to our HQ here, where they can rent a board and go out into the water independently.
An added benefit of the clean water at this beach is the abundant wildlife that can be found here. It is not unusual to see friendly turtles poking their heads out of the water close to your board, while pelicans and butterflies float by in the air.
La Lancha is a beautiful alternative to other beaches located in Nayarit and Jalisco. It has fun, mellow waves and a beach that puts visitors back in touch with nature and makes them want to come back for more!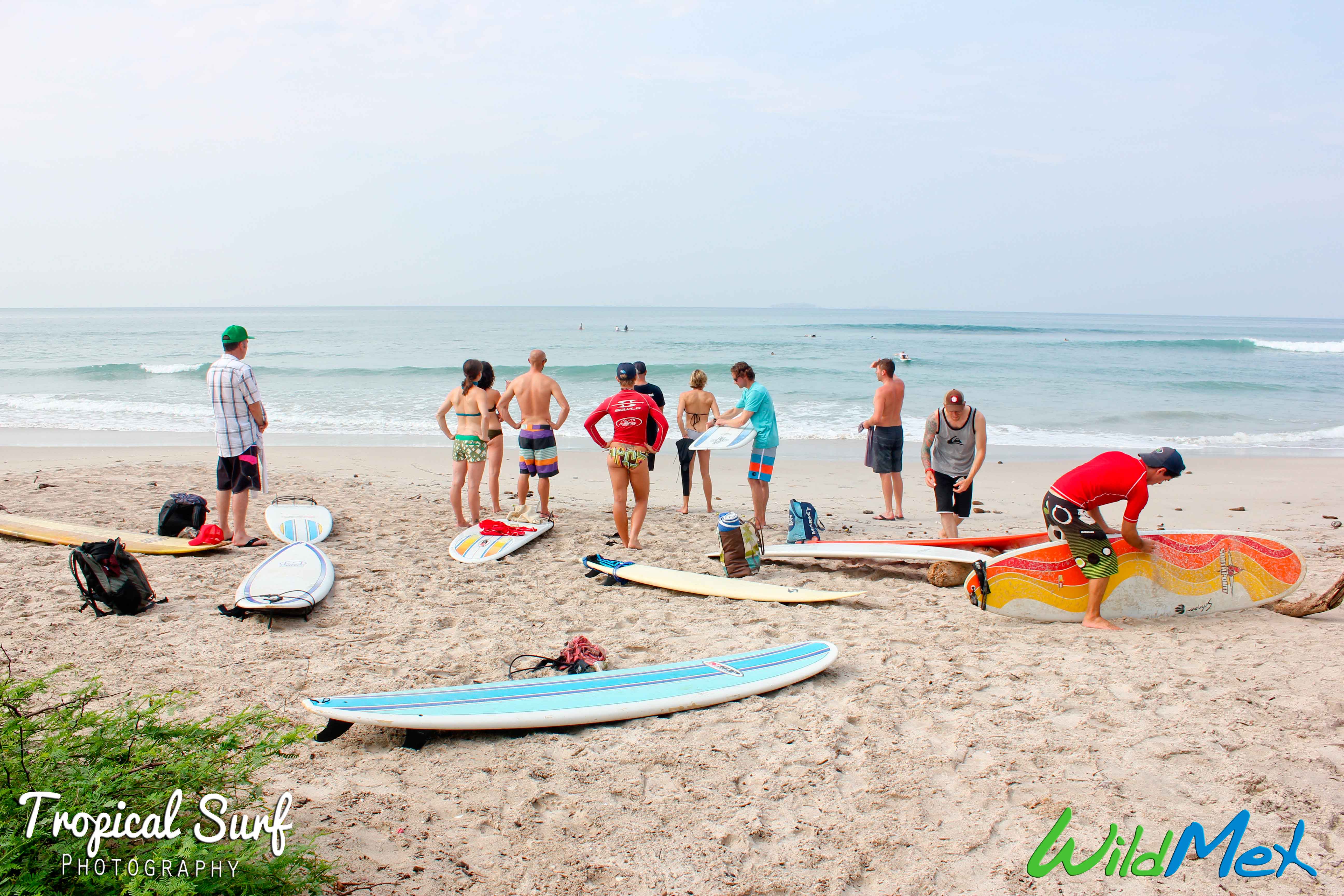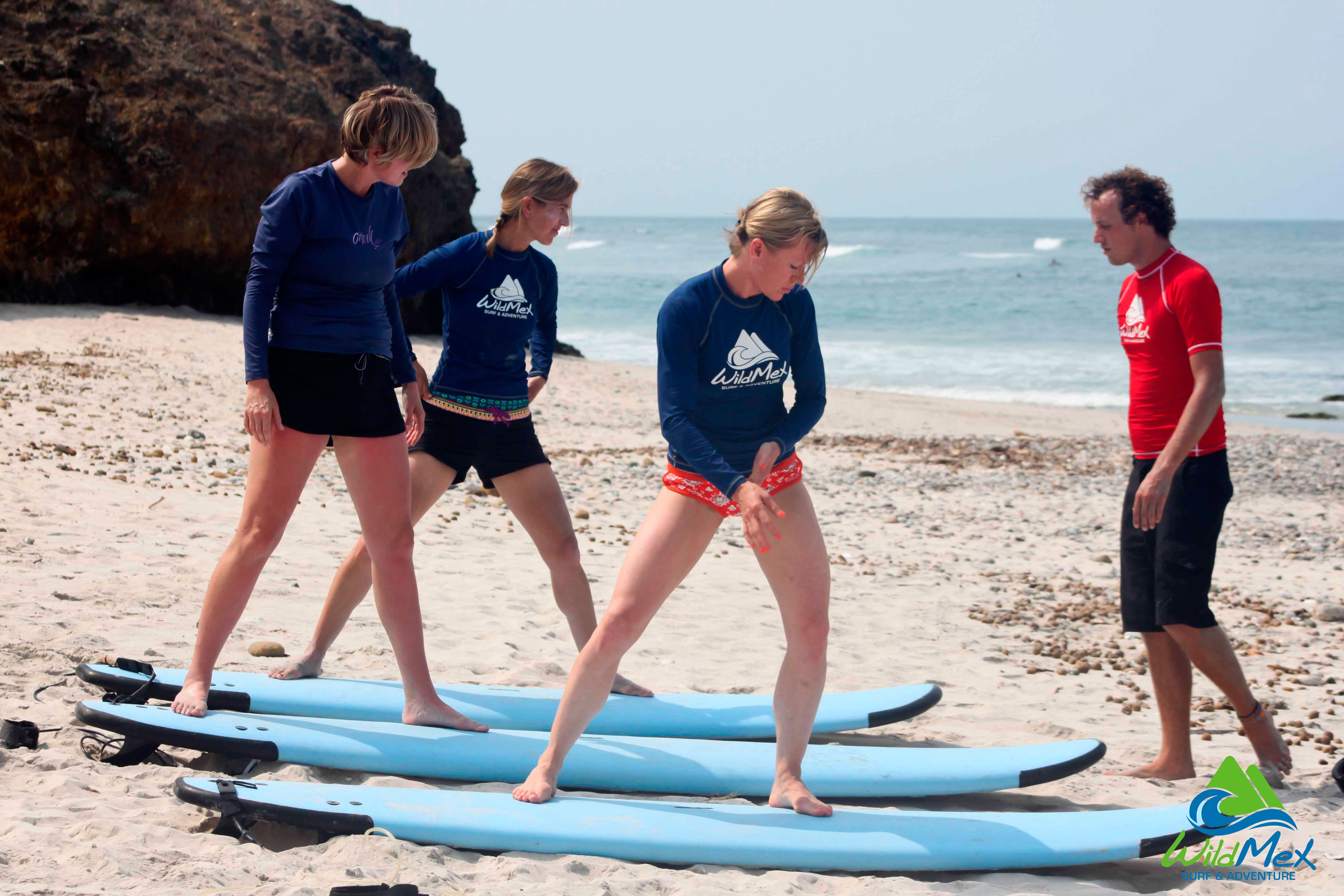 The WildMex HQ offers everything you need for a great day at the beach. The shop is located right off the Punta de Mita - La Cruz freeway, only 8 minutes walking to the beach.
The WildMex facilities include 200+ quality boards for rent, two changing rooms, individual boxes to safely store your belongings, clean bathrooms, an outdoor shower to rinse off when you come out of the water, fresh towels, rashguards and wetsuit tops for those sensitive to cold water. We also have chairs and hammocks under a giant palapa if you want to hang out and relax!
There is also a shop adjacent to Wildmex, which stocks men's and women's clothes and surf gear from several brands, such as Quiksilver, Roxy and Rosemary, if you are in need of a souvenir or you forgot something at home!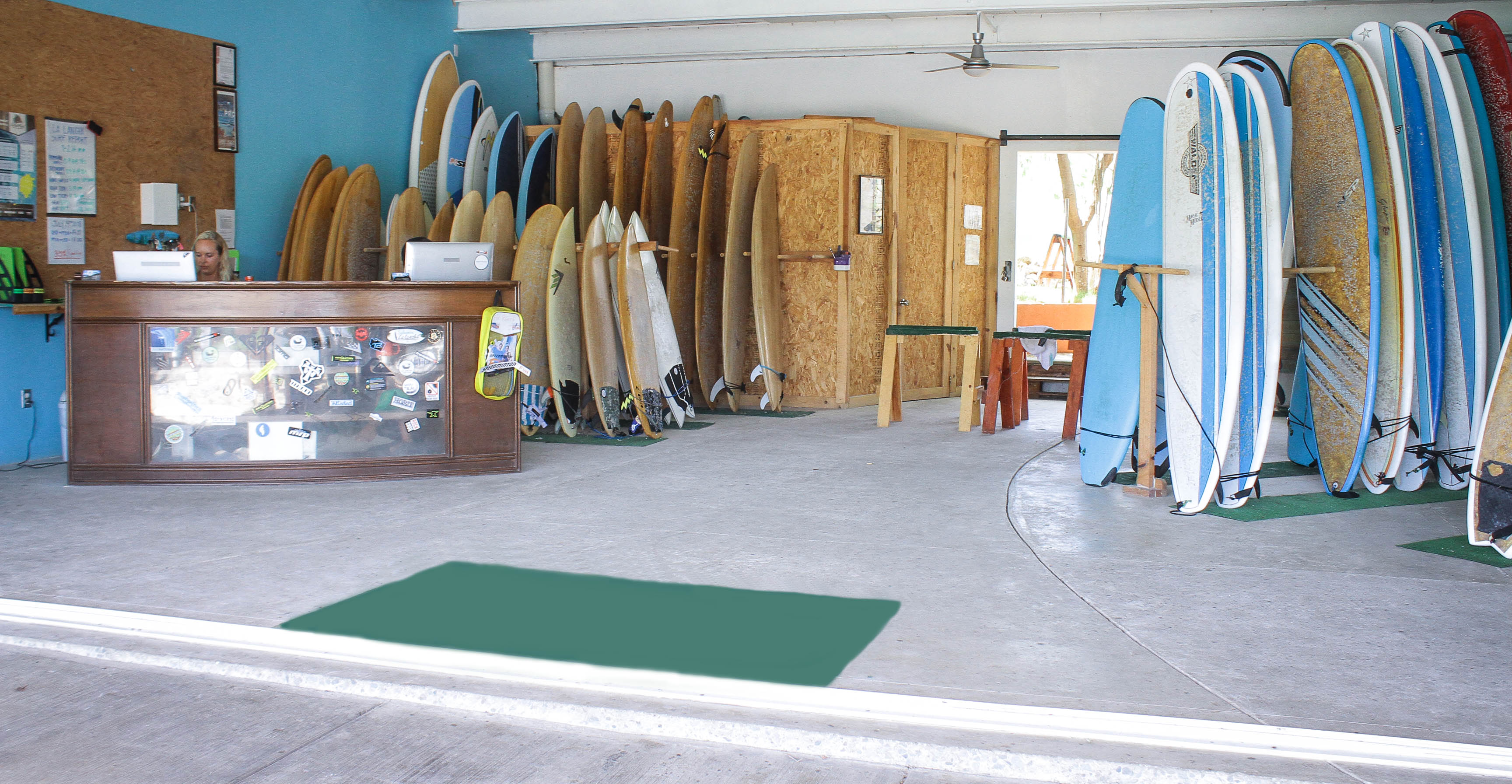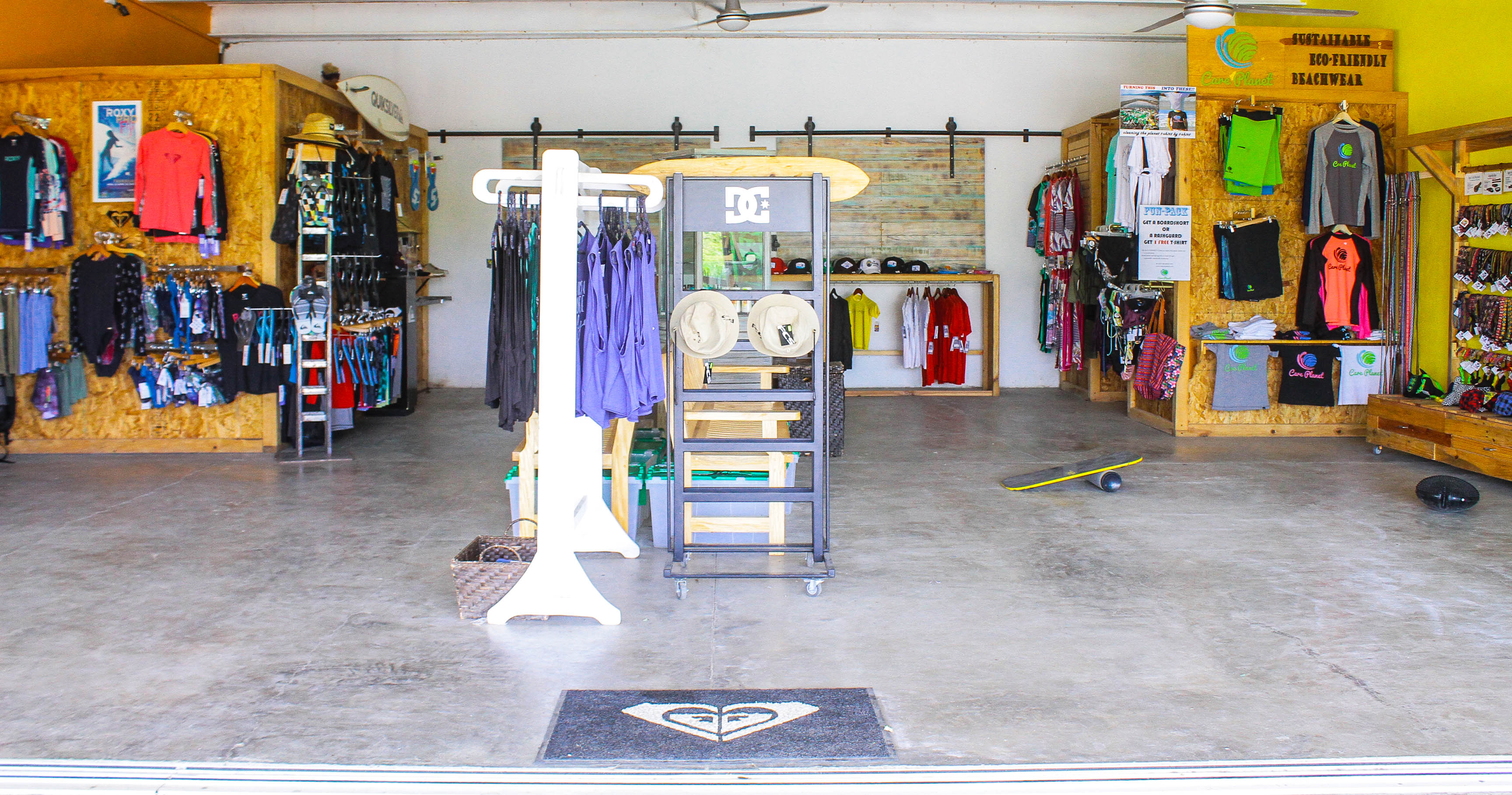 WildMex offers daily lessons and trips for all ability levels with our certified bilingual instructors. Surfers of all ages and of all ability levels will find what they are looking for.
For every lesson or trip, our instructors will help guests to find equipment that fits their body type, size and ability level. The instructor will then lead guests through the beautiful jungle path to the secluded beach where the lesson begins. The lessons last about 2-3 hours, but in this gorgeous setting, time flies!
WildMex also offers high-quality board rentals to those who want to venture onto the beach and into the waves themselves.
The surfers who enjoy this break are locals and visitors alike, with people from all over the world sharing the water at the same time.  If you are lucky, you might even get the occasional tip from one of the locals. Right next door to WildMex HQ, Makai Restaurant offers a wide variety of healthy and delicious food and drinks – just what you need to renew your strength after a good session in the water.