Best tides to surf in the Sayulita and Punta de Mita area?
Everyday people come through asking which tide is the best to surf, what is an incoming tide? Outgoing tide? Does it make a difference between a beach break, point break or reef? Well keep reading to find out…
The Sayulita and Punta Mita area is blessed for having waves all day long and all year long. Situated on the Pacific Coast of Mexico, the main town of Sayulita is proudly facing north, which better receives a North swell. While Wildmex Surf Shop in La Lancha, Punta Mita, sitting on the other side of the point, is more open to a South swell. All breaks in between can hold either an east or west facing swell, due to our rugged coastline.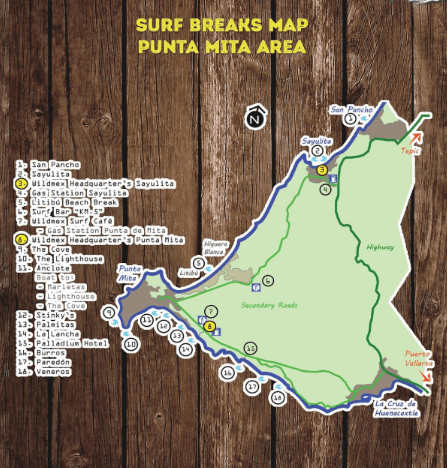 Now what is "swell"!? As described on Magic Seaweed; swell is a collection of waves moving away from a storm in the ocean. Swell can travel in all different directions, and can withhold a variety of power and size. This swell as it heads into shallow water at your local beach will make the waves you surf (or not depending on it's size and direction!).
See here – a collection of lines, that break into a wave as it hits shallow water, this is swell!
Now to the specifics! See below is a map of the Sayulita surrounding area, and the different surf spots.
Sayulita is a town known for a gentle, fun beginner or longboard wave. The left side of the beach is sitting mostly on a sandbar, the best time to surf would be hightide. This spot is best for beginners! Whereas the right side of the beach is a rock bottom point break – better surfed at low or mid tide. Intermediates or above would be best suited to surf here.
Just up the road (north of Sayulita), San Pancho offers a left hand river mouth, sand bottom break. This wave is quite punchy and best for shortboarders – not advised for beginners. The best time to surf is low to mid tide.
Heading south you'll find Punta Mita – a surfers paradise. At Wildmex, we LOVE La Lancha. You can find a variety of boards at out office, directly across from the La Lancha trail head. La Lancha is known to be the most consistent break in the area. A mellow reef break, best for beginners or longboarders. It works well in all tides, but beware of the rocks at low tide!
In between Sayulita and La Lancha you will find Anclote, The Lighthouse, and Stinky`s. All three breaks are reef and rocky. Working best at low – mid tide. Whereas, Palmitas, a punchy beach break works best at mid to high tide.
Heading further south towards Puerto Vallarta, you'll find Burros. This reef break sees more rights than lefts, and works best at low tide.
So to break it down simply. Beach breaks, generally work better at mid to high tide. While, reef works best at low to mid tide. Obviously each place can vary, and sometimes beach breaks work better at low to mid. But in most cases, beach breaks tend to "close out" at this time of day.
To find out the up to date swell directions, wind and tidal times, check out http://magicseaweed.com or http://www.surfline.com