Waking Up in Sayulita, Mexico as a Digital Nomad – Lifestyle & Surfing In Sayulita 2022
This post is also available in:

EN

Lifestyle & Surfing In Sayulita as a digital nomad
What's better than to wake up in paradise on a day that's actually a workday? 
Imagine getting welcomed each morning by the sounds of Chacalaca birds singing as you step outside your door to enjoy the morning ocean breeze on your face. Walking down Sayulita's beautiful beach that stretches on for miles, to grab a steamy cup of morning coffee before work, whilst admiring the waves that crash right on your doorstep? Or simply just sitting on a shaded beach chair before opening up your emails with the sand beneath your feet… Sounds dreamy, right?
For digital nomad in Sayulita, this dream can turn into a reality. Sayulita, Nayarit, Mexico has been the favorite destination of digital nomads in 2020 and 2021, and for all the good reasons! Sayulita provides great working conditions, reliable WiFi, epic views, multiple surf breaks, and magnetizing line-ups that you might, at times, struggle to pull yourself away from. Stand up paddleboarding in Sayulita is also an experience that digital nomads and locals alike love to get stuck into.  
Keep reading for the full nomad lifestyle update…
Why should a Digital Nomad Opt for Sayulita?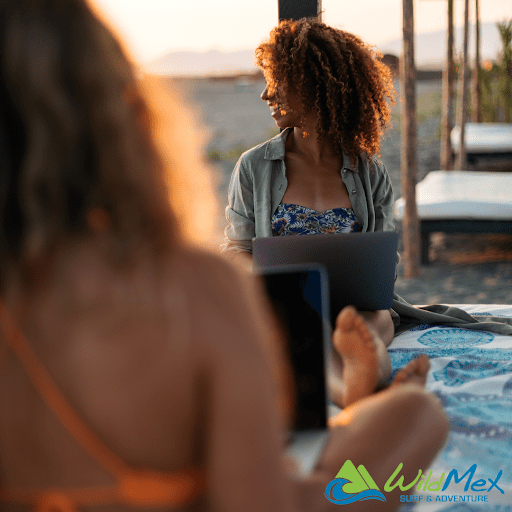 Lifestyle & Surfing In Sayulita as a digital nomad
Being born in a world where digital communication technology has made us location independent, as a digital nomad, you can now experience personal freedom from anywhere!
So, why not from anywhere in the world? Sayulita is a place that offers you the personal freedom to live your dream life. And, once you are here, we know that without a doubt, the vivid life and energy of the town and beach will not only enchant you but also give you that extra zeal towards your work. 
Talk about working in an environment that gives you the perfect combination of the tranquillity of nature and the coffee shop buzz. You'll have the option to work on the beach, or in and around vibey health restaurants and cafes. Working during the morning time or early hours is a great shout because that's when there is a peaceful aura in the town before busyness and excitement begin towards the late afternoon and sunset hours. 
If you are a nomad that lives for adventure, there is no better place to relocate than to Sayulita, from surf lessons to hiking, biking, and Stand Up Paddle Boarding in Sayulita, you'll be spoilt for choice on the numerous activities you can get stuck into when nomadding in Sayu! 
The Sayulita Surfing Scene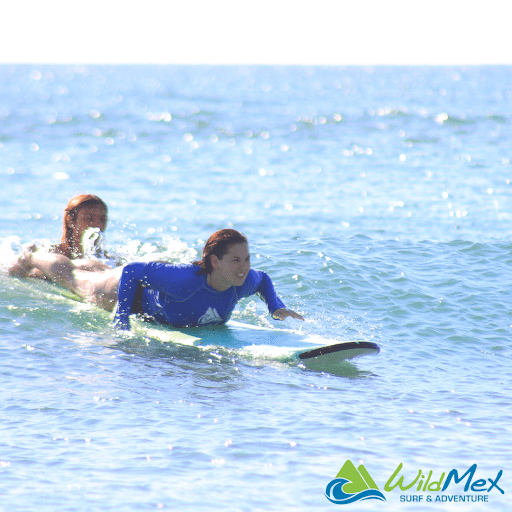 Surf lessons in Sayulita are a popular activity amongst digital nomads living here.
The best time to surf in Sayulita? 
Unlike other surf breaks, when surfing in Sayulita, you won't always have to wake up at the crack of dawn to surf the best waves. Sayulita's best waves are during incoming low tide which changes from day to day. Meaning after breakfast can be a great time to be productive or just have a lazy, chilled-out morning soaking up some sun!
Though there are days with good tides in the morning that you wouldn't want to miss! But if you are stuffed with work and can't adjust your schedule around the Sayulita tide, don't sweat it! There are plenty of local breaks to choose from which work on different tides at different times, meaning whatever your schedule is, there will always be a wave to learn how to hang ten on. 
Check out our Sayulita and surrounding area surf map with more info here! 
Surfing in La Lancha
Surfing in La Lancha is one of the best pastimes for digital nomads living in Sayulita.
There's no doubt that Surfing in La Lancha is one of the best pastimes for digital nomads, locals, and tourists alike. La Lancha is another beach near Sayulita (25 minutes in our shuttle) where there are enough surf breaks to find a wave no matter what your surfing style or work schedule is!
You can also learn Stand Up Paddle Boarding in Punta Mita's La Lancha with lessons for beginners with our expert guides or if you have had experience in SUP in Sayulita or any other place, why not put yourself in for a challenge by renting a high-performance SUP in Punta Mita's La Lancha where the waves can thrash and barrel during peak times (November to March) and catch a wave like you never have before? 
WildMex also runs a shuttle service from Sayulita to La Lancha and back, so you won't have to worry about finding commute options.   Enquire her
Surfing in Punta Mita
Surfing in Punta Mita is a si or si when nomadding in Sayulita. At times if you feel like experiencing the local Mexican culture and just enjoying a change of space for a few days while living in Sayulita, Punta Mita is a great place, especially for surfing. If you've found a time where you and your other fellow nomads are on a work time-out, why not ask us to organize an epic surf trip for you? Our highly-knowledgeable surf coaches know the best breaks and locations to take you to avoid the line-ups and find the best swells, no matter the day or time. All surf trips include transport, board hire, surf coaches, and boat to spot (if required).  Enquire here.
Other recommended surf spots reachable from Punta Mita 
Anclote, La Bahia & Stinky's. View surf map here. 
Why Digital Nomads Choose Sayulita
Why Digital Nomads Choose Sayulita? From hiking, biking, exploring, and surfing in Sayulita. Read more here…
Surfing in Sayulita. Read more here… 
Great outdoor, adventure, and nature experiences
The cost of living is low (around $950 per month per person)
Fair cost and quality internet connection
Good working conditions and WiFi accessibility 
Like-minded crowd of travelers 
Epic surfing in Punta Mita, Sayulita & surrounding – Numerous surf breaks with options to surf at any hour for any surfer
Safe location as a female or solo traveler 
Wide range of supermarket and fresh produce options 
Unlimited cafes and places to dine both international and local cuisine 
Car and golf buggy rentals available 

Bus, Taxi and Shuttle options 

Multiple ATM's, Gas stations & Convenience stores 

Active nightlife 
The Digital Nomad in Sayulita
Waking Up in Sayulita, Mexico as a Digital Nomad – Lifestyle & Surfing In Sayulita 2022
The life in Sayulita garners attention from digital nomads because of its laid-back lifestyle, tropical surroundings, balmy weather, and easy-going vibe. Because of this, Sayulita attracts digital nomads from bloggers, YouTubers, photographers, influencers, graphic designers, web developers, SEO specialists, digital entrepreneurs, affiliate marketers, and more. 
Where to Stay in Sayulita 
Whether you're a wave-rider or a digital nomad, or both, we recommend staying on the north side of town. This is the wilder part of town, with more jungle, less traffic, and better views to soak up each day! (You'll still only be a short 10-minute walk from the hype of the center.) 
As for the accommodation, you can opt for the numerous hostel options on HostelWorld or rent your own studio apartment from AirBnB or Booking.com, whichever suits your budget best!
Best Time to Stay in Sayulita
Wintertime from November to May is the best time for Sayulita as it doesn't get too humid. The summertime from June to October has humid weather, but the crowd is quieter. However, if you are talking about surfing in Punta Mita & Sayulita, the seasons are not defined and there are a lot of diverse surf breaks to catch in between working hours, any time of the year.
If you are in Sayulita from December through March you are in for a treat! When surfing or Stand Up Paddle Boarding in Sayulita during these months, you are likely to encounter whales – a spectacular encounter! Enquire about SUP & surf board rental in Sayulita here. 
Activities to Enjoy
If you're living in Sayulita, there are a lot of activities to enjoy that will satisfy the adventure-thirst within you.
Sayulita Surf Camps
If you're just working part-time or your schedule isn't too crazy, why not divide your time between your emails and epic surf breaks by dedicating yourself to one of our Sayulita Surf Camps? Our surf camps in Sayulita will help you improve your wave-catching skills, tricks, and pop-ups. Read more about our surf camps here.
Surfing in La Lancha
Beginner and intermediate surfers can catch the long mellow beach break at La Lancha whilst advanced surfers can opt for the quick left that works well for shortboards, both within crystal clear waters that'll offer a surf experience of a lifetime! It is also possible to see turtles here, so we welcome you to bring your snorkeling gear!
Other spots such as Burros, La Bahia, and The Light House may also be options depending on the swell. Check our surf map here.
Tasting Traditional Mexico
The culture, the cuisine, and the locals are dominant features of Sayulita. Therefore, going in and around the town and dining in authentic local places will give you the experience of authentic Mexico, no doubt about it. We recommend venturing to the outskirts and far corners of the town instead of just the center, including street food and food trucks to get those more traditional flavors, (the ones which the locals eat!)  
Sayulita surf camp packages with accommodation close to the beach are available at Wild Mex.
Got a question or two about this blog? Reach out to us here!
We hope you found this helpful, until next time! Yeewww!

Peace & Love
Wild Mex 
This post is also available in:

EN