Surfing in Sayulita, San Pancho and Punta De Mita: Your need-to-know Family Surf & Holiday Guide 2021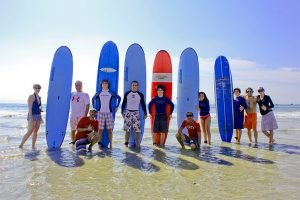 This area is great for families in which all members would like to surf, or in which some are interested in surfing, and the rest would like to enrol in other adventurous or otherwise more relaxing activities in the area.
The surf break in Sayulita has sun loungers and beachfront restaurants, meaning it is possible for members of your family to relax and enjoy the beach and surroundings, whilst other members catch some fun waves on the break right in front! (This is also a great opportunity to get surf pictures, as the break finishes close to the shore!)
Alternatively, if you're a family looking for a wilder surf adventure, why not get the Wildmex shuttle from Sayulita to Punta Mita and embark on an 8-minute jungle hike to the picturesque La Lancha beach – a crystal blue surf break with soft white sand! Whether you're going for a surf day or fancy a picnic at the beach with the kids, both would be a suitable half day or full day out. (It's good to keep in mind that there are no restaurants, bars or beach chairs at Lancha, so make sure that you bring some sunscreen, water, snacks and sunshade!)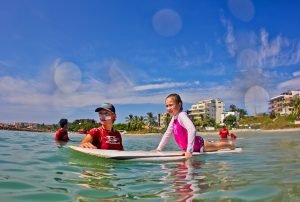 If your family is composed of kids that are old enough and interested in surfing, we offer top-quality surf schooling and surf lessons for beginners in Sayulita and Punta Mita that can give the youngsters an opportunity to learn to surf in Mexico and catch their very first waves!
Surf lessons for adults and intermediate surfers are also available or if you'd prefer, just rent a surfboard in Sayulita or Punta Mita and head to the break yourself for some fun and adventure!
On common days, you'll see beginner-intermediate teenagers joining their parents at breaks like La Lancha and Sayulita for family surf sessions!
(If you are wondering if teens can surf on point breaks in the area, why not check out this video from a family who came to visit us in 2019!)
When Surfing in Sayulita & Punta Mita – It Is Important To Be Aware Of 2 Things: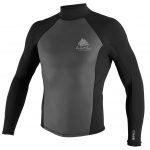 The water at the Sayulita and Punta Mita area can be "chilly" from End of December till end of April, kids and smaller people are more sensitive to cold water, so, if you are visiting us during those dates, and plan on having the little ones spending some time in the water, make sure to bring a spring suit, or at least a wetsuit top for the, trust me, it will make a great difference
Everybody that goes out on a surf break, no matter their age or ability level, most respect Surfing Etiquette, this helps everyone be safe out there and have a great time. Please, if you feel like your teen is ready for the "grown-up waves" make sure first that they are a capable surfer and thoroughly understand the correct surfing etiquette.
If this is not the case, or you're unsure, we would recommend hiring one of our certified surf instructors to accompany you or your teen to the break, where you can enjoy a personal surf session including inside local knowledge of the wave as well as tips on how to improve your surfing ability!
Check out this super helpful page from our Friends at Swell Surf Camp with some valuable info on Surf Etiquette!
Ok, so, this is a really important subject and one that can transform your amazing Mexico Surf Holiday from a great memory, to, "it was great but…", in a second. Sadly, here in Mexico, it happens more often than we would like!
Even though not great, it should be comforting that 99.9% of the crime we get in the area is petty theft, and the .1% left is related to alcohol and drugs (people out partying, getting intoxicated and taking some not-so-smart decisions).
not at Burros.
Leave your valuables at your accommodation inside the safe, or if you are renting boards or taking coached sessions at any surf school, ask them to provide a safe storage location. At Wildmex we offer storage boxes for your bags, clothes and other such items at both our Sayulita and Punta Mita surfboard rental shop.
If you want to take pictures, we recommend that you do not leave your phone or camera unattended at the beach, if you are taking a surf lesson or coached surf session, we offer professional surf photography and can provide you with high-quality pictures or videos without risking your phone/camera, allowing you the peace of mind whilst enjoying your time in the water or at the beach.
There are particular locations, especially Sayulita, where "sandal theft" (yes you read right) – is a real thing. So sadly, if you are going surfing in Sayulita (or elsewhere) and if you expect to see your sandals again, we recommend that you leave them in a safe place, not at the beach. (Everyone walks barefoot all over town in Sayulita, so you won't feel out of place!)
Staying Safe In Sayulita On Your Family Holiday – Staying One Step Ahead Of Thieves In Your Rented Accommodation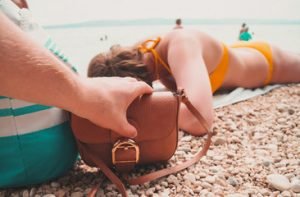 As locals, we like to offer our guests the inside knowledge to help keep you and your family safe during your vacation. Please be aware of this one situation which has been known to happen (mostly with private houses or apartments booked through booking sites) in the local area…
You arrive at your accommodation, after a long day of traveling, waking up at 4 am, connecting flights, eating airport food, not drinking enough water, etc. and you get into your Airbnb or Sayulita Life rental…
Check-ins in the area mostly happen on Saturday and Sundays, and once you do check in, you figure out, you're starving! You leave the bags and belongings lying around and head out for dinner in the local town, only to come back a few hours later and find out your laptop, phone, ipad, Kindle, passport, etc. are all gone.
Unfortunately, this is a ritual that happens at many private rentals in the area, and has nothing to do with the owners, it is just thieves that have figured out check-in dates, tourist behavior (sorry guys, you are not that unique) and most importantly, how to effortlessly break-in into certain properties, making it a super simple and profitable way for them to make some easy and fast cash.
The police, the property owners and even the locals are coming together to put a stop to this kind of crime in Sayulita, and so far have been really successful, however, it still happens, and visitors being informed ahead of time can help us put an extra prevention layer for this not to happen.
So please, no matter how tired, hungry or intoxicated you are, leave your valuables in the safe before leaving your rental property!
Thanks for helping us all keep Sayulita, San Pancho and Punta Mita safe!
Most surf breaks in the area are suitable for Longboards, or Fish-Style shortboards with generous volume and a relatively wide outline.
There are some surf breaks that are suitable for performance shortboards, like San Pancho, Veneros and the Cove most of the time, however, in our experience, you will catch more waves and have a better time during most surf sessions in the area on a board designed for mellower waves.
For those of you who have limited experience with surfing and surfboards, here are some examples of boards that could be suitable for the area.
Longboards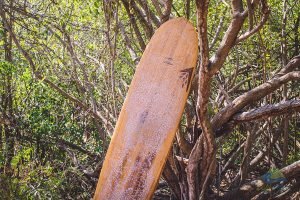 Firewire, The Gem: Ideal performance longboard for small and mid-sized mellow waves. This board is great if you want to catch a ton of waves! The slick design on this board makes it ride really smooth and makes the wave easy to catch. This would be a great surfboard choice for a small and medium size day at La Lancha.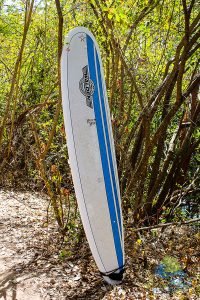 Walden Mega Magic: We love this board! It has a vast amount of volume, can paddle into virtually anything, and its sharp back rails help generate good speed after a decent bottom turn. Walden Mega Magic are also really dynamic boards – people with different waves and ability levels can all ride them whilst having a great time in the water. This board would be great for a small day surfing Sayulita's point break.
Shortboards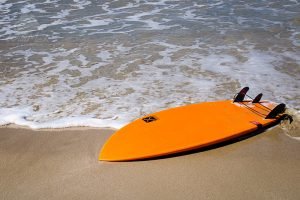 The last 5 years have seen a revolution on the shortboard design, boards now come in multiple shapes and materials, and different fin setups, this gives each model a special character, and, when teamed with a surfer, creates an even more unique style for every rider on every break. Our favorites are:
Firewire SeaSide: Wildmex customers love this board! It's been known to catch waves like crazy and performs well, even on sharper turns. Make sure to rent it out with its intended fins, (the Machado Keel Fin) 50% of the smooth feeling related to this board, comes from these fins! You would be happy with this board at any break in the area with chest high waves, perhaps Burros or El Paredon would be the best suited. This would also be a great option for the Cove and El Faro on decent days.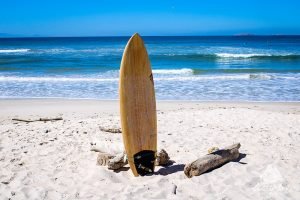 Firewire Baked Potato: The name might sound funny, but if you are looking to ride a shortboard when everyone else is riding a longboard, this is your go-to board. Try it out on a quad fin setup and you won't be disappointed. Ride this board on small to medium days at La Lancha or even a decent day at Stinkys or El Anclote.
If you would like to rent one of these boards (or another) head to our rentals page here. If you require any more info on the area's surf breaks, swells, tides and the right wind for each one, how to get to them, where to park, best times to surf in Sayulita, Punta Mita etc. go to our Sayulita and Punta Mita Surf Break Map and General info
The nearest airport is (PVR) –

Licenciado Gustavo Díaz Ordaz International Airport

, located in Puerto Vallarta. Once there, rental cars and taxis are easy to find just outside of the airport exit. Expect to pay between 300 – 500 pesos. Buses, however, are just as convenient and far less expensive. Located just left of the airport exit and across the bridge crossing the main highway, a bus stop can be found which will take you to Punta Mita, Sayulita or San Pancho for 100 pesos or less ( $5 usd approx).

Buses are green and white, called Compostela, and clearly display their destinations on the front window. 

Airports have the worst exchange rates, so we recommend exchanging just enough for transportation and then using an ATM or currency exchange once you arrive at your destination.

There is also a better exchange rate at the ATMs in Bucerias. You can take a bus there from Sayulita for close to $2.00 USD/ $40 pesos.

Naturally, if you aren't from a Spanish speaking country, we would recommend practicing basics like asking 'Are you going to [destination]?'

¿Vas a [destination]?

or 'How much does it cost?'

¿Cuanto cuesta?

in Spanish. 
Learning to surf in Sayulita is the perfect spot as it is famous for its super fun longboard waves. It is best to surf here at mid-tide, working best with a southwest swell direction. Typically, expect a crowded line-up.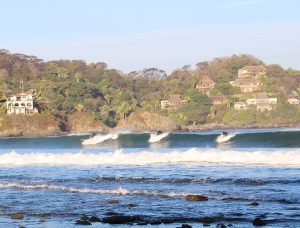 The far-left break nearest the point is great for first-day beginners to learn the basics of surfing. There is no face (steepness of the wave) on the waves on this side. They instantly break into mushy white water; making it perfect for simply learning to get comfortable on the board with paddling and standing up. This break has a sandy bottom, so there is no need to worry about scraping your feet on rocks or reef.
The middle break is the most popular and great for intermediate surfers. You will also find advanced surfers surfing here. It is just left to the river mouth, but in the winter season, it is not much of a river anymore. It is a peeling right-hand wave (breaks to the right, consistently. Great for the regular-footed surfers!). There is a nice face to this wave that is usually knee to waist high range on most days. Occasionally there will be bigger days in the chest to head high range. Here, the peak breaks right on top of a reef. You have to be super careful at low tide because there are many sea urchins in the winter season; when there is no water running through the river mouth to wash them all away. The waves here roll slowly, giving you time to stand up and the long face provides ample opportunity to ride the wave!
The far-right break is the least popular break but it can be super fun if you have a good grasp on surfing! It is just to the right of the river mouth. The wave almost mirrors the middle break, giving you a peeling left hand wave; it does break a bit faster, making it more of a challenge to surf this wave. It breaks on top of rocks, so do be careful here as well at low tide.
Conveniently, we offer high-grade surfboard rental in Sayulita with over 300+ high-quality surfboards, located just 30 seconds from the main beach. Find us here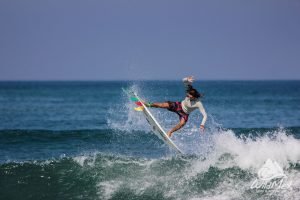 San Pancho is a beach break with steep waves, ideal for short boarding and advanced surfers. It gets crowded here, in the evening mainly.
There is one long break here, breaking with both lefts and rights. The river mouth runs through the middle of the break. The waves here break a bit close to shore so you must be cautious during low tide. This wave can break nicely at all tide levels. The waves are steep and break quickly. Sometimes you can find lengthy waves here, but usually, they are short and there is not much opportunity for a lot of ride time on the faces of these waves. Buuuut the drop in here is super fun!
Surfing in Punta Mita (La Lancha)
La Lancha is a beautiful, secluded longboard break. Each break here has a fat mushy wave that's super long. You will see surfers of all levels here. There are rights and lefts, depending on the break you are at. There is plenty of space to spread out here. It really only gets a crowd on the weekends (for the most part). There are rocks here – so be careful at all breaks during low tide. It breaks best with a north swell direction.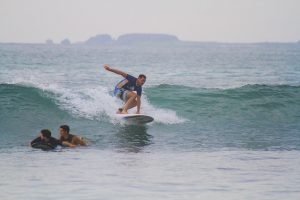 The right side breaks just right of the lagoon. When there is a lot of rain the lagoon connects to the ocean. This side breaks mainly to the right and the waves are usually long with a fat, gently sloped face. There is a lot of flat rock on this side that spans a long distance so be careful at low tide. 
The middle break is usually the spot to surf left-hand waves. It mirrors the right side with the same fat, gently sloped face. There are clusters of rocks on this side close to shore and also in the lineup, be careful at low tide.
The far left side can be a bit more advanced on the big days than the other side. It breaks to the right and to the left – so be careful when taking lefts because it is rocky on the left side. The wave comes in at an angle, there is more face on the right side of the wave, but there is a quicker drop when you take the left side of the wave. This side can be super fun on the smaller days because it holds enough power to almost always break nicely. 
To get to the far left side you have to pass by a rock structure that juts out close to the shoreline. The wave breaks right in front of the resort there with the white beach chairs in front.
Winter season is when the bigger swells come in but overall you can find waves here all year long!

The swells in the area generally range from 2 to 4 feet (.6 to 1.2 meters).   
The weather in Nayarit is exceptional most of the year. Rivera Nayarit enjoys a mild tropical climate with a yearly average temperature of a comfortable 77° F (25 ºC). 

Summer in Riviera Nayarit can be a bit warm for some, with average highs in the 90's. 

The rainy season comes in late June and lasts until early November. During the rainy season, the afternoon brings showers and relief from the summer heat. Occasional thunderstorms roll through in late summer providing an evening's entertainment without interfering with daytime vacation activities.
WildMex's office in Sayulita is conveniently placed within a 1-minute walk from the main beach break. If you'd prefer to try out the waves at the more secluded beach of La Lancha, we offer shuttles from our location in Sayulita to our location at La Lancha every day at 8:00am, 11:00am, or 2:00pm. Check out further details here!
Prices vary. Surf lessons can be found in the range of 700 – 1,300 pesos per person, depending on the season. Discounts may be available for larger groups. The cost of a surfboard rental in Punta Mita and Sayulita etc. will also depend on where you choose to rent from, and the quality of board you choose. Expect to pay around $30 USD for a full-day rental, with better rates for full week rentals. 
Secure your board ahead of time with Wildmex here.

Weekly surfboard rentals are anywhere from $115 to $165 USD.
Where you choose to stay will definitely depend on your preferences:
Sayulita, about 45 minutes northwest of Puerto Vallarta, is known for consistent surf breaks and authentic local craftsmanship. Once a sleepy fishing town, Sayulita has grown exponentially in recent years and has become a popular tourist destination featuring many great Airbnb options, safe and reasonably priced hostels (such as Selina or La Redonda), and comfortable hotels along the north-facing beach. Sayulita has a good variety of restaurants, bars, and cafes in the area. If late-night noise might be an issue for you or your family, consider looking for housing outside of Sayulita's main plaza area.

Punta Mita is a small town on the peninsula north of Puerto Vallarta. The peninsula is privately owned by Four Seasons which offers all-inclusive resort stays, but there are also plenty of options for Airbnb's closer to town. Punta Mita is more calm and quiet than Sayulita or Puerto Vallarta, offering plenty of options for boat tours and surf lessons.

San Pancho is known as the cultural heart of Nayarit, managing to have preserved its rural essence and the authenticity of a picturesque Mexican beach town. With plenty of excellent restaurants and a thriving local music scene, San Pancho is a great place to escape the noise of Sayulita or Puerto Vallarta.
These are very safe destinations overall. Take caution by avoiding the beach in the night and taking the well-lit routes through town to get home.
People who don't enjoy warm sunshine, warm ocean water, and palm-fringed ocean beaches wrapped in a lush cloak of verdant jungle.