The best right-handers and left-handers – surfing in Sayulita and the Punta Mita area 2023
Trust us when we say that there's waaaaay more to Mexico than just tacos, tequila and sombreros… Also right and left-handers surf spots!
Some of the funnest, punchiest, longest and most surfable waves in the America's can be found right here on the Pacific Coast. No matter which one you are, we got the best right and left-handers surf spots with classic point breaks, tubing beach breaks, long mellow longboard waves and strong offshore winds - Surfing of the highest quality can be found all along this raw coastline, and, it doesn't matter if you're not yet a pro - you'll find waves suitable for beginners to intermediate and plenty'o surf lessons in Sayulita & Punta Mita too!
Our high-vibe team, surf camp in Punta Mita and accommodating surfboard rental locations are ideally positioned on this coastline in the Sayulita and the Punta de Mita area (approx 25 miles from Puerto Vallarta) with a pick of the bunch epic surf breaks and badass waves all reachable nearby via foot, public transport or by car.
(If you're an intermediate or advanced surfer or you already know your surf stance, skip this next section and start reading again at BEST RIGHT HANDERS!)
For the nitty gritty details of our epic surf camp's in Punta Mita and Sayulita Jump here!
RIGHT-HANDERS & LEFT-HANDERS SURF SPOTS -  BEGINNERS SAYULITA GUIDANCE
"AM I REGULAR OR GOOFY?" - DETERMINING YOUR SURFING STANCE
Learning to surf in Mexico is pretty epic, however, to experience the thrill of riding the line, you first have to work out your surfing stance!
The easiest way to figure out if you're a regular or goofy footed surfer is to identify your dominant foot. When standing on a surfboard, your dominant foot is the foot you place behind the front foot - the one closest to the tail of the surfboard.
Usually, most right-handed people have a right dominant foot whilst most left-handed people have a left dominant foot. However, this isn't always the case!
Some right-handed people feel more natural surfing with a goofy stance whilst some left-handed people prefer surfing regular!
So remember, it's all about which stance feels most natural to you! You can always try practising your stance on a surfboard at the beach before you enter the water! - Usually the foot you automatically put front first, will be your most dominant, leading foot.
Regular Stance: Left foot forward, right foot back.
Goofy Stance: Right foot forward, left foot back.
Stick with the stance you feel most comfortable with and you'll learn the basic techniques of surfing way quicker!
IDEAL SURF BREAKS FOR REGULAR & GOOFY SURFERS
Most surfers prefer surfing frontside (facing the wave). This means regular and goofy footers tend to choose surf breaks that offer the best waves for their stance! That's why we've put together this mini-guide of the best right-handers and left-handers in the Sayulita and Punta Mita area, meaning less time researching and more time wave catching!
LEARNING TO SURF IN MEXICO
Interested in improving your surfing abilities whilst on vacation or passing through the area? Why not book an unforgettable surf lesson in Sayulita or Punta Mita with one of our certified surf guides? Return home with everlasting memories, lifelong surf skills and a wider than wide smile that'll ensure your return!
Check the details here.
THE BEST RIGHT-HAND SURF SPOTS IN THE AREA
The Cove (La Bahia)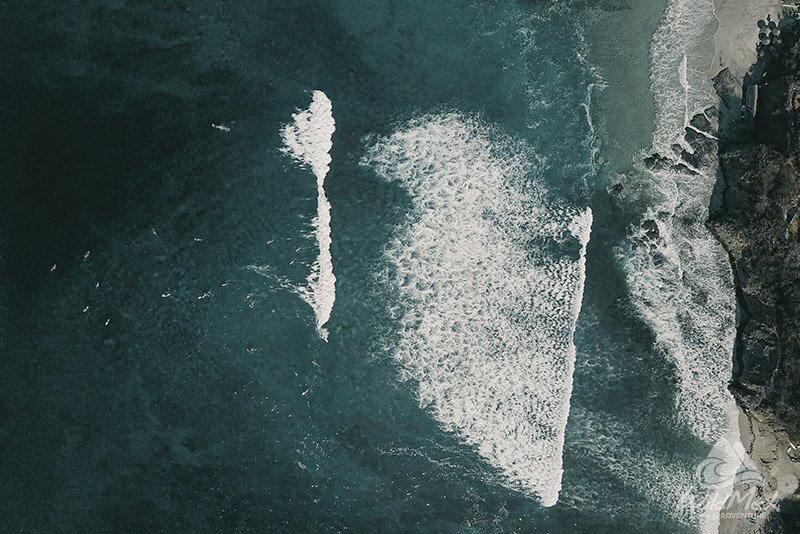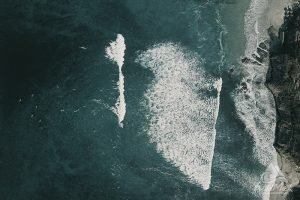 The Cove, known by the locals as La Bahia, is a reef break with mostly right-handers (and some short lefts) - good for shortboards, yet you'll find some longboarders surfing there too! This wave works on pretty much any tide, and any swell direction yet performs its very best in the early morning.
This point is accessible via boat from Anclote and will cost you around $20USD. Keep your eyes peeled and your wits about you for sharp reefs which become very exposed on low tide!
The Lighthouse
The Lighthouse offers a dreamy thigh-burner for regular footers on a larger north swell (6ft plus), with nice long right-handers that work insanely well with incoming northern swells on low-mid tides coming out.
This ride hand point break offers long slick and pumping rides great for longboards and shortboards too. Yet watch out; this wave breaks on shallow reefs.
Access this spot by boat from El Anclote or alternatively, opt for the 20-minute hike from the same spot.
EL ANCLOTE
This right-hand reef break is positioned right in front of the town of Punta Mita.
It needs a pretty pumping and powerful southern or northern swell to break buuuuut when it does, it offers some playful longboard surfing for beginners and intermediates (and also SUPing) - thanks to its long, slow and mellow wave.
THE BEST LEFT-HAND SURF SPOTS IN THE AREA
CHACALA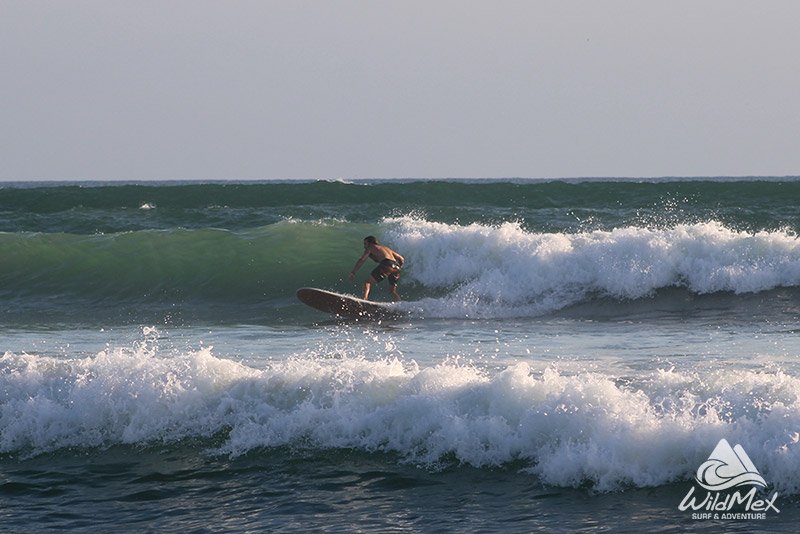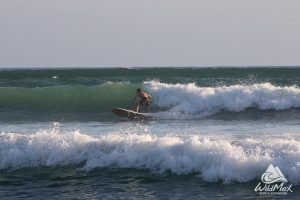 This wild and secluded break is waay worth the adventure - if you're up for it.
This prime left-hander with a mellow take-off is called La Caleta, and in the area of Chacala, 45 mins drive north of Sayulita. This wave doesn't quite get the hype it deserves, which is a good thing for those more adventurous surfers looking for un-crowded line-ups and long lefthand rides. With no beach population in this spot, it'll be just you and the insane nature that surrounds this break.
If you're looking for a true surf adventure in Mexico, without a doubt, this is your spot. Accessible only by four-wheel-drive through rocky and uneven roads or via boat into the secluded cove from the town of Chacala, this wild and scenic voyage with surroundings of black volcanic rock, will transport you to a break like no other.
TOP TIP: Be sure to drop out before getting too far inside, otherwise, you'll be urchin picking for the next few days!
SAN PANCHO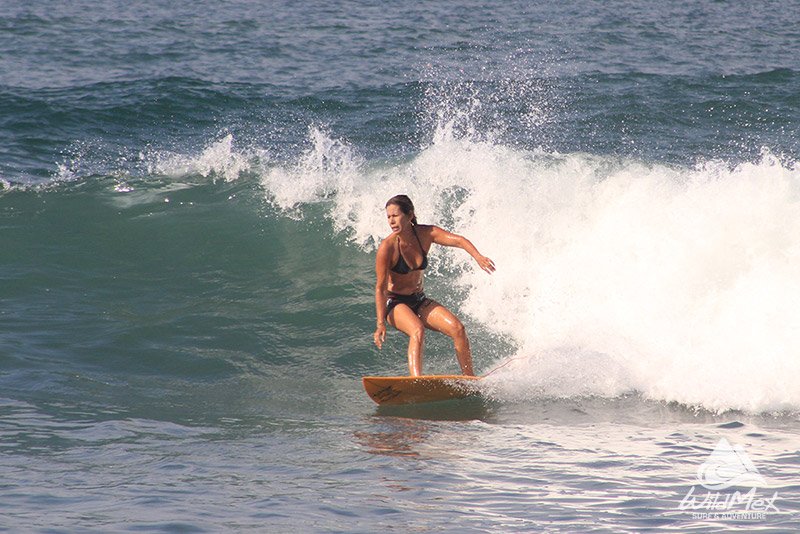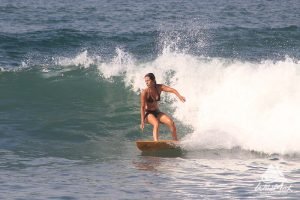 The short and punchy, left-hand beach break can be the perfect match for experienced shortboarders when the south swell arrives and the river mouth opens.
Even with its sand bottom and in good conditions, this strong wave can be challenging, so best not to try unless you're confident in your abilities.
Find this spot by arriving at the San Francisco town (San Pancho) (10 min. north of Sayulita) then go all the way down the main street until you get to the beach!
SECRET SPOT
Once you're at the Sayulita main beach, head south and into the bay, keep on going south and do some exploring, if you get lucky, you'll find the secret left-hander in between Sayulita and Litibu. This spot is a hush-hush wave known only by locals!
This high performing left-hander works mostly in Summer with southern swells, yet, be aware, as takeoff's close to the rocks can become a little sketchy!
This secret spot isn't on our surf map - but if you look hard enough you'll find it! Accessible by a car that can deal with some dirt roads plus a little bit of hiking!
BEST OF BOTH WORLDS - BREAKS WITH RIGHT-HANDERS & LEFT-HANDERS!
Sayulita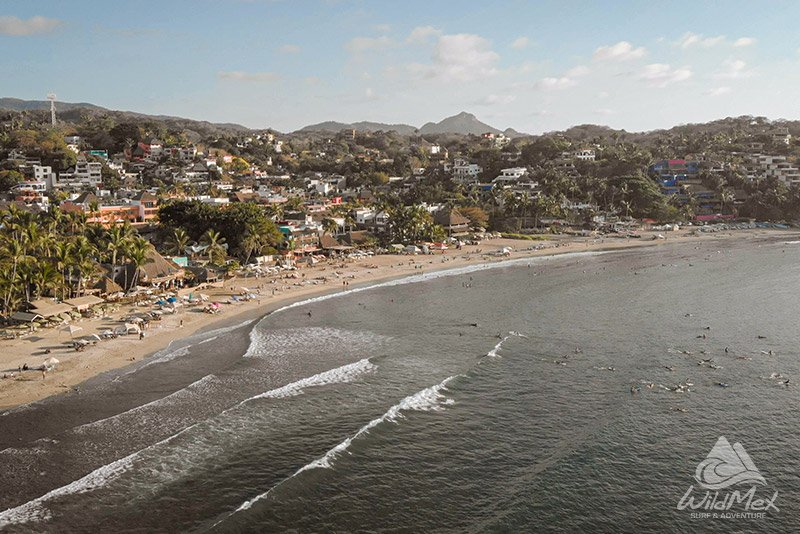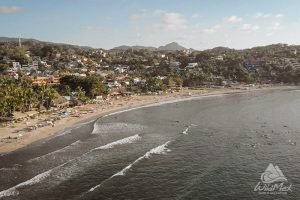 Sayulita's main break is a right-hander which is great for longboarders and for short boarders too (who aren't afraid to pump!) The best time to surf in Sayulita? Well, regardless of the tide, this spot is always great fun, however, if you want to catch the very best sets, this wave generally works best on low and mid tides.
When surfing Sayulita, watch out, because this main point break has a rock bottom and is generally crowded due to its popular location right in front of the town of Sayulita!
If this famous spot is a little too crowded for you, alternatively, you can catch some right-handers on the beginners sand bar south of the main break or head north up the beach (2 minutes walk) where, when the swell picks up, proves a high-quality wave! Be aware that this wave does, however, tend to break on shallow water! So watch out for the rocks!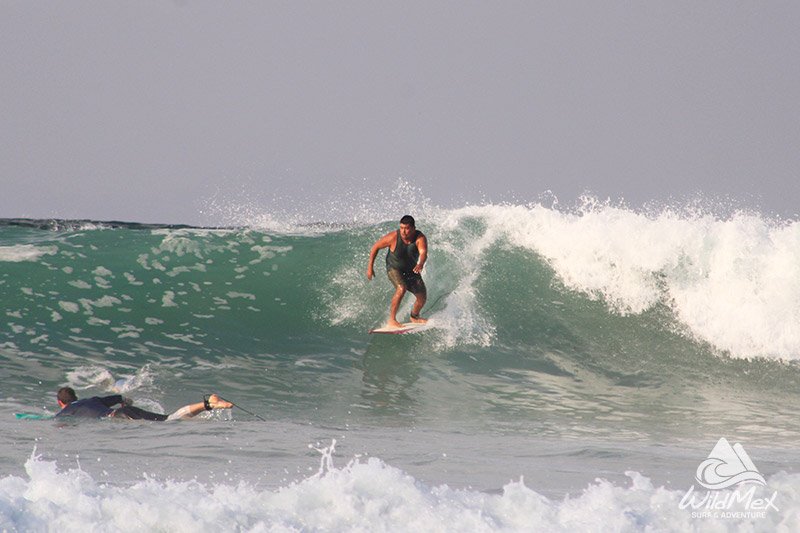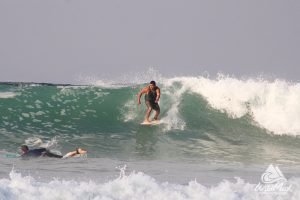 Surfing in Punta Mita doesn't get much better than this… in a group of regulars and goofy's you'll be spoilt for choice with 2-3 different peaks to choose from with epic views and quiet-moderate lineups.
From a fun beach break that can turn into a right-hander to the main peak which offers both left and right-hand waves, attracting both long and shortboards - oh and turtles too!
The best time to surf Punta Mita's La Lancha? This spot performs best with the incoming or outgoing tide. It will take you around 40 minutes to walk from Punta Mita or you can reach this great surfing spot with the use of a Panga boat.
PALMITAS
Palmitas is a high-energy, powerful beach break that is essentially formed by low-lying sandbanks. Generating both lefts and rights, intermediate-advanced surfers will be spoilt for choice at this punchy and dynamic break.
This spot is frequented by and suitable only for short boarders and boogie boarders alike, due to its shallow bottom and swift performing wave.
Catch this break in its optimal conditions, with a medium-high tide and a short period north swell with winds from the north. At just a 10-minute hike from La Lancha or 15 minutes from the main town of Punta de Mita, this is an easy-to-locate break that won't leave you short of a challenge!
VENEROS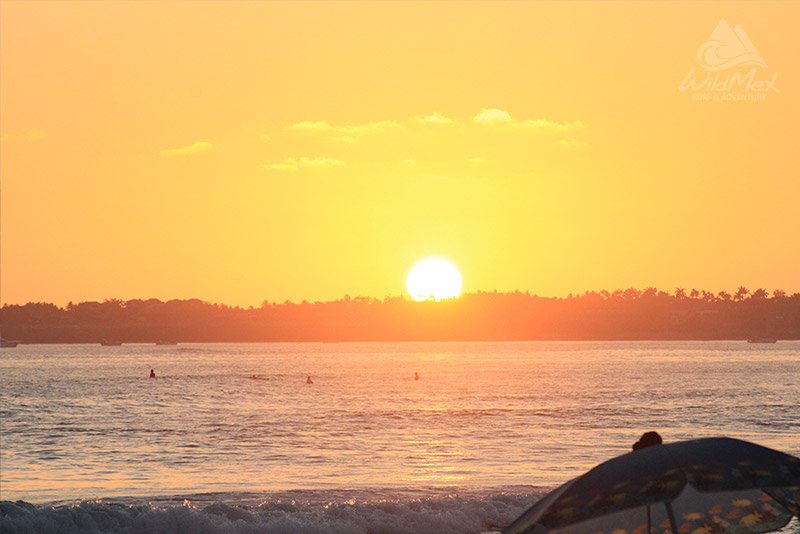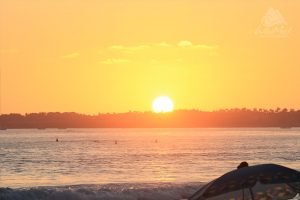 This right and left hand, sandy beach break, also known as Dinosaurs, is positioned right in front of the town of Punta Mita, a 20-minute walk from the old "La Cruz - Punta Mita" road and accessed via the public access beach called Destiladeras.
Frequented by boogie boarders and short boarders, however, also suitable for longboarders too, this consistent, mellow wave is perfect for beginner-intermediate levels.
Catch the right-handers on the point break or alternatively, the beach break that goes left and right. Consistency is year-round with mainly winter swells.
BURROS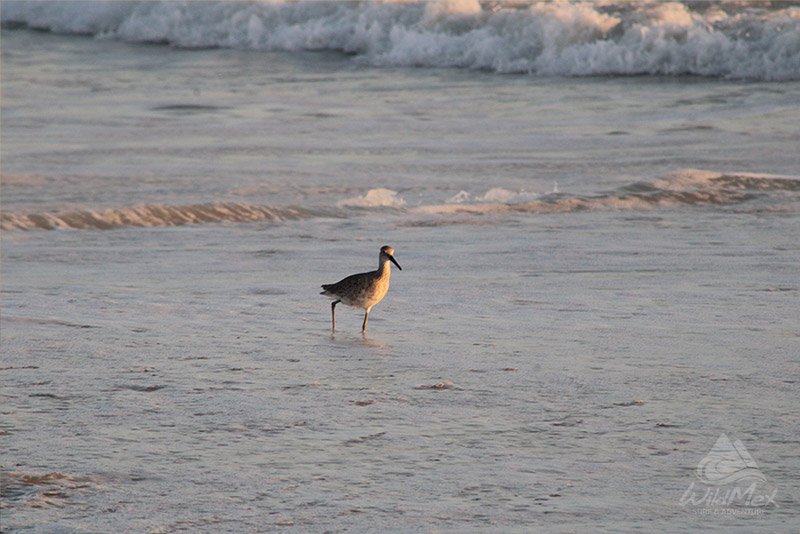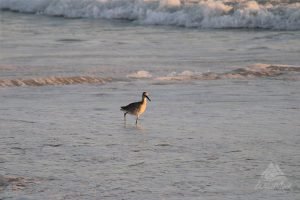 As one of the best and most consistent spots in the area, breaking over 300 days of the year, Burros attracts intermediate-advanced local surf addicts and foreign wave-chasers from all over the world.
This somewhat fast righthander can be a super fun and an uncrowded ride (on typical days), however, when there's swell, this place can get BUSY.
If the line-up becomes a little crowded or you're looking for a smaller ride, to the left of the main spot breaks a fun left-hander, suitable for beginners to intermediate surfers when small.
Perfect for both longboarders and short boarders too, this reef bottom break works best on south or south west swells, which can make for an epic session!
This great surfing spot near Sayulita is reachable by boat and by car. From El Anclote beach you can hop on a boat and ask to be taken here with no problems at all.
Whether you are searching for right-hand barrels behind the rocks or hanging 10 down the left line, Surfing in Sayulita and the Punta Mita area offers the perfect blend of challenge and reward.
Which do you prefer and why? View our full Surf Break Map here for further details on how to get to your prefered break!
If you'd like further info from our highly knowledgeable, local surf guides on anything from breaks to shuttles and surfboard rentals in Sayulita and the Punta Mita area, just drop into one of our Wildmex shops or give us a call here.