5 Reasons Why Surfing Lessons for Kids Are Important in 2022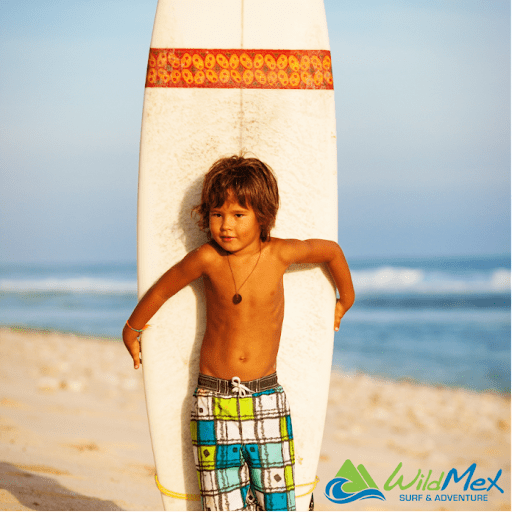 How old were you when you caught your first wave?
Do you remember the thrill of popping up, feeling the wind in your hair, gliding through the whitewash, falling off with a MASSIVE smile, and wanting to do it all over again??
Or maybe, you've yet to catch your first wave but have a burning desire to allow your children the feeling of being truly FREE and one with mother nature?
Either way, jumping on a board when young is an excellent way to embrace positivity and build confidence around the ocean. However, taking to the waves is a no-go if your young ones haven't had any lessons! Surf lessons for kids are crucial before your tots start exploring the ocean.
Surfing lessons for kids involve much more than just learning the ropes. From building confidence to improving water safety, our Punta Mita and Sayulita surfing lessons for kids bring life-long skills to the table. Talk about life-changing memories!
Are you considering booking a few lessons for your young'uns? Well, read on to discover the ultimate benefits of surf lessons for kids, with WildMex!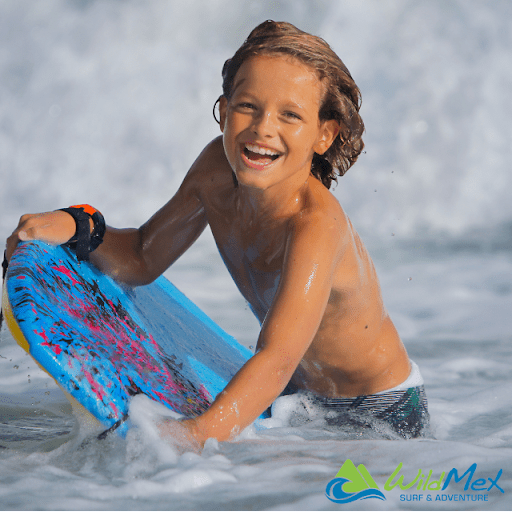 Learning to swim is a life skill that everyone should know. So, getting your kids started when they're young is the best course of action! You never know when you'll next need to use your swimming skills, so keeping them topped up from a young age is essential.
Though our participants must be able to swim, our beginner surf lessons will strengthen your kid's swimming abilities. Practice makes perfect, and surfing lessons for kids are a fun way to spice up your child's swimming routine!
#2 Better Ocean Safety
Of course, our surfing lessons for kids primarily focus on learning the sport. But did you know participants also learn about beach and ocean safety? Regardless of whether you live by the sea or not, knowing how to practice careful behavior around coastlines can save your life.
We aim to teach our young surfers about water safety, how to avoid danger in the water, and how to recognize dangerous weather. Safety basics are a must when learning to surf. Good habits start at a young age!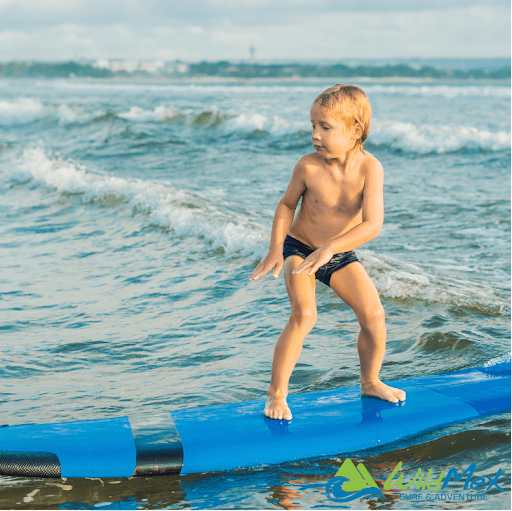 If you want to help your child gain confidence, your first thought might not be to Google 'surf lessons for kids near me'. Yet, surfing and swimming in the sea are useful confidence-building tricks for all ages.
It's easy for kids to learn to swim in a calm, indoor pool. However, negotiating waves and understanding the tides will boost their self-esteem and water knowledge. These are skills that will provide confidence for life!
#4 Fitness With a Side of Fun
Getting fit and staying fit doesn't always sound fun. Let's be honest; how many of us adults dread sticking to a workout plan? Wouldn't it be a little easier if exercise was actually… fun?
Well, surfing lessons for kids with WildMex are here to introduce children to fitness without feeling boring or repetitive. Staying active keeps us healthy, so set your children free and up to thrive with positive fitness sessions, with mother nature. Nothing beats the feeling of catching your first wave while facing the stunning Pacific Ocean.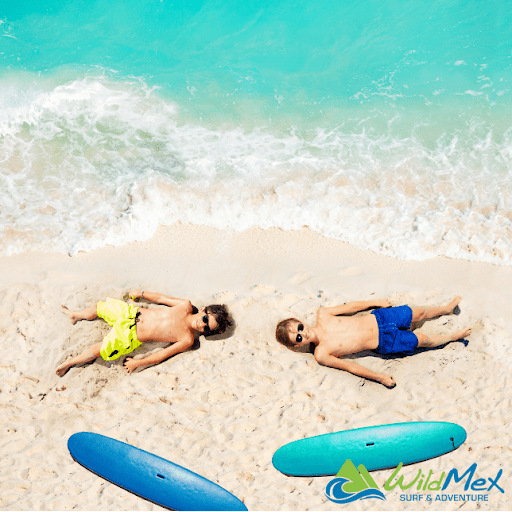 Finally, Punta Mita and Sayulita surfing lessons for kids are social events. Here, your children will broaden their surfing and communication skills in friendly, interactive lessons. Social skills are an important part of surfing, especially at a beginner's level. So, at WildMex we encourage our young surfers to get to know each other out on the open water.
Unforgettable skills, memories, and friends! What more could you want from your child's first surf lessons?
Q: Are Sayulita Surfing Lessons for Kids Safe?
Surfing lessons for kids are exciting! But, parents want to ensure their kids are in well-trained hands, and we get it. That's why we've taken multiple steps to ensure all participants are safe and protected whilst surfing with WildMex.
How We Keep Our Young Surfers Safe
Why should you book with WildMex? Here's why you should stop looking for 'surf lessons for kids near me' and consider our professional team instead.
All WildMex surf lessons for kids are provided by ISA-certified instructors. Thanks to rigorous training and certifications, our team has the skills to keep your children safe while teaching them the tricks of the trade.
We understand that kids need a little more support. That's why our Punta Mita, Sayulita, and Puerto Vallarta surfing lessons for kids ages 5-10 include one instructor for every two kids. Double the instructors, double the safety.
High-quality equipment, every time. When you book Sayulita surfing lessons for kids, you'll also be booking access to over 300 premium surfboards and additional equipment. The better the equipment, the better your kid's experience is - and we only focus on the best!
Confidence and safety in the water are essential aspects of our program. So, don't worry! We always work at the level of our students and ensure no one gets left behind. There's no one-size-fits-all here!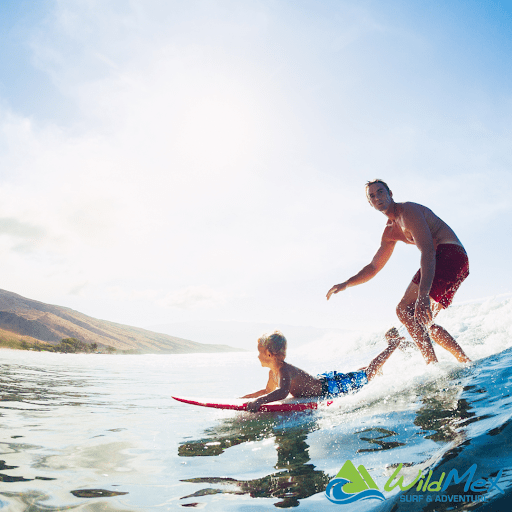 So, will we have the pleasure of teaching your young'uns how to surf?
Our Sayulita, Punta Mita, and Puerto Vallarta surfing lessons for kids ages 5 and up are designed with fun and safety in mind. Kids don't get to surf every day, so allow your little ones to experience the true thrill of ocean waters with our professional and friendly team.
You never know; our surf lessons for kids might unlock a new passion in your children.
- Surfing medals incoming!
What are you waiting for? Make this vacation one to remember for all the family.
Book Punta Mita surf lessons here or Sayulita surf lessons here.
See you soon!
WildMex