5 good reasons to go on a family surf trip or trips this summer
Family surfing in la lancha summer 2021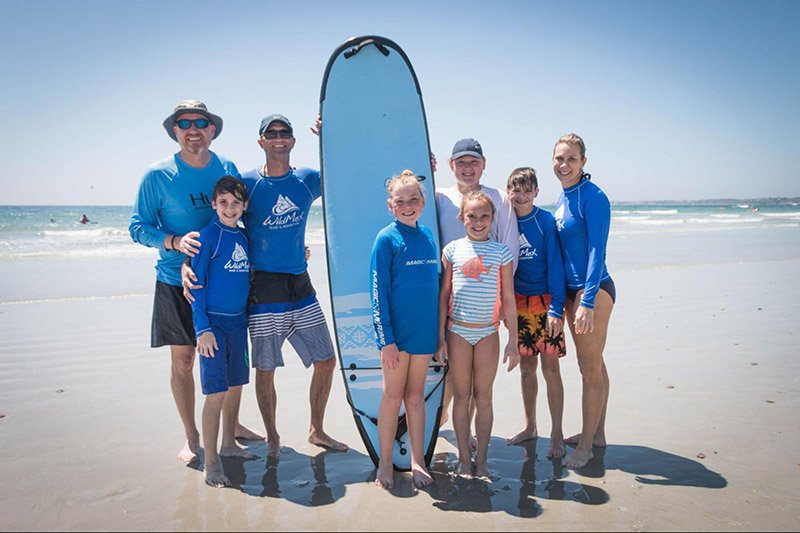 It's safe to say that family surf trips are on the rise! With more and more families recognising the benefits of surfing with their very own wanderlust brood!

This year we are proud to have welcomed more families than ever to our Wildmex shop for surfing in La Lancha, surfboard rental in Punta Mita and of course, our family Surf Camp in Punta Mita nearby La Lancha beach  – a beginners, intermediates and longboarders paradise, composed of white sand, clear waters and consistent waves with several peaks that break pretty much every day of the year – making it the perfect spot for families of all levels, ages and surfing abilities. 
Not only does surfing as a family help to maximise your family holiday time together but it also offers a great opportunity to reap your own success as well as your family's, strengthening that family bond with a whole lotta' laughter and achievement along the way! 
As ride-or-die surfers and adventure lovers ourselves, we couldn't be happier that more families are opting for happier, healthier and more action-packed getaways! 
Need some convincing? No prob… Check out our '5 Good Reasons To Go On A Family Surf Trip This Summer' to give you that little push to pop up and glide into your next bright and brilliant trip with the fam'. 
Family bonding like no other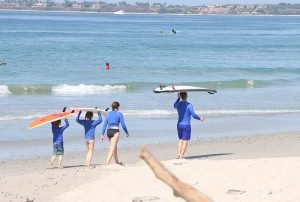 Studies show that families who spend more time together have children who are happier, healthier, and even do better in school. So, why not make this summer all about you and your travel-bug crew with a summer holiday packed full of surfing time and family bonding?

Maximising family holiday time by having a focus each day on holiday such as surfing, undoubtedly brings the family together. Whether it's helping your kids catch their first waves, spending quality time with mom in the water or falling off your foamy in a bundle of laughs with the entire clan… time in the water with your fam' isn't just rewarding and motivational, it's pretty damn priceless. 
Family surf trips to  camps that will organize everything for you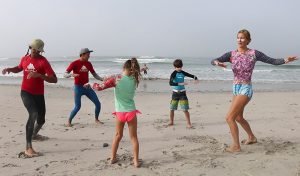 One great thing about family surf camps in Punta Mita with Wildmex? We'll organize everything for you – no really. From your family's accommodation, return flights, all necessary transport and your daily surfing activities, surf camps with Wild Mex ensure the faff, stress and worry of family holiday organization can be left down to us. Leaving more time for you to count down and look forward to your trip and more time exploring our family-friendly surfing destinations around Punta Mita and Sayulita. 
Discover more about surfing in La Lancha and our surf camps in Punta Mita here or want to make it bespoke to you and your family? Contact us here! 
SUPER-DUPER HEALTH BENEFITS FOR THE WHOLE CREW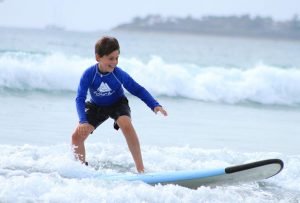 Super-duper health benefits – you got that right! 
Surfing is an insanely good activity, for all of the fam! With both physical and mental health benefits that will serve you during your family getaway and afterwards too!
Surfing not only improves cardiovascular fitness and increases shoulder, back, leg and core strength but it is also a great way to spend time outdoors, in the fresh air, soaking up the natural environment which ofc, is always a great outlet for stress and tension.
Our surf lessons in Punta Mita have no age cap, so, whether it's your five-year-olds first surfing experience or your 70-year-old dad's, everyone is guaranteed to have fun, get fit and reap the health benefits from a family surf trip. 
Check out times and prices here for surf lessons in Punta Mita, La Lancha's beach.
Learn new skills that you'll use together for a lifetime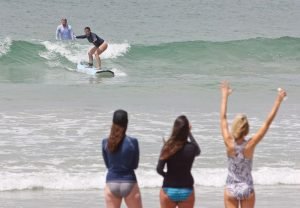 Trust us when we say that learning to surf in Mexico is a family bucket-list must-do! Why? Well…
Learning a new skill with your family such as surfing is something that will become invaluable with the time to come. Not only will this be an activity that will offer a healthy dose of nature and exercise whenever you seek it but it'll also become an activity that you'll bond over for time to come.

The new skills you'll learn will not only feel rewarding but watching your families own success will undoubtedly make you a proud member of your own up-and-coming surf tribe. And, what better spot to do that in, than The Riviera Nayarit? A 200-mile stretch of tropical coastline, with consistent waves and epic nature year-long! 
Create unforgettable memories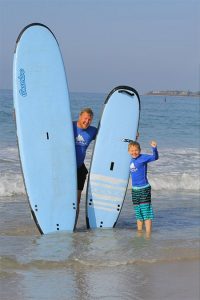 Surfing in La Lancha goes a lil' summin' like this… Catch a wave, fall off, cry with laughter and start all over again! It goes without saying that creating unforgettable memories goes hand-in-hand with family surf trips!
The experience of surfing together as a family, the proudness you'll feel when you see your loved one popping up and riding a wave, and the pure joy you'll experience when you do it for yourself too – trust us when we say, that all of that is something you and your family will remember for a long time to come!

At Wildmex, we are proud to catch the moments between moments and the highlights of your family surf trip, send us a message here to enquire about our surf lessons in Punta Mita with professional surf photography included. Already know how to surf? Sweet, enquire here about our surfboard rental in Punta Mita, with professional surf photography as an add on!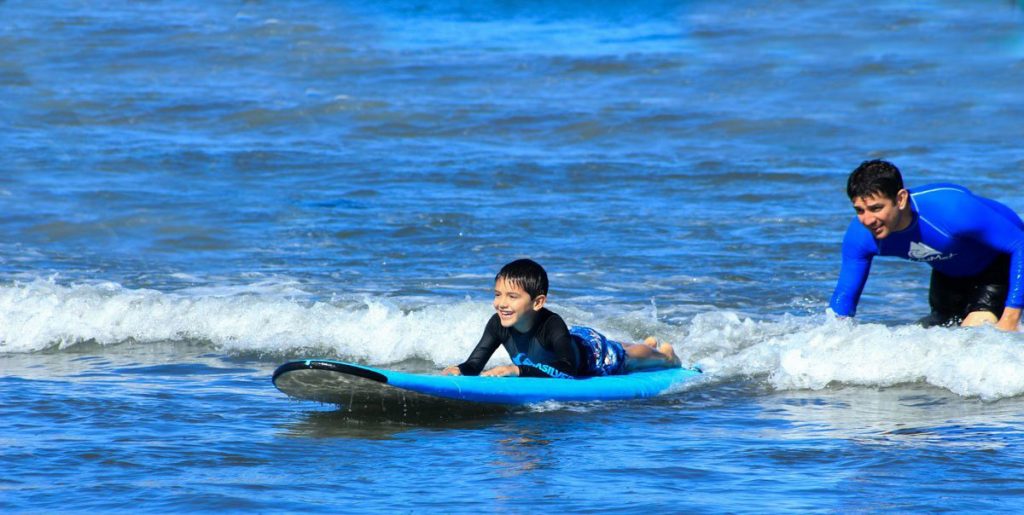 Not only can a surf trip be an exciting family experience and a wonderful opportunity to bond and hang tight but you'll be sure to embark on many magical moments that are sure to last a lifetime!
Learning to surf in Mexico never looked so good! So, invite your family to catch some party waves on your next family getaway this summer and we promise you, you won't forget it.
Have a question or want to enquire about something mentioned in this blog? Reach us here, a member of our team will be more than happy to help! 
Peace & love,