WildMex La Lancha Punta de Mita by Bus
Puerto Vallarta Airport
When coming from the airport, once you are in the arrivals area, go outside, go across the street on the pedestrian bride and it should drop you right on the bus stop. The line serving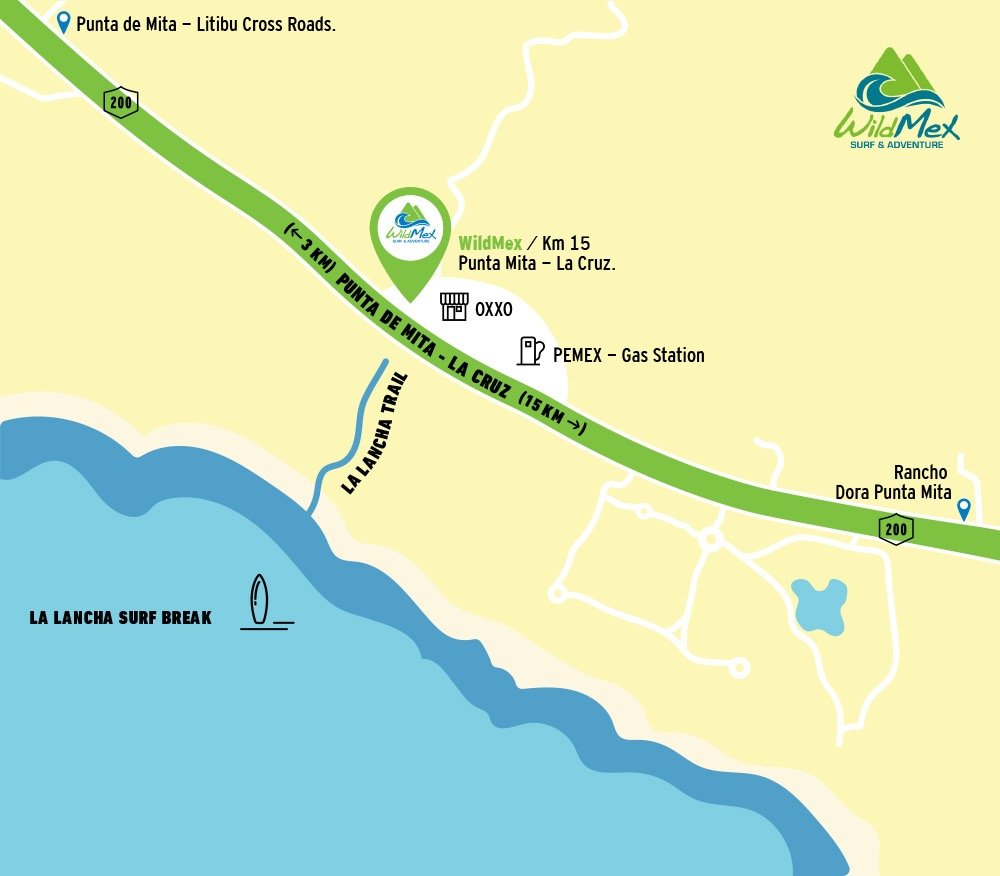 Punta de Mita is ATM. Look for the name "La Cruz-Punta Mita" written on the windshield of the bus. The "La Cruz-Punta Mita" buses pass every 10-20 minutes. There is always someone working at the bus stop, so you can also tell them that you are heading to Punta Mita and he will tell you when the right bus comes along.
Downtown Puerto Vallarta
If you are staying downtown, you´ll have to take two buses. The best option is to go from the Malecon and head east, walking a couple blocks up until you see a series of public buses zooming by. Once there, look for a blue sign indicating a bus stop. Take any bus heading north that has "Walmart" written on the windshield. Get off at Walmart. You´ll notice two bus waiting areas. Facing Walmart and Sam´s Club, walk to the larger bus waiting area on the left. There is usually a man with a clipboard stationed there to direct passengers to the correct bus for their desired destination. Board an ATM bus with the words "La Cruz-Punta Mita" written on the windshield.

Nuevo Vallarta
To take the bus to Punta de Mita, simply get to Mega on the main highway (or the closest big convenient store going north) and jump on the ATM bus with the phrase "La Cruz- Punta de Mita" written on the windshield.
Getting to WildMex Punta de Mita from the Punta de Mita Bus Stop 
Our shop in Punta Mita is conveniently located on the entrance path to the most consistent and best break in the area, called La Lancha. It is on KM 15 of "La Cruz- Punta Mita" highway and easy to spot, as we´re right next to the only PEMEX and OXXO gas station in the area. The bus will drop you off 20 steps from our Punta de Mita shop. Make sure that you get off the bus BEFORE you get to the town of Punta Mita, if you do miss the stop, and get to Punta Mita, you will need to head back 3 kms (2 miles).