Why Sayulita is the Perfect Place for a Family Surf Vacation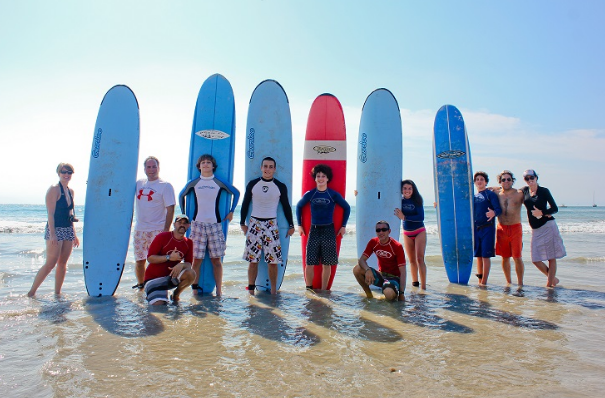 Just imagine…..your morning starts with sneaking away for a serene walk on the golden Sayulita beach as the sun rises behind the hills, sipping on local pressed coffee and inhaling the fresh morning ocean air. Once your kids awake from their slumber, the excitement cannot be contained because it is family surf day! Come see us in Sayulita for your family surf vacation and this will be your reality.
At Sayulita Bay, your kids can enjoy and catch beginner waves on soft top surfboards at the beach break while you watch, relax and drink from a freshly cut coconut on the beach; or you can join them if you want to surf some waves as well. In the afternoon, your entire family escapes to one of the incredible neighboring surf breaks only a short drive away in the Punta de Mita area where advanced and intermediate surfers can surf longer and bigger waves. It is not uncommon to have sea turtles swim up beside you while you're catching waves, so be prepared for an amazing experience. Beautiful sandy coastline, palm trees, Marietas Islands in the distance…..the perfect place to enjoy the setting sun and make lasting memories with your family.
The town of Sayulita, located on Mexico's Western Pacific Coast, is probably North America's best and most loved Family Surf Destination. With greatwaves for all ability levels, warm waters, friendly towns with lots of restaurants, activities for the whole family, it is a really hard place to beat and has become one of the favorite destinations for people of every age. Sayulita was recently declared a "Magical Town" or in spanish "Pueblos Magicos" by Mexico's Ministry of Tourism. This means that the Ministry of Tourism will invest in Sayulita to maintain the towns traditions, characteristics, values and so much more thus Sayulita will always remain a quaint and cultural town. Sayulita offers many activities such as surfing, stand up paddleboarding, yoga retreats, hiking, whale watching, scuba diving, deep sea fishing, horseback riding and mountain biking.
Accommodations
Sayulita and it's neighboring areas offer a variety of hotels, bed & breakfasts, vacation homes and hostels for every number of people, budget, location and style.
Restaurants
Sayulita has many options whether you are looking for fine dining, local street vendors or plenty of Mexican seafood.
Airport
Located 45 minutes away from Sayulita in Puerto Vallarta, Mexico.

International airport hosting direct flights from US and Canada.
Services
Various restaurants

Hospital

ATMs

Drinking water

Grocery

A/C
Perks
Everybody is happy and on holidays, thus the mood in Sayulita is very uplifting and good vibes are all around.