What To Pack For Your Next Surf Trip? – Your Surf Camp In Punta Mita & Sayulita Checklist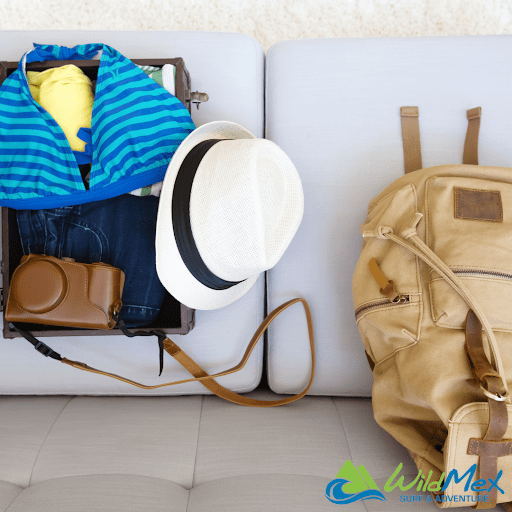 What To Pack For Your Next Surf Trip? – Your Surf Camp In Punta Mita & Sayulita
Just signed up for the Wildmex Surf Camp? Oh boy, oh boy! What an adventure this is going to be… 
Just imagine gliding across glassy ocean waves, using your power to ride a fast-moving wall of water. You feel the speed, the wind in the face, and are deeply connected to the awesome energy of mother earth. 
Now, imagine how it will feel when you master the mellow, white waters and move on to skimming through glassy green waves and steeper sets surfing in Punta Mita's famous La Lancha! 
We're sure you cannot contain your excitement to get to camp to learn surfing in Punta Mita, Sayulita, and La Lancha! However, with all this excitement building up, packing can seem like a tertiary task… Especially if you're a newbie to surfing, it can be quite tricky to know exactly what to pack. 
So, that's why our team at Wild Mex has done the hard work so you don't have to! Here is a list of your backpack must-haves when you are learning to surf in Punta Mita or Sayulita at our Wildmex surf camp. Carry everything essential and nothing extra – you can thank us later! 
Packing the Essentials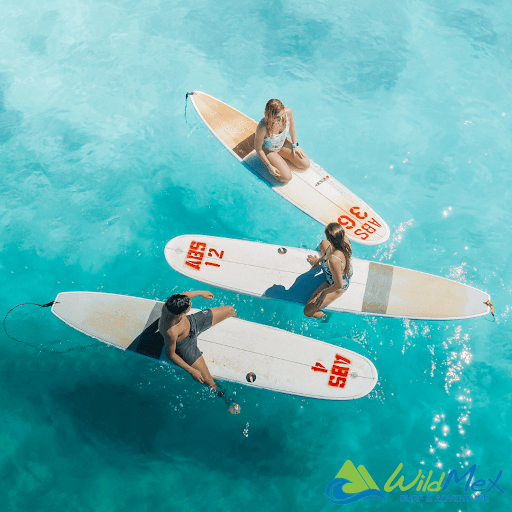 Surfing in Sayulita and Punta Mita with Wild Mex's surf camp
We know you want to be equipped with the essentials for the beach, the varying terrain, and your stay at camp. Yet at the same time, the airline fee with the weight limit means you can't carry a load of stuff!
However, if you do happen to forget something, or simply need a top-up, know that Sayulita town does offer plenty of Mini Marts and markets to purchase essentials and toiletries that you might need, so don't fret! 
There are, however, a few things that you ought to keep in your backpack, so you don't have to head to the market every time you need something, or in case you do, you have the cash in hand to buy. Check it out below…
Access to Cash
Make sure that you have access to cash whilst at your surf camp in Sayulita for any emergencies. This means carrying an ATM card and money in USD or Mexican Pesos in case your ATM card fails or you cannot access an ATM in the moment needed.
Travel Essentials
Make sure you're carrying your airline tickets in a bag where you can access them whenever the need be. You should also have a valid passport with at least 3 months to expiration in case you would want to extend your stay. (Something which many of our surf campers decide to do!) We also recommend booking a flexible ticket, you know, just in case! 
Once you're enjoying pumping surf days, seeing rapid improvement, and taking part in the gnarliest surfing in Sayulita and Punta Mita, the enthralling ocean waves will keep you from going back to routine… Sorry, not sorry! 
Accessories and Clothing
Pack the most comfortable and rugged pair of sandals, Crocs, Gators, Tevas, Reef Walkers, Birkenstocks or similar water shoes that can get wet without being unpleasant. When you are learning to surf in Mexico, it's not uncommon to walk through luscious jungle trails to get to the best waves. You may also experience getting on and off boats to surf epic waves in the middle of the Pacific, dreamy right? Sure is when you pack the correct footwear! 
For the November to March season, surfing in Sayulita can be a little chilly. You won't feel cold in the water, but once you get out of the water and the winds blow on your wet body, you are likely to feel cold. So, make sure you pack a sweatshirt or fleece jacket, shorts, at least two bathing suits, and any other beachwear you may need. 
When learning to surf in Sayulita or our nearby beaches, the sun in the afternoon can be scorching, So, you should be carrying a sun hat, sunglasses, sarong, or pareo (for females), and any other beachwear you may need. A small flashlight along with your necessary medications are also essentials when learning to surf in Mexico. We also recommend bringing a watch or an alarm to ensure wake up for sunrise surf sessions and a camera to capture all the insane moments you're about to embark on. 
If you are doing our Yoga/Surf camp, we recommend bringing shorts over pants and any essential yoga-wear or comfortable gym wear you'd like to use to partake in these sessions. 
Sunscreen
When purchasing sunscreens, make sure that you buy the waterproof kind. This is usually +5% zinc or titanium dioxide with an SPF of over 30. For the body we recommend HIC 2X sun block, Alligator, Hawaiian Blend Sport with Zinc, or La Roche-Posay Helioblock S Athelios SPF40. 
You should also go for an additional face block which is necessary for swimming and surfing. We recommend Vertra, Shiseido Sun Protection Skin Foundation SPF 35, HIC 2X sunblock,  Zinka Nosecoat, Headhunter Surf Screen, and UV Natural Sport. Old sunscreens can separate and burn your skin so make sure you buy a new one before you head out to your Surf Camp in Sayulita or Punta Mita! 
We do not recommend Coppertone, Bullfrog, or most Banana Boat products due to their poor quality. Also, whilst buying sunscreens, remember that SPF 70 can be the same as SPF 30 and any greater SPF is really just a marketing scam. For the nights, you should also keep an insect repellent. Up to 20 or 30 % DEET should be fine, after all, if your surf camp is in Punta Mita, you'll be staying right next to the tropical Mexican jungle!
Packing the Surf Gear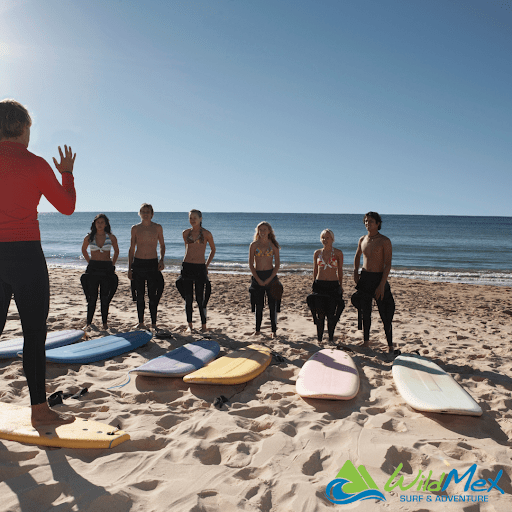 Surfing for beginners in Sayulita can be tough because of the rough terrain of the surf area in some areas, make sure you bring the correct gear such as…
While essentials like surfboards will be available for you at the camp, do make sure you pack your surfing gear that will prevent any rashes from surfing.
Surf shorts provide more protection from the sun and the surfboard compared to regular shorts. Also, carrying a rash guard, which is an athletic shirt made of spandex and nylon or polyester is great. 
Rash guards are most often worn in surfing when the weather is too warm for a wetsuit. It also prevents wax-based chafing from sliding on and off of the surfboard. The board's wax can accumulate sand from the beach which is the reason for the rashes.  
Packing the Optional Surfing Gear
Surfing for beginners in Sayulita can be tough because of the rough terrain of the surf area in some areas. You'll find sand as well as rocks, so protecting your feet from getting scraped is essential, especially in the beginning when you are adjusting to the new feeling. So, surf booties are the way to go if you want to avoid cuts and grazes. However, make sure they fit snugly in the store as they stretch in the water.
You would also want to keep 100 % lycra or spandex running or swimming pants for keeping your legs from getting sunburnt. If you put sunscreen on the back of your legs, it might make the board slippery, therefore the swimming pants will greatly help in securing yourself on the board as well as preventing sunburns and rashes. 
While you might not look quite as "cool", you'll feel much cooler after day three when you are the only one without a sunburn ;).
Summing it Up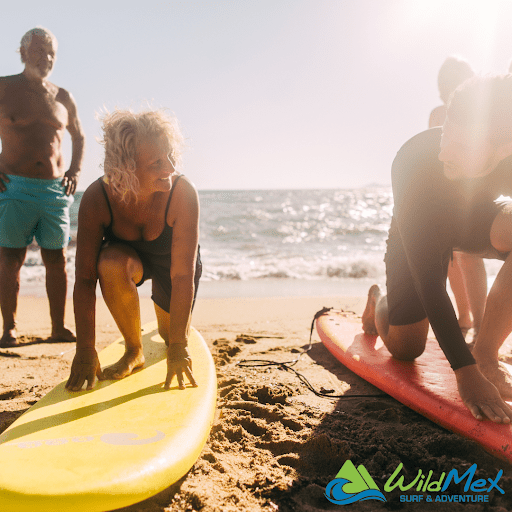 Here's your backpack checklist for surfing in La Lancha, Sayulita, or Punta de Mita.
There is a lot to do when you are in Mexico, surfing in La Lancha, Sayulita, or Punta de Mita. This includes getting into the water, chilling at the beach, and going for challenging waves that will ensure that release of adrenaline and endorphins, making you feel, oh so alive!! 
Even though there are a lot of amenities and facilities available at the Surf Camp in Sayulita, you will need to bring in some essentials, so you are equipped to dive in as soon as you get here! 
Yep, you guessed it, we've gone one step further and created a printable packing list for your surf trip! 
Yeeeew! Good luck and see you soon! 
Peace & Love 
Wild Mex