Wildmex Surf Camp in Punta Mita (La Lancha): What to Expect on Day 1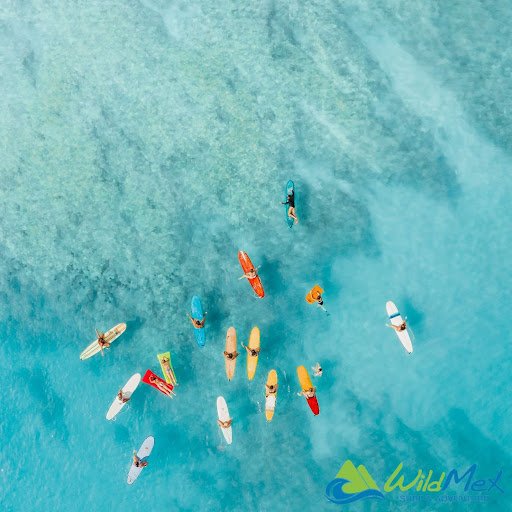 Ready to take on your next challenge with a Surf Camp in Punta Mita?
Do you know the true THRILL of catching your first wave?
Learning to Surf in Mexico is an experience like no other. With the sun beaming down, crystal waters, and a one-of-a-kind chilled-out vibe, Surfing in La Lancha is here to offer the ULTIMATE adrenaline rush.
Buuuut, before you become the boss of the waves, you'll need to brush up on the surfing basics.
Meet WildMex's Surf Camp in Punta Mita. Our five-day surf camp designed to take you from beginner to surf legend in a short course. Thanks to our experienced instructors and top surf equipment, you'll be riding the surf in nooooo time!
Are you pumped up and ready to go? Or are you still considering courses? Well, why not find out what learning to surf in Punta Mita is REALLY about and why you should choose Wild Mex over any other as your hot-spot to hang-ten?
Press play and scroll down to explore what you'll learn on DAY 1 of your Wild Mex Surf Camp!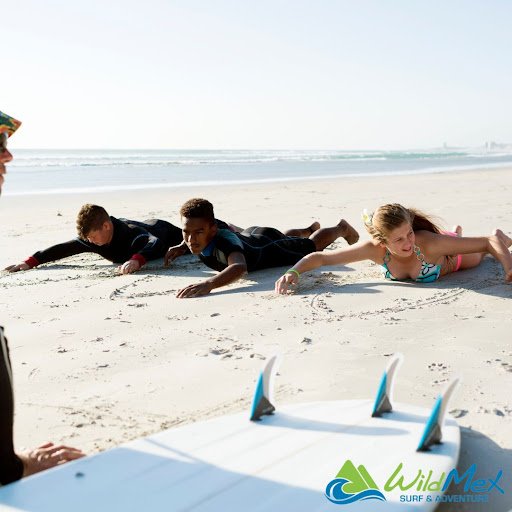 Planning your next holiday? Looking for some ACTIVE fun? A surf camp might be the best route for you, your friends and family.
If you're ten tabs deep into your research journey, we're here to help.
When it comes to surfing for beginners in Punta Mita and La Lancha or learning to surf in Sayulita, we're your EXPERTS.
Let's face it - no one climbs onto a board and rocks the waves on their first try. So, whether you're completely new to the surf or not, a surf camp will boost your KNOWLEDGE and CONFIDENCE - leaving you to make unforgettable ocean memories, no matter what.
We work with all skill levels, ages, and surfboards to help you get what YOU want out of the experience.
Plus, we put safety first, meaning you can leave with a SMILE on your face not a bump on your head - learning the basics of water safety alongside your surfing here in Mexico.
Knowledge is power when surfing, we're here (the locals and experts) to tell all!
So, let's jump in shall we? Here's what you'll learn on your first day when learning to surf in Punta Mita - with WildMex.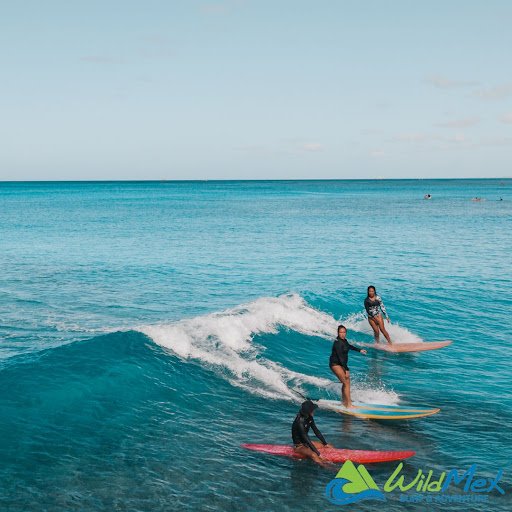 While we believe ALL aspects of surfing are fun, pop-ups are the favorite part for many of our new friends.
Surfing for beginners in Punta Mita day 1 revolves around safety AND enjoyment. So, we make sure you learn pop-ups on your first day to get you up and riding the waves instantly!
Pop-Ups and the functional stance teach you to stand on the board while using your weight quickly and powerfully to catch the wave.
Eyes up, head up, pop up! Your eyes, head, shoulders, and torso position are key components to a gnarly pop up. You'll learn how to develop a smooth, flowing and effortless pop-up which you'll practice and master over the 5 days.
Soon you'll be riding the surf like a PRO!
Turtle Rolls
Unlike other surf camps, we make sure our students learn the importance of a turtle roll from day one. We put your safety first, and this is one of our top tips for all newbies.
Sadly, a turtle roll doesn't involve cute turtles! However, this move will allow you to pass through breaking waves and tricky conditions.
Also known as an Eskimo roll, this technique will allow you to maintain buoyancy without having to discard your board. A must-use maneuver for any surfers at our Surf Camp in Punta Mita and beyond!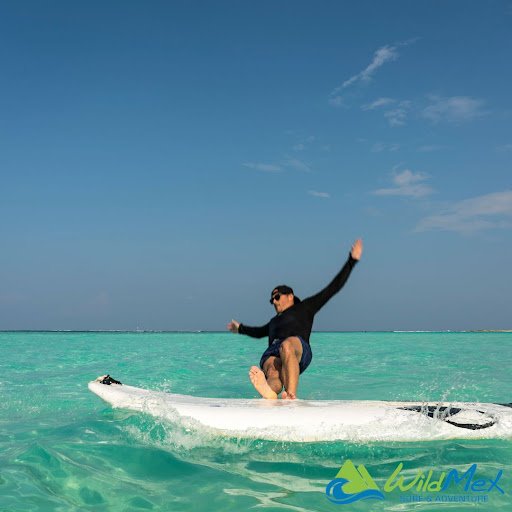 Yup, that's right! We teach you to fall - on your first day.
Sounds counterproductive, right? - Wellll, it's not! Here's why…
Underwater is actually your safety zone whilst surfing. We love to see our beginner surfers grow their confidence by learning to fall safely. Once you nail this trick, you'll feel calmer and more confident on the board and in the waves.
Our WildMex surf coaches will also teach you the Starfish Technique for falling in shallow waters (the most common kind here). Learning to surf in Sayulita combines safety and fun, and the Starfish method is one we love to practice again and again to ensure surfing in oceans with reef aren't an obstacle or something to fear.
That leads us on to our next lesson…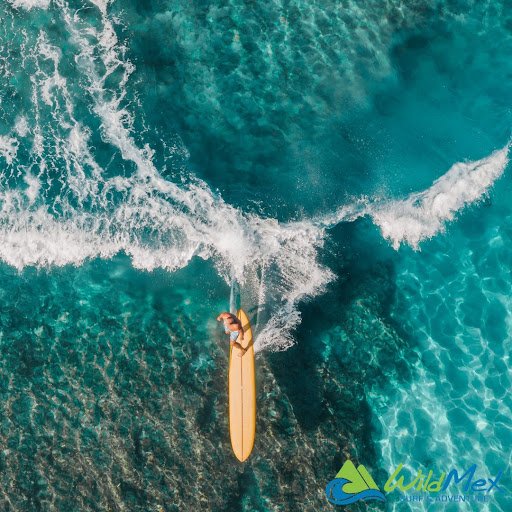 Our Surf Camp in Punta Mita and La Lancha takes you to some MESMERIZING viewpoints. From oceanwide views to picturesque beaches, we tick ALL your vacation boxes. Sometimes we take our surfers into shallow waters, including areas with rocks and reefs.
Though this might sound technical or scary - DON'T WORRY! We'll equip you with all you need to know about shallow water surfing, falling, and maneuvers before you head out!
From the very first moment, you'll receive safety knowledge and insight to improve your surfing in La Lancha.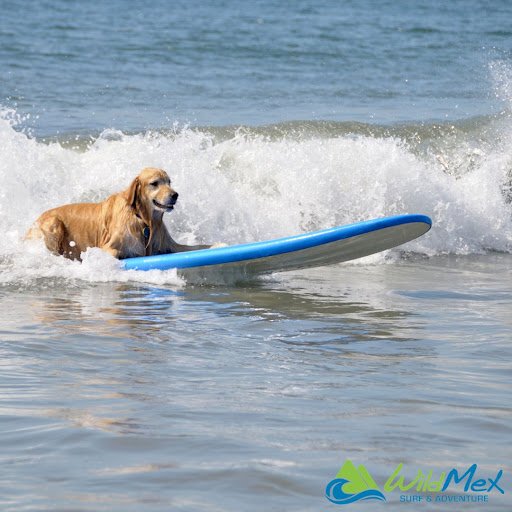 If you don't wanna be in the dog house (i.e the beginner everyone shakes their head to), you'd better learn some surfing etiquette!
- Another concept you'll learn on your first day here!
In our classroom, you'll become familiar with surfing terms such as "right or way", "drop-in" and "snaking" you'll also onboard the importance of holding on to your board and learn how to give and get respect in the water. - Lessons you just cannot learn on your first day on your own.
On your first day, we'll teach you how to be the good kinda' beginner!
How to Catch White Water Waves
Last but not least, we also use DAY 1 to teach you how to catch your FIRST white water waves. This is an experience you'll never forget! - Trust us.
Learning to Surf in Mexico is unique for everyone. But, we make sure all our students catch a white water wave.
Catching one of these waves is a badge of honor for ALL new surfers. This is the first time you'll experience how the board glides along the wave while you balance upright on two feet. Here is where you'll finally feel the RUSH all surfers dream of.
Endless summer… here… we… come!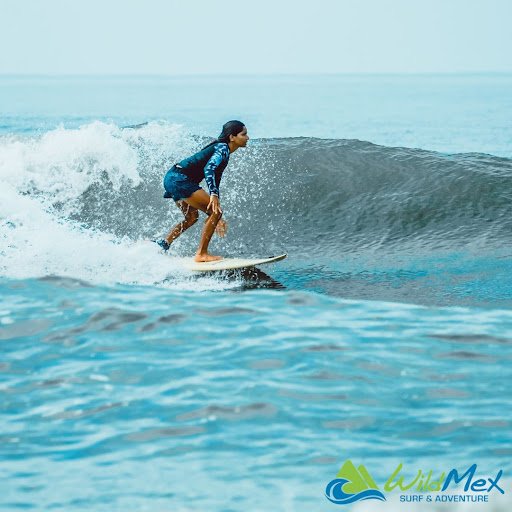 Do you hear the call of the waves? Don't ignore it!
We're here to guide you through your first surfing experience. Forget your worries - our team of QUALIFIED instructors know how to help you avoid wipeouts. Instead, you'll be gliding through the surf like a seasoned pro.
From reliable safety talks to tried and tested surfing techniques out on the beach and into the ocean waves - your first day at your Surf Camp in Punta Mita teaches you the basics and so much more.
It's not just classroom work like some other camps - You'll spend plenty of time in the water too! And in no time, you'll be catching your first whitewater waves on your very first day... Talk about growth!
First time surfing? Make sure you work with professionals when you take the plunge. Learning to surf in Sayulita, Punta Mita, and La Lancha is easier than ever with the Wild Mex team.
Get to know our surf camp online here. Or, opt for our surf camp with included accommodation here.
Save this page for later because we have MORE coming on Day 2 soon!
For now, we'll be by the ocean…
See you there! Yeeew!
WildMex