Learning to Surf in Mexico – What Beginner Surfers can Expect from the WildMex Surf Camp?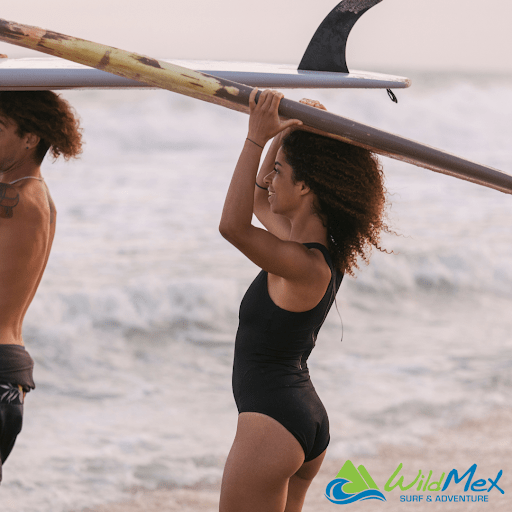 Now that you have taken the first step to experience the adrenaline rush that you were oblivious to as a non-surfer, hang in there! It's going to get pretty intense…in a great way!
Having signed up for your first surf camp and beginner surf lessons in Sayulita and Punta Mita, let us warn you… the first time you set barefoot and waxed up on the beach for your surf camp in Sayulita, there is a mixed rush of emotions - nervousness, excitement, and happiness.
But too much nervousness might spoil the fun! So, time to get the nervousness levels down and the excitement levels up! We'll help you achieve just that with this beginner itinerary of all the topics you'll learn in your week-long (or longer) beginner surf lessons in Sayulita and Punta Mita!
At the Wildmex surf camp, every day is filled with something new. So, for the adventure enthusiasts out there, starting with surf lessons in Sayulita and Punta Mita will leave you satiated, building on your surfing skills day by day, taking the ride of your lifetime! You'll also have the option of 10 other surf breaks in the area to surf at, because 365 days of the year 24/7, there is always a wave to surf at one of our local breaks. So, let's get started…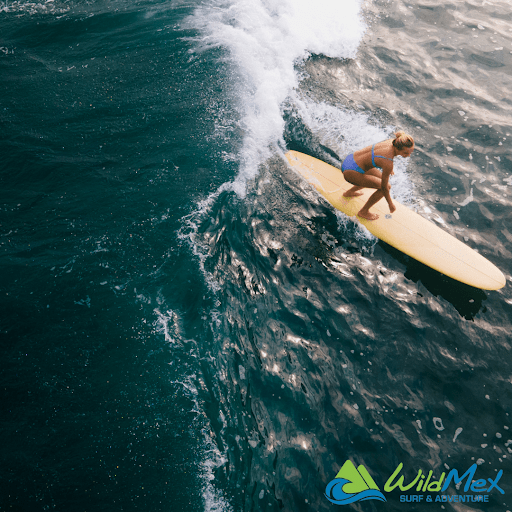 Topic 1: Etiquette
The first and most important topic is, of course, learning the etiquette of surfing. Whether you're surfing with us here in Mexico or in another spot around the world after your surf camp, you'll more than likely, always, be surfing amongst others in the water. This means that it's your duty to learn the unwritten rules of the water, from right of way, to not dropping in or snaking, how to give respect, gain respect and how to keep yourself and others safe. Yes, there is a lot to learn… But don't sweat it, when learning to surf in Mexico with us, we'll give you the full low-down to keep yourself out of trouble, and enjoy your surfing!
Topic 2: Reading Waves
Expect your surf coach to explain how waves are formed, about swells, tides, and rip currents. But don't worry if you don't get it straight away! - The more time you spend in the water, the more you'll learn how to read a wave – how to tell if it's a good one to catch, whether it's a right or left-hander, where it will break, and how to position yourself to ride it well.
Topic 3: Pop-Ups and Functional Stances
You will practice basic surfing techniques such as pop-ups and functional stances on the beach. You'll learn how to position yourself on the board, the correct stance, and how to pop up or take off to ride a wave stood up. Yeeew!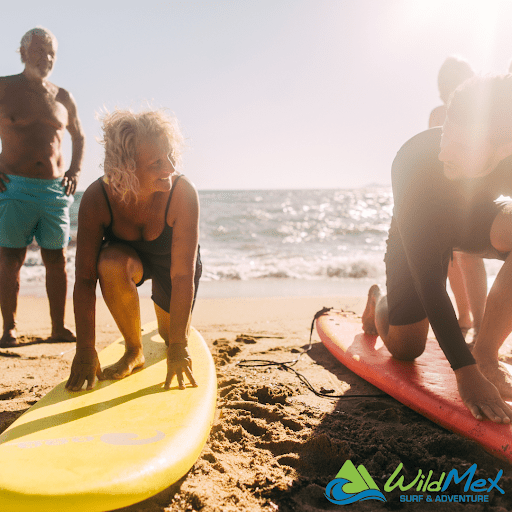 Topic 4: Paddling Power
The best way to keep your energy and to surf for longer is to learn the correct paddling technique/unleash your paddling power! Your surf instructor will teach you the best technique to do, just that!
You'll learn which type of paddle to use when. How to paddle one arm at a time, keeping a good rhythm. How to bend your arms to the right angle whilst paddling. How close your arms should be to the surfboard's rails and how wide to paddle on each side!
Topic 5: Mastering the Whitewash
The topic that marks the beginning of the real deal in the surf lessons in Punta Mita and Sayulita is paddling out to master the whitewash. This starts with building your confidence in the waves with the board and then practicing your pop-up and stance in the white water which are the broken waves and most forgiving part of the wave - perfect for surfing for beginners in Punta Mita and Sayulita!
Topic 6: Mastering Unbroken Waves
Once you've built your confidence with the whitewash, it is time to get into the unbroken waves to experience your first major thrill from surfing.
Paddling deep and throwing your weight forward is the key to catching an unbroken wave, otherwise, you just won't catch it. It's certain that you'll have some testy times before you master paddling since all of this comes with experience.
But with your surf coach guiding you - the best way to learn surfing for beginners in Punta Mita and Sayulita, you'll be riding the "real waves" in no time!
Surf Camp Sayulita
Enjoy our exclusive Surf Camp packages with Wildmex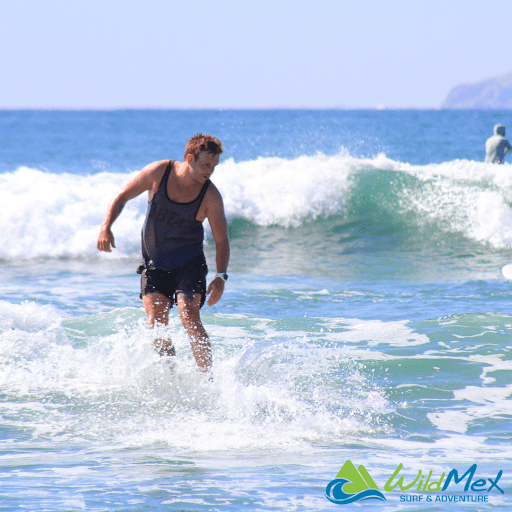 Topic 7: Angling your Take-off
Once you've mastered the basics, it is time to move on and surf in style! This is when your Wild Mex surf instructor at your surf camp in Sayulita or Punta Mita will teach you how to angle yourself to take off and ride a wave not just straight but down the rail.
Angling your take off will allow you to drop in on waves that are a bit steeper. By angling your board as you paddle for a wave, you'll be able to set the line that your board will take, ensuring you can pop up and ride the wave in the direction that it's going instead of riding it straight or nose diving into the crashing wave.
From mastering the whitewashes to unbroken and exhilarating waves, in just a few days, you will have come a long way in your surfing journey!
Topic 8: Finding the 'x' Spot
Once you've mastered how to angle your board into the waves, it is time to upskill. The 6th topic you'll learn from your surf camp is how to find the 'x-spot'.
This is the sweet spot that surfers want to catch, the most critical and powerful part of the wave is the 'x-spot'. And when you've upskilled yourself learning all the other topics, it is time to choose the wave to which you face up!
You'll learn how to spot a good wave and make yourself to it, catching the thrill and rush that comes with it - all whilst being mindful of the surfing etiquette!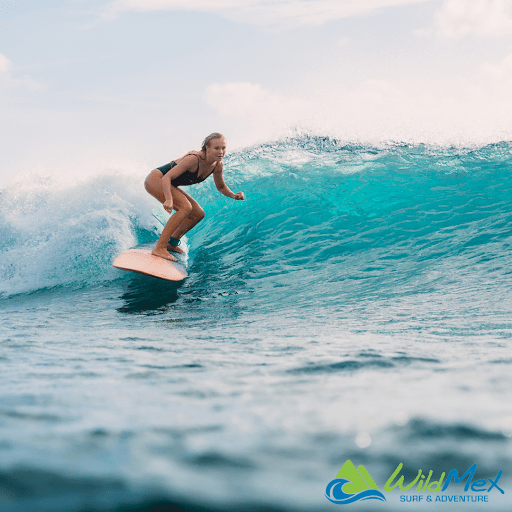 What if I can't keep up with the pace of the surf lessons in Punta Mita and Sayulita?
In the first days or weeks - depending on how long you want to spread out your surf lessons in Punta Mita and Sayulita, you'll be building your confidence with the waves.
As for someone with no surfing experience, you will need some time to get used to the waves and the workout. The WildMex surf camp in Sayulita and Punta Mita is designed to match your pace. So, whether you get through the topics in a couple of days or stretch out the entire program to a couple of weeks, it depends on how well you grasp the concepts and get on with the learning experience - both of which are perfectly fine.
Practice Makes Perfect
The science of 'practice makes perfect' relates to surfing as much as any other sport! This means the more time you spend in the water practicing, the better you'll onboard these topics and the more natural you'll become at creating the movements!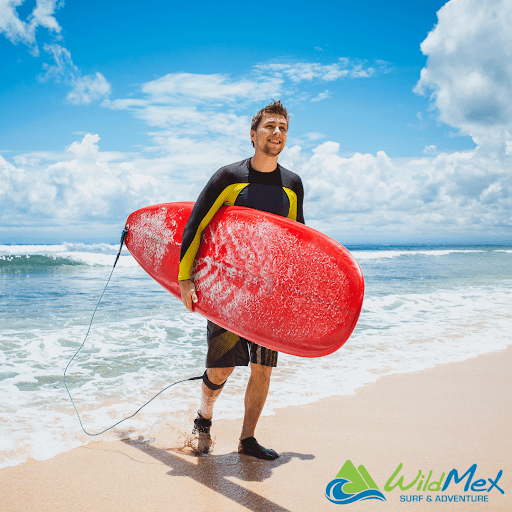 Summing it Up
You are in for an experience of a lifetime now that you've registered for the surf camp in Sayulita and Punta Mita!
This article covers all you can expect from your beginner's surf camp to keep your nervousness low and the essential excitement at a sky-high level! From paddling out to the white waters to riding green glassy waves in the ocean, you will experience what you were oblivious to as a non-surfer! Pure freedom, and connection with Pachamama at its finest.
So, until then, keep the count down going!
We can't wait to welcome you v.soon!
Peace & Love
WildMex