Sayulita: Paradise Lost or Found?
Reading online about the water quality problems in Sayulita really put me off coming here, but my backpacking budget and the opportunity to volunteer at Wildmex lured me to Sayulita like a child to dorilocos. And you know what? I'm so glad I made it here. Here's my take on Sayulita, as an experienced traveller from Australia, who has done a decent amount of vagabonding, sun-soaking and margarita drinking in Mexico – provecho!
Sayulita, if you don't know, is about a 45-minute drive North of Puerto Vallarta. Although a relatively new town, made popular by international surf competitions in the 60's, it still has a cool old-meets-new, chic-meets-rustic hippy vibe, and the great surfing conditions are still one of the main draws.
The town centre is a few cobblestone steps back from the beach, and the main plaza is surrounded by restaurants, such as the environmentally conscious Chocobanana, and a few lively clubs – Yambak and Don Pato being the main multi-level ones. If you hit the clubs a bit earlier in the night you can catch local musicians playing reggae or jazz. Atico is another vibing venue just off the main plaza where you can sip cervezas to live music each night.
The melting pot community here consists of: local surfers from the town or the nearby states of Nayarit or Jalisco; many Mexican, Canadian, American, Argentinian, European, and – of course – Australian tourists; and locals, who live in the area or travel to work here from other towns like Punta de Mita. The eclectic mix of people from all over gives this Pueblo Magico an international feel, as well as some inflated international prices. But it's still possible to find tasty tacos for 13 pesos. If you want local prices stay away from fancy furnishings and go for roadside huts, and of course make an effort to order in Spanish, or you just may get gringo price.
Paradise Lost
Now there is a big, obvious problem in Sayulita that literally does stink: the sewage treatment plant is right by the local beach. Treated, but still smelly, water runs out into the sea near the point break, and many people here have experienced "Sayulita sickness" after swimming or surfing in the sea nearby. I was not going to swim here initially, as there are plenty of gorgeous beaches nearby (like La Lancha and Playa de los Muertos), however I gave in and have been fine. I would just say: swim when the plant is not operating after 4:00pm, or just go to the left or the right of the sewage facility. Many many people surf and swim here daily and are fine.
But Sayulita shouldn't be defined by this one potential problem. The people that end up in Sayulita are special, and when you take time to chill in a cafe you will find many people who choose to live here with their families, or at least spend half the year here. It's easy to strike up a conversation with a local at a cafe, or hitch a ride in one of the golf buggies cruising around – Sayulita has a positive energy. And if you want to be fit and healthy there are mountains to climb, beaches to surf, paddle board and explore, and, if you want to undo all your good efforts afterwards, there are great food and drinks to be had.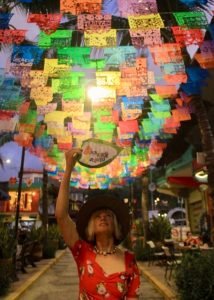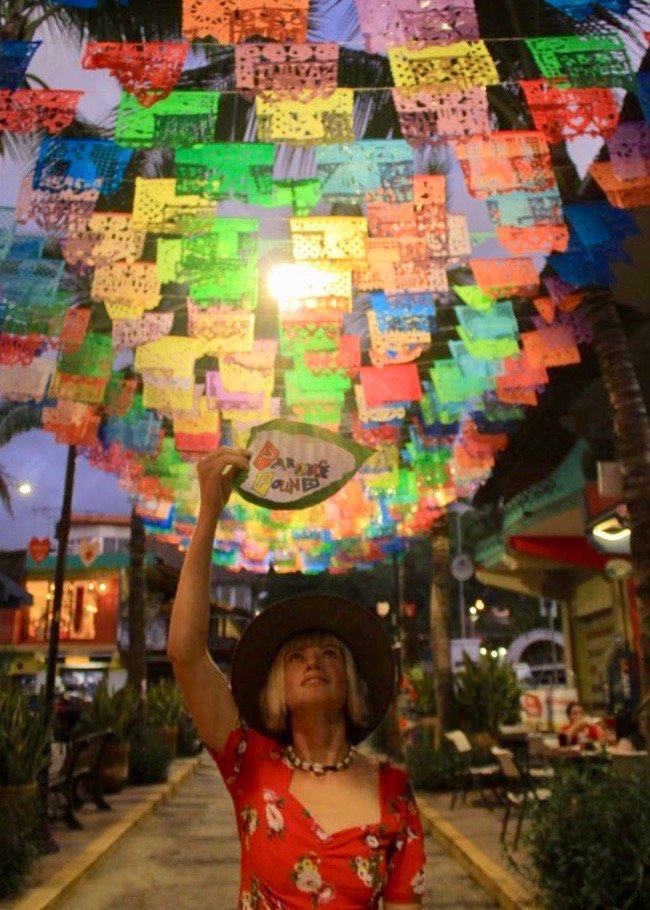 Paradise Found
On my first night here the sun was setting near the point break, there was a rainbow to my right, and turtles were being released on the beach. The surreal visuals were reminiscent of a Baz Luhrmann film. Yeah, Sayulita has a water quality problem, due to poor planning, rapid expansion and the infrastructural deficits of a developing country, but if you choose to come here, which I'm glad I did, you can't help but have a good time! My verdict: Sayulita is the best, most colourful, exciting montage of memories I have made Mexico. Enjoy the food, the beaches and the unfolding story that your footsteps will create.
Article by Shelly McConochie

Poet, writer and doer of things