6 Pro-tips Hikers wish they knew when they first started hiking
Hiking in Punta Mita & Sayulita 2021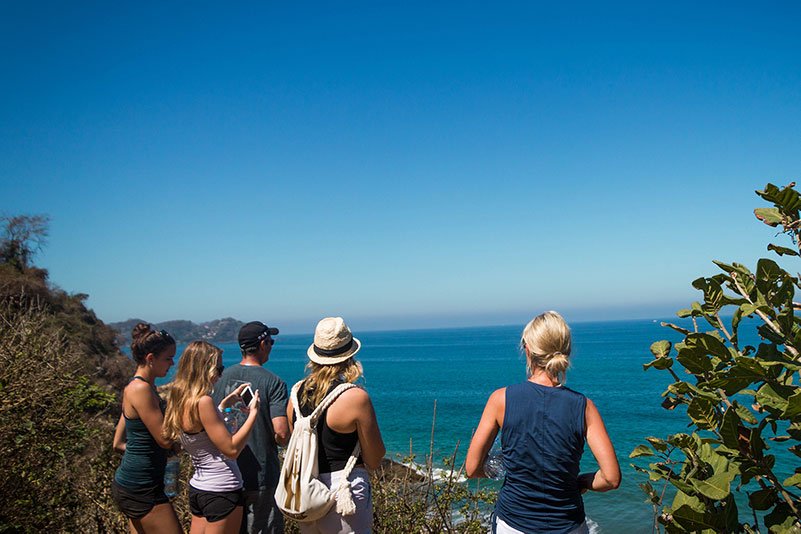 It's safe to say our team at Wildmex are thrill-seeking adventurers, whether that means riding waves, spinning bikes or hiking through lucious jungle wilderness right here in Punta de Mita & Sayulita…

With hiking in Sayulita and the surrounding epic locations as one of your and our favourite past times, we have managed to gather a number of years under our belts, propelling one another into enriching life adventure!

Yet, if only we knew then, what we know now when it comes to being properly prepared for the next adventure – right?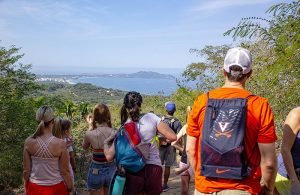 From local 'school boys' to hiking pro's, we've gathered our 6 pro-tips hikers wish they knew when they first started: from our experiences taken hiking in Punta Mita and Sayulita! 
From Hiking Monkey Mountain in Sayulita to epic Jungle Hikes in Punta Mita, we've seen just about all the rookie errors there are in terms of not being fully prepped for the next adventure!

So, this blog was written to help you feel fully prepped, first time-round and to guide you towards being ready and willing to have some of the most enriching walking adventures of your life – right here on the west coast of Mexico! 
So take a read and stroll through your next hike, properly prepped, fully enriched and ready to truly thrive, right here in the 'Pueblo Magico'! 
1. PACK Plenty'o water!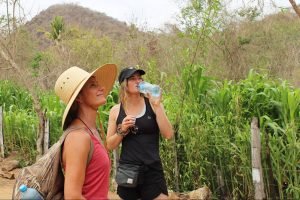 Whether you're taking on one of the best hikes in San Pancho or exploring some of the exquisite hiking trails in Punta Mita, when it comes to calculating your water consumption -always, pack, more! 
When you already think you have enough, pack another!
Having enough water with you during your hike in Sayulita and the surrounding areas is fundamental if you want to keep that energy high and avoid any dehydration episodes. (You may think this could never happen to you but you'd be surprised how many people get caught out!)

From hiking intensity to temperature and climate, your water levels will differ, so take all of these into consideration before your hike and plan accordingly!
Everyone's water needs will vary depending on their body weight however, generally, you should aim to drink around 1 litre for every two hours of hiking. 
To change things up, consider alternating between plain water and a sports drink with electrolytes such as Powerade! 
2. STAY POSITIVE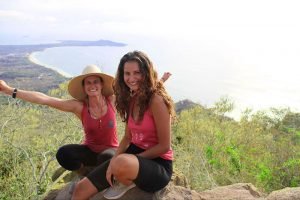 Wildmex hikes in Punta Mita & Sayulita are all about rolling with the good vibes!
BUT, we've all been there…You reach that uphill climb on your way to San Pancho and you just don't think you can make it anymore! You have that negative chitter-chatter in your mind that's telling you you can't do it and well, all the fun is gone!

Having a positive mental attitude is probably the most important trait for completing a hike and enjoying it! 
Learning how to smile when times get tough really is a game-changing ability! 
So, when rough moments roll through, always remember – the most difficult situations are always just temporary and well, it could be worse… you could be sitting behind an office desk, with a 10-page assignment due the next day! 
3. FOOT FOCUS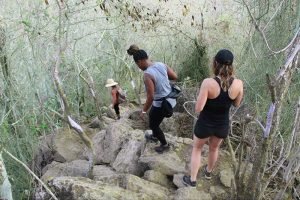 Foot focus means taking super duper care of your fabulous feet – after all, they are your vehicle to victory! 
Whether that means doing your research beforehand on which walking trainers or synthetic socks will be best suited for your hike in Sayulita or investing in a proper pair of hiking boots, this prior prep will be sure to save your souls from blisters, pain and suffering. 
When your feet are happy, so will you be! 
The majority of hikers in Sayulita wear a combination of lightweight running shoes, breathable socks, and trail-running gaiters. 
4. EAT RIGHT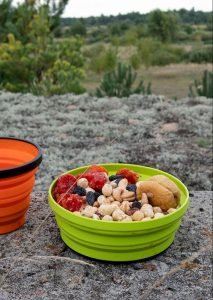 When hiking in San Pancho or any other local trail there's no doubt you're gonna need fuel for the road. Fulfilling your hiker hunger with real food such as avocados, sandwiches, fresh fruit and nuts are all recommended!  
Yet remember, the more you stash in a backpack, the harder it is to hike, so opt mainly for high-calorie, nutritious foods that are relatively lightweight and nutrient-dense! 
5. Kit-up right!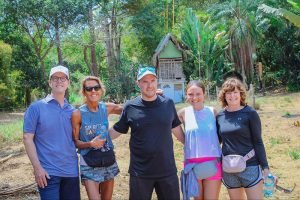 Whether you're prepping for Hiking Monkey Mountain in Sayulita or taking the jungle route through San Pancho, preparing for your hike with the proper kit is gonna' make your hiking adventure waaay more pleasurable. 
When hiking in Punta Mita & Sayulita, look at gearing up with lightweight shirts, tops, shorts and pants in white, tan or khaki. These lighter hues retract the sun's light and therefore will keep you much cooler.

We recommend wearing loose, breathable clothing, always lightweight and loose-fitting to help regulate your body temperature. 
Choosing materials such as nylon and polyester are also good choices! 
Don't forget your sunglasses, bug spray and sunscreen – all must-haves for our local hikes and trails! 
6. CHECK-IN WITH YOURSELF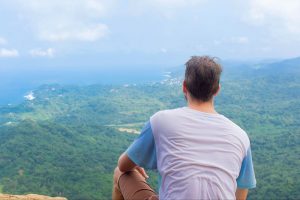 One of our very best top-tips for hiking like a pro' here on the Riviera Nayarit is listening to yourself! 
How does your body feel? Do you need to rest? Do you need to stretch? 
Ask yourself "what's up?" and check-in with yourself regularly. 
Checking in with yourself on a hike, just as you would a friend, ensures you're in that tip-top shape to get the most out of the experience and in you stay in your very best condition. 
So, whether you're coming to disconnect from the outside world, to see the panoramic views or to challenge your physical and mental abilities, our hikes in Sayulita, Punta Mita & San Pancho offer striking experience with nature, the untouched surroundings and lasting social connections! 
You'll embark on profoundly rewarding achievements, transformative experiences and spend plenty'o time connecting with nature, which means embarking on a hike here in Sayulita and Punta de Mita, might just be the best decision you'll make, whilst on your trip here in the Riviera Nayarit. 
Wanna read more about our hiking in Punta Mita, jungle hikes in Sayulita and the best hikes in San Pancho? Wander here and see what we have on offer with Wilmex!
Have a question or want to enquire about our upcoming hikes and walking trails? Reach us here, a member of our team will be more than happy to help!
Peace & love,

Wildmex