6 Health Benefits of Surfing at Tropical Destinations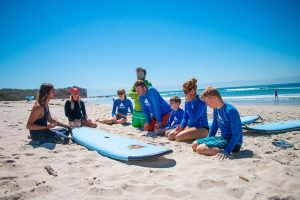 Has it happened to you that you close your eyes and can feel the warmth of the sun hugging you, the aroma of coconut dancing around you and the liberating sensation of sinking your feet in the sand?
The Beaches of Bahía de Banderas, Mexico, such as La Lancha, Punta Burros, Veneros, Litibu, Anclote are ideal spots to learn to surf or to offer you more challenging waves, in case you already have previous experience in surfing; and all in one area!
If this idea had already crossed your mind but you still had not decided, let us tell you about some benefits that surfing provides, in addition to the fun:
Mental health:
Surfing has been shown to positively influence the minds of those who practice it, as it is a good way to release stress, create autonomy and confidence in people.
Cardiovascular system:
For all that I know about Surfing it is one of the most favorable exercises for the heart since it improves cardiac function. Also, it is a practice that collaborates with resistance and oxygen consumption. It is recommended for cases of high blood pressure, regulate cholesterol levels and lower the risk of diabetes.
Balance:
Its practice favors the body balance of people since it is a precision, speed and strength sport, for which balance is key.
Strengthens muscles:
The leg muscles, from the feet to the thighs, are mainly strengthened by this sport, which is also good for the muscles of the abdomen and chest.
Support in the elimination of saturated fats:
Surfing is a good sport to burn fat and avoid its accumulation, due to its intensity and time.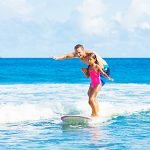 Brain therapy:
Research into therapeutic surfing is recent, but it marks precedence. According to research that has been carried out on surfing with a therapeutic approach, they have shown that this activity can work as a highly effective therapy, it has even been shown to be highly beneficial as an alternative therapy in treatments for people with ASD.
The best surfer is the one who has the most fun!