Surf Camp in Punta Mita: Guide to Day 2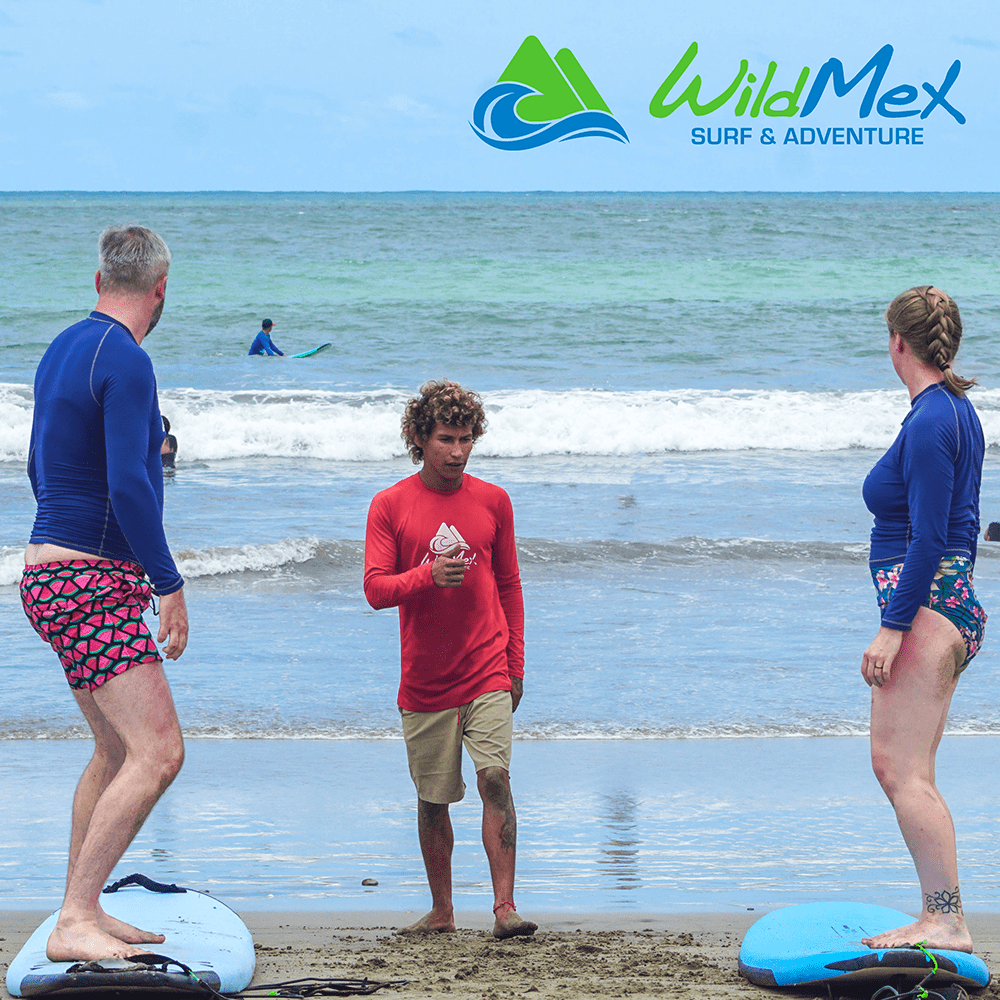 Can't get enough of the surf? Neither can we!
If you've just finished Day 1 of surfing in La Lancha at your Surf Camp in Punta Mita, you might be wondering what else we've got in store for you... On Day 1, we cover all things safety and make sure YOU catch your first white water wave.
Buuuut, on Day 2 we get a lil' more technical. Time to up your surfing confidence again! Remember, our aim is to get you cruisin' the seas like the cast of Point Break.
We're not fond of secrets! We want our budding surfers to have access to the BEST information possible. Our team is here to help on land and ocean, so get ahead on your second day now!
Interested in a sneak preview? Scroll down to learn more about Day 2 of learning to surf in Mexico. Or check out our Day 2 YOUTUBE content here.
Thou shalt learn to surf!
Let's Start Trimming & Carving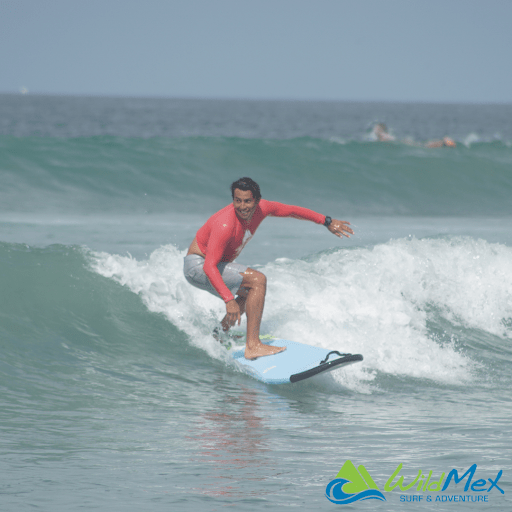 On Day 2, we're all about trimming and carving, and no - we're not talking about sculptures!
Our second day takes you onto the fundamentals of surfing. Think of this lesson as the foundation of a building. Yesterday you learned the safety lessons, and today you're building the basics of your knowledge. After this, practice makes perfect!
The topics we cover on Day 2 sound advanced, but we know you are up for the challenge! Learning to surf in Sayulita has never been this chilled. And remember, one of our in-house expert surfers is always there to help.
We've got your back - all you need to do is breathe, smile, and have fun! (The rest comes easy after that).
Let's take a look at more core tips and tricks you'll learn on day 2! >>
Changing Direction & Avoiding Collisions
Understanding how to pop up is GREAT!
However, being unable to move when another surfer is in your way isn't so great. The key knowledge you'll take from Day 2 of surfing Sayulita is changing direction. Life without CHANGE is boring - at least, we think so anyway!
So, whether you're turning your board to catch the GOLDEN sunset or to DODGE another surfer, you'll be swiveling like a champ in no time. Surfing for beginners in Punta Mita is all about making those life-long holiday memories, so say CHEESE, because you'll also have the chance to get snapped by our WildMex photographers! 😉
After you're confident with changing directions, we'll help you avoid crashes. Hopefully, you'll rarely have to use these techniques, but failing to plan is planning to fail! Plus, your safety is our favorite topic!
Riding Waves Down The Line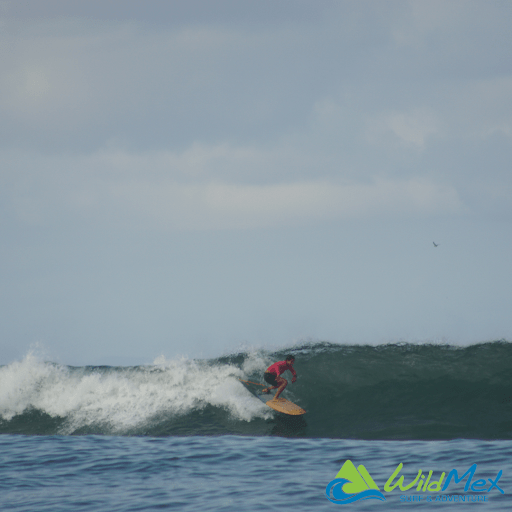 Ready to surf down the line? Not sure what 'down the line means'?
That's what we're here to explain!
Too often, beginner surfers learning to surf in Sayulita are too scared to ask questions about common surf terms. No one's born with a surfers dictionary in their head! But, our job is to help you LEARN. We've been chasing the surf for years, and we're always happy to explain the lingo.
Riding waves down the line means you surf along the face of the wave. At the start of your journey, you'll surf forwards. But, as you tackle turning and changing directions, you can start to move down the line of the wave for an awesome result. Oh yeah!
Brushing Up On MORE Surfing Etiquette
We're not hung up on formalities, but we always have time for SURFING ETIQUETTE!
Our etiquette lessons aren't like those in the movies. No books on your head or practicing pronunciation! We're all about improving your surfing craft and your CONFIDENCE. Our surfing Sayulita team never rushes. It's all about your comfort and preferred pace here.
Slow and steady wins the race, or in this case, grabs the wave!
Surfing With Others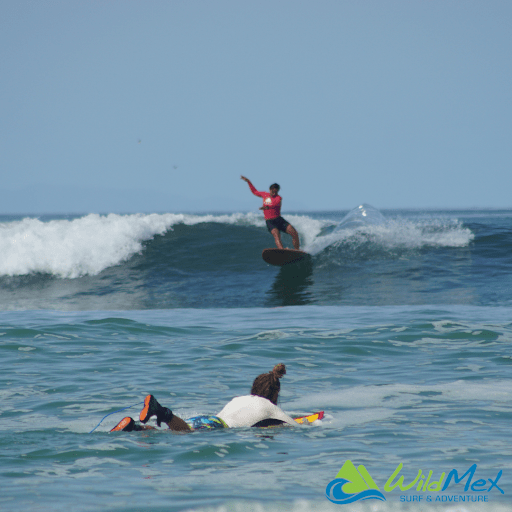 Not to brag, but we know all the hot spots for learning to surf in Mexico.
If you don't believe us, take a look at our surf map with 10 unique surf spots! We love switching up your surf routine. After all, variety is the spice of life!
Of course, we take ALL of our beginner surfers to the best and most beautiful surfing spots. Hoooowever, sometimes they're not as empty as we'd like. Most of the time, you have space to grow and learn, but sometimes we'll bump into other keen water babies!
This isn't a problem for us, though! When surfing in La Lancha, and the other spots, we teach our team to duck and dive around other surfers. No collisions here! Just blissful fun and shared joy.
Sharing is caring, right??
White Water Wave Practice
Finally, we also pack in a good session of white water wave practice.
Surfing for beginners in Punta Mita isn't just listening to instructors! Though we love to talk about the ins and outs of surfing, we also know you need some water time.
Like Day 1, we make sure you get a good session of wave catchin' in. We're all about learning by doing, so we make sure YOU get to dive in and experiment in the white water. This is where you'll learn the nitty gritty surfing techniques before you face the more gnarly waves.
The feeling of the warm sun on your face, freshly waxed board at your feet, and the salty breeze in your hair. Nothing beats it, does it?
Surfing For Beginners In Punta Mita Day 2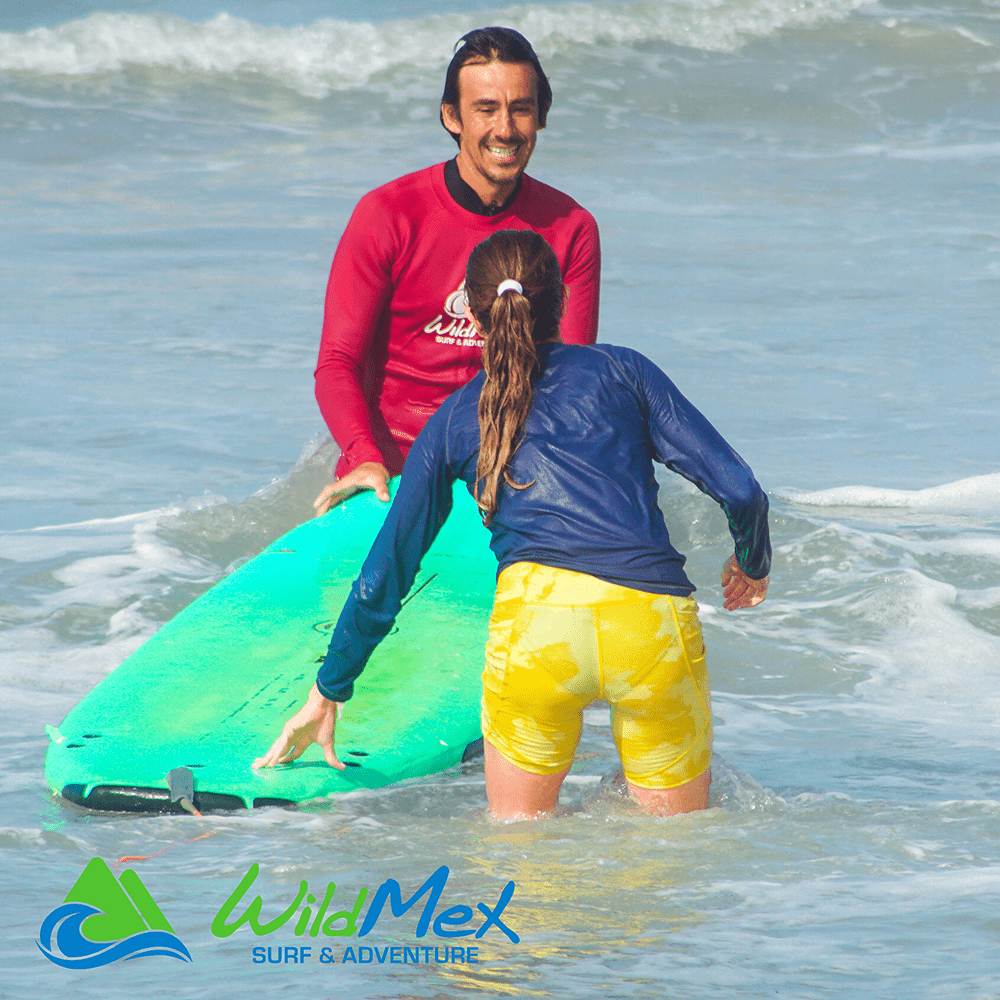 Our five-day surf camp is created with YOU in mind. Our QUALIFIED team tailors each day to newbie surfers, ensuring you can jump in without worries. You might get some salt water in your eyes, but you'll catch a wave in the process!
So, will YOU fall asleep with the waves in your dreams tonight?
If you do, make those dreams a REALITY! Whether you've experienced the surf before or not, we've got space for you at our WildMex surf camp in Punta Mita or Sayulita.
Our professionals put YOU first. With our team, there's epic wave catchin' all around!
Get to know our surf camp online here. Or, opt for our surf camp with included accommodation here.
We'd hate for you to miss out! Bookmark this page to learn MORE about Day 3 soon!
You'll find us waxing our boards…
We'll save one for you!
WildMex