Considering surf lessons in La Lancha?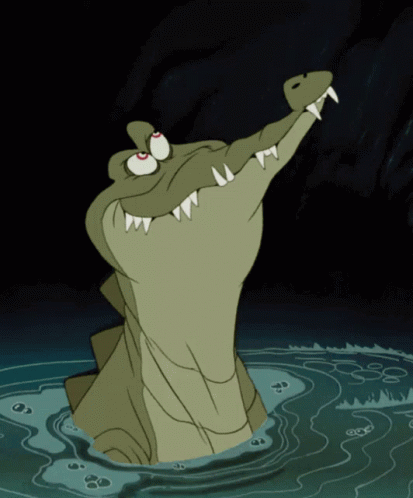 Dear Banderas Bay Community:
On the afternoon of October 7, 2022, a young man who was returning from surfing at La Lancha beach in Punta de Mita, while crossing a bridge that crosses one of the creeks on the path that gives access to this beach, was bitten in the calf by a local crocodile.
The young man arrived at the Wildmex facilities, the Surf School at the access to this beach, he was helped in our store and later taken to the nearest hospital.
The young man is out of any danger, and his speedy recovery is expected.
We believe that this incident happened due to the rains of recent weeks, the water level in the estuary has risen and reached the level of the bridge, which allowed the crocodile to have easier access to the people and pets that pass through.
This bridge has already been raised and we hope this will prevent any other such situation.
We remind you that both in Bahía de Banderas and throughout our country we share natural spaces with many other species and it is important to be careful and respectful of the other inhabitants of our environment, as well as pay special attention to taking care of our families and pets when we are in natural areas with different types of fauna.
We ask the entire community that wants to visit La Lancha Beach to pay attention to the signage present at the entrance to La Lancha Beach and along the path, to exercise due caution when entering, walk in groups, carefully observe the path and check that there are no crocodiles nearby before crossing the bridges that cross the creeks of the estuary.
Sincerely
The Wild Mexico Adventures Team
Let's face it, nature can be CRAZY! It's easy to forget that we share this amazing world with such unique and primative creatures.
If you're an animal lover, you're in for a treat when you arrive for your surf lessons in La Lancha. Not only will you receive EXPERT training and the feeling of PURE adrenaline, but you'll also get to meet our special guests - the La Lancha crocodiles!
These lil' guys tend to shock some of our surfing La Lancha visitors, but we're here to clean up all the misconceptions. You see, our crocodile friends are harmless! These buddies are actually more afraid of you, than you are of them, and they're always impressed by your impressive surf moves!
Are you worried about passing through our croc spot? We've gathered our top facts about the La Lancha crocodiles to ease your nerves. Scroll down to find out about our special guests before you arrive at your surf lessons in La Lancha.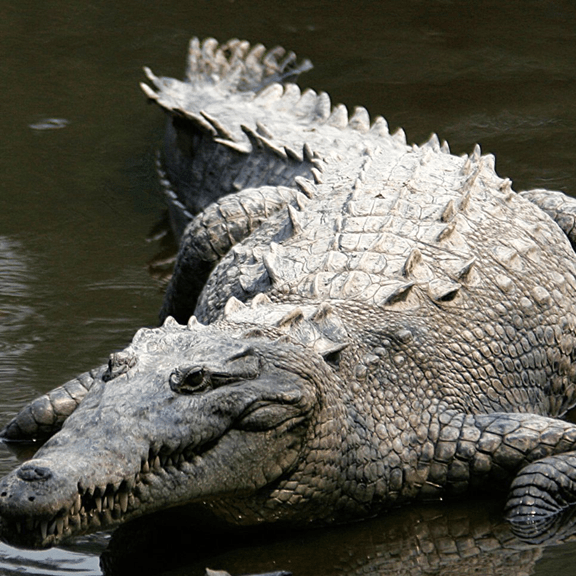 Though a La Lancha crocodile sighting isn't guaranteed, you're more likely to see our
friends in summer. In the warmer months, the mangroves flood a little, and this excess water leads to exciting glimpses on the way to your surf lessons.
The crocodiles also have their offspring in these months, so you might get to see the
next generation of La Lancha crocs! Due to higher water levels, crocodiles will be closer
to the trail in these months - but don't be alarmed! You'll arrive at your surf lessons for kids and adults without a bite.
When you think of crocodiles, what images pop to mind? Snap, snap, snap, scary
reptiles? The crocodile from Peter Pan? Predators? Well… these common thoughts simply aren't true!
It's common to be afraid of crocodiles, yet the local La Lancha crocs are actually
extremely chilled out. Often, our local crocodiles will see you and run away - not the
other way around! These guys spend their time relaxing, not planning an attack on our guests!
So, if you spot a crocodile on the way to your surfing La Lancha experience, make sure
you smile, wave, and leave the croc to chill out. Even if you're a little scared, avoid poking our friends with sticks or stones - they'll appreciate it!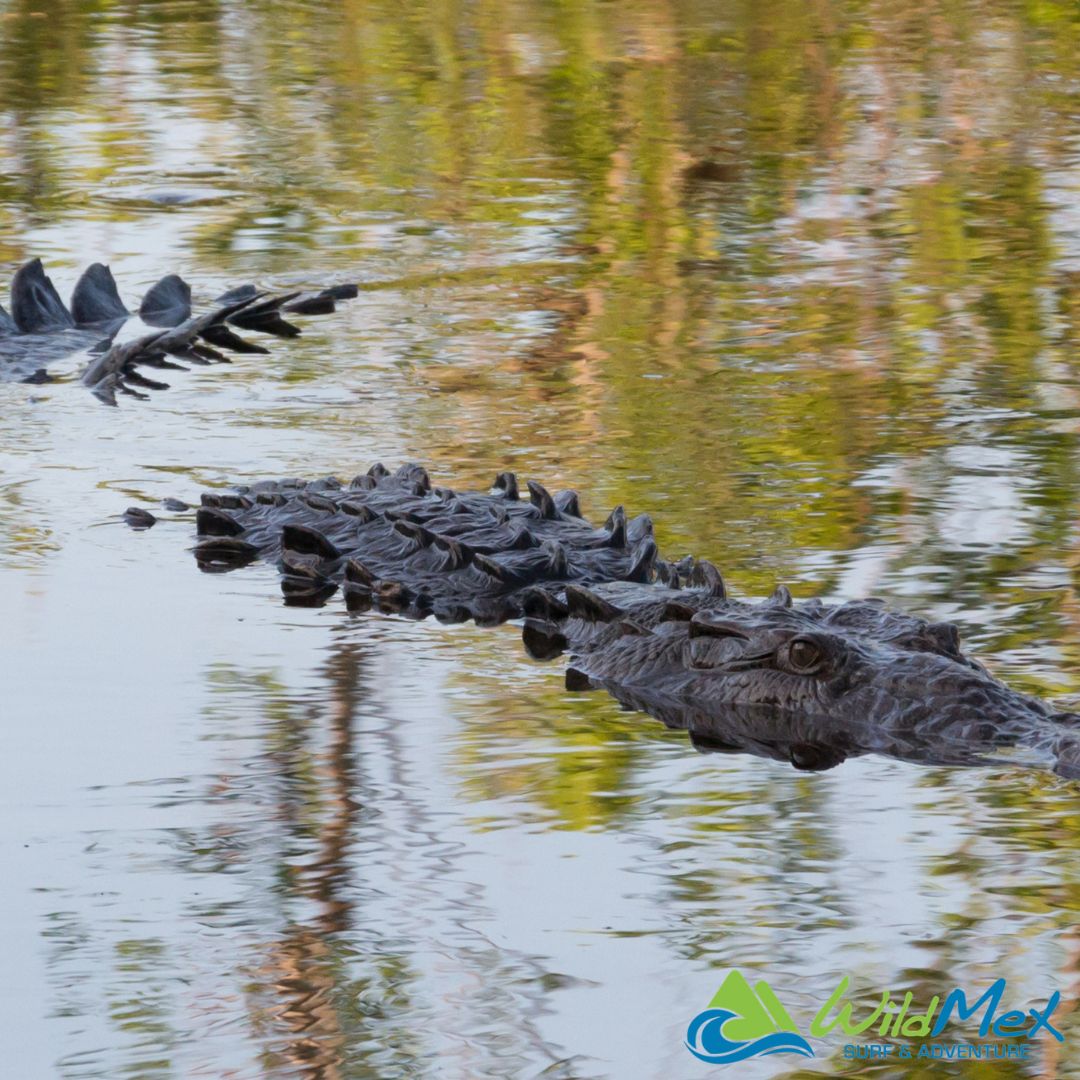 Did you know the La Lancha mangrove only hosts one large male crocodile?
That's right, there's only room for one croc in this town! This is due to the mangrove's
limited size and food options. There's not enough grub here to feed more than one
leader. While we'd love to have more, there's simply no more room at the inn!
However, our current largest crocodile has been here for nearly ten years. His name is El
Capi (The Captain), and he's always respectful. If you see him, make sure you give him a big smile and a salute for being the big boss!
Like us surfers, crocodiles enjoy traveling. In the rainy season, our crocs swim to
different estuaries and explore other mangroves. This is usually to find more space and food, as La Lancha offers limited space for big crocs.
Crocodiles also travel into the La Lancha area. If a larger crocodile finds its way into the
La Lancha mangrove, it'll kick out the smaller crocs. But, this is very rare, and our male croc has been here for a decade. Survival of the largest over here!
We also only have a handful of female and elderly females who mate and birth offspring
each summer. When our baby crocs grow up, they swim out into the estuary and find a home of their own. Talk about empty nest syndrome for us!
Are you picky about what's on your plate? Our local crocs aren't! But, what do these big
guys have for lunch? This is a question we see all the time - and don't worry, you're not on the list!
Typically, the La Lancha crocodiles feed on nearby fish, birds, and anything else they
can find in the mangroves. These creatures don't have a complicated shopping list! It's all about ease and searching the mangroves for food.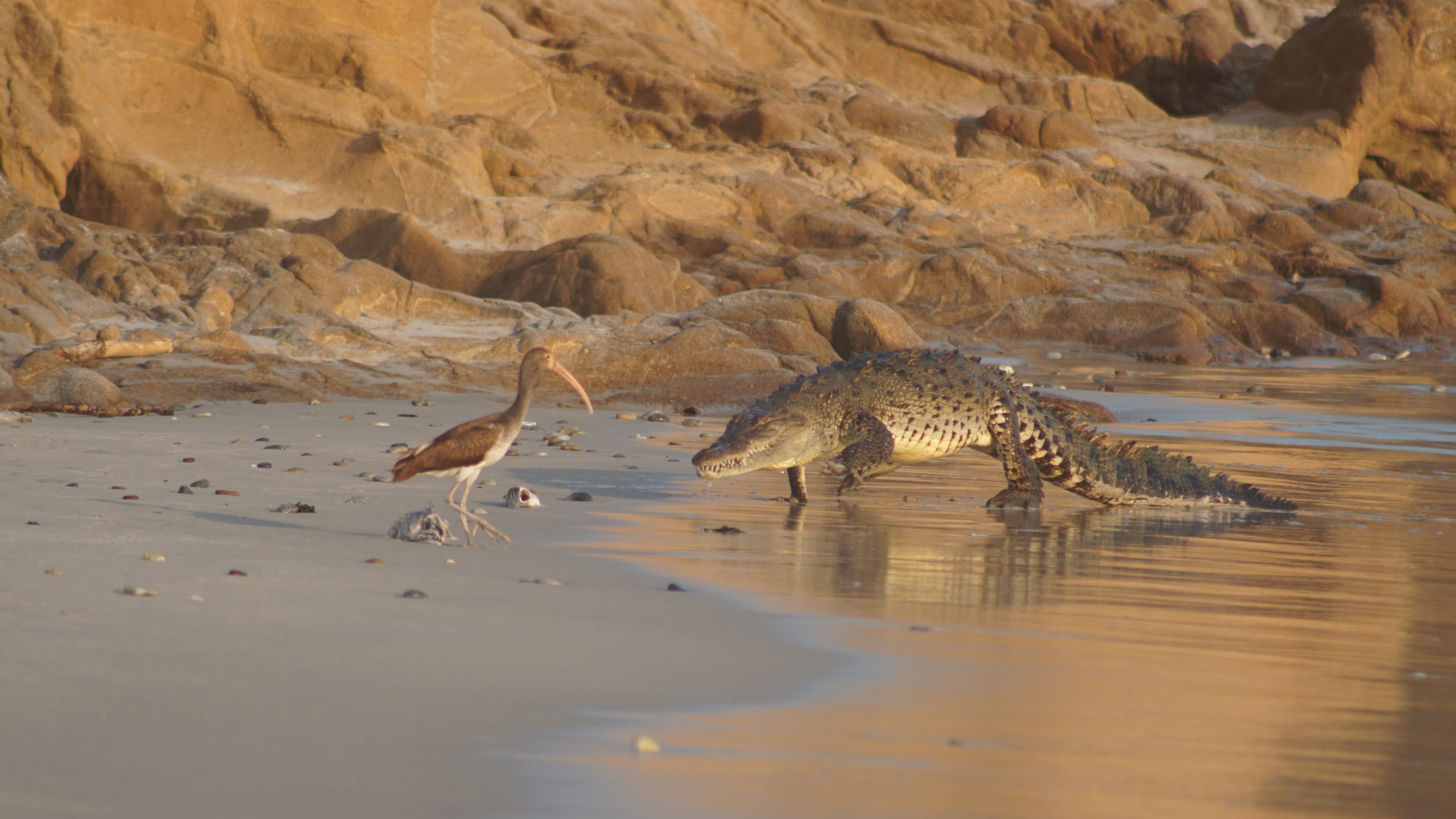 Heavy rains are common in the La Lancha rainy season, and this can cause some
unwanted movement for the crocs! Lots of precipitation causes the river mouth to open, so keep note of this if you're caught in a storm.
If the rains reaches extreme levels, crocodiles can end up being pushed out to the
ocean. If you spot a crocodile in the water, don't worry! These guys aren't dangerous,
and they always make their way back home. They don't want to be there either!
We don't recommend swimming in the water or surfing when this occurs, and we'll always let you know when it's safe to take a dip.
We've been co-living with these magnificent animals for years and years. The
mangroves are the natural home for these guys, so it's important to respect their space.
We're lucky to see them in their natural habitat!
Please don't disrupt these guys. If you see any crocodiles on your visit, keep your
distance and don't swim in the mangroves. Our mangroves are completely safe, but it's
vital to look and not touch! Remember, no one wants to be bothered in their own home.
It's always the best time to surf in La Lancha, so come on down and enjoy our one-of-a-
kind landscape! Whether you pick surf lessons for kids or explore adult surf lessons in
La Lancha, you'll make lifelong memories.
Ready to experience something new? Book Punta Mita surf lessons here or Sayulita surf lessons here.
We'll see you soon
WildMex